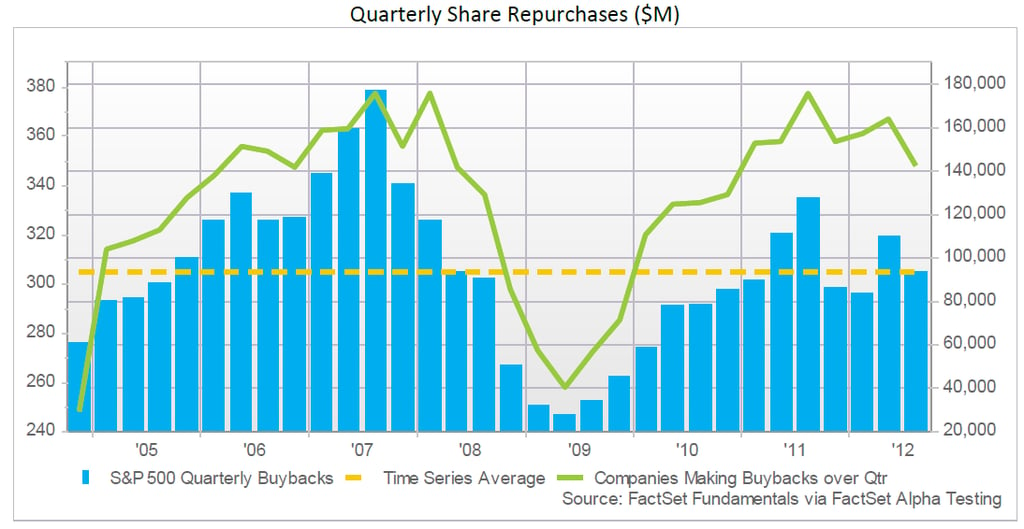 The S&P 500's aggregate dollar-value share repurchases faced difficult comparison periods in Q3. The $93.4 billion repurchased over the quarter represents a 15.1% decline from Q2 2012 and a 25.8% decline year-over-year. Even though $12.9 billion of buybacks in Q2 were related to a unique acquisition by JNJ, third quarter buybacks would still mark a sequential decline with the JNJ activity excluded. Also, in comparison to last year, Q3 2011 marked a nineteen quarter high for dollar-value buybacks, and also matched the quarterly high for buyback participation (377 companies made share repurchases over the period).
Over the trailing twelve months (TTM), aggregate buybacks amounted to $374.7 billion, which is the lowest TTM activity since Q2 2011. However, despite a deceleration in share buybacks, share counts in the S&P 500 fell over the quarter. Aggregate shares outstanding amounted to 299.1 billion, which is the lowest level since Q4 2008. In looking at average growth rates for shares outstanding, the index has actually averaged year-over-year, quarterly dilution of 2.7% since 2005. However, this growth occurred primarily during the financial crisis, and year-over-year share growth has been less 1% or less for each of the last four quarters.
Key Metrics:
Sector Trends: The Information Technology and Financials sectors spent the most on quarterly repurchases ($17.3 billion and $16.5 billion, respectively) in Q3 2012. However, of the sectors that averaged $2 billion or more in quarterly share repurchases since 2005, only the Consumer Staples and Financials sectors showed sequential growth (30.4% and 29.0%) in dollar-value buybacks.
Buyback Conviction: Dollar-value buybacks amounted to 65.3% of free cash flow on a trailing twelve month basis, but a number of sectors exhibited share buybacks that exceeded free cash flow. The Consumer Discretionary and Consumer Staples sectors both spent more than 100% of their free cash flow (106.8% and 116.3%, respectively), while the Energy and Utilities sectors spent $38.6 billion and $1.9 billion, respectively, on buybacks despite generating negative free cash flow (-$31.2 billion and -19.2 billion). The Consumer Discretionary sector also led all sectors in repurchasing the most shares relative to its size. Over the trailing twelve months, the sector repurchased shares that were worth 4.8% of its quarter-end market capitalization.
Read more about the buyback activity of the S&P 500 companies and sectors in this quarter's edition of FactSet Buyback Quarterly. Visit www.factset.com/buyback to launch the report now.