The S&P 500's estimated earnings growth rate for Q4 2012 dropped to 3.5% this week, compared to last week's estimate of 3.8%. Downward revisions to estimates for companies in the Financials sector (including Travelers, Goldman Sachs, and Morgan Stanley) were mainly responsible for the drop in the growth rate during the week. On September 30, the estimated earnings growth rate for the index was 9.3%. Seven of the ten sectors have recorded an decline in earnings growth over this time frame, led by Materials and Information Technology sectors.
In terms of preannouncements, 78 companies have issued negative EPS guidance for Q4 2012, while 29 companies has issued positive EPS guidance. Of the companies in the Information Technology sector that have provided EPS guidance for the quarter, an unusually high percentage (91%) have issued negative EPS guidance.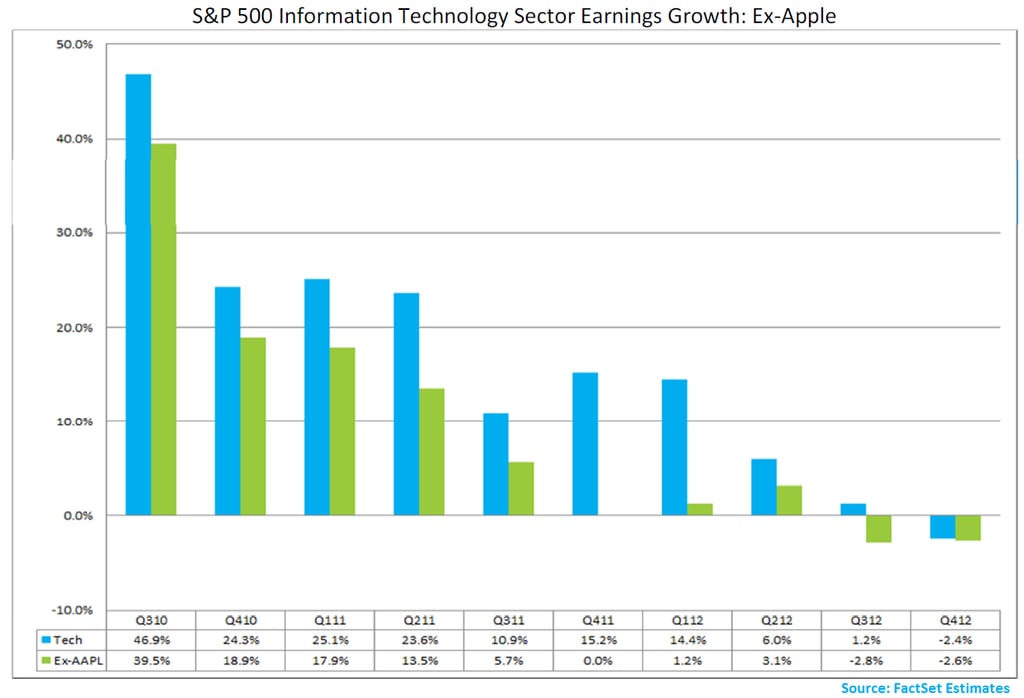 Despite these reductions in estimates, analysts are still calling for a return to earnings growth in Q4 after a decline in Q3. Seven of the ten sectors are projected to report earnings growth for the quarter, led by the Financials sector (20.0%) sector. On the other hand, the Industrials (-4.2%) and Information Technology (-2.8%) sectors are predicted to have the weakest earnings growth. In the Information Technology sector, Apple is predicted to report a year-over-year decline in EPS for the first time in over nine years. The sector's projected Q4 2012 earnings growth rate is -2.4%. Excluding Apple, it would be -2.6%.
The S&P 500's current revenue growth rate for Q4 is 2.4%, slightly below an expectation of 2.7% growth at the start of the quarter. Slower economic growth in Europe and emerging markets countries (China) and less favorable foreign-exchange rates are expected to have a negative impact on both top-line and bottom-line growth for many multi-national companies in the index in the quarter.
During the upcoming week, one S&P 500 company (Joy Global) is scheduled to report earnings for Q3 2012 and two S&P 500 companies (Costco and Adobe Systems) are scheduled to report earnings for Q4 2012.
Read more about the earnings trends of the S&P 500 in this week's edition of FactSet Earnings Insight. Visitwww.factset.com/earningsinsight to launch the latest report.