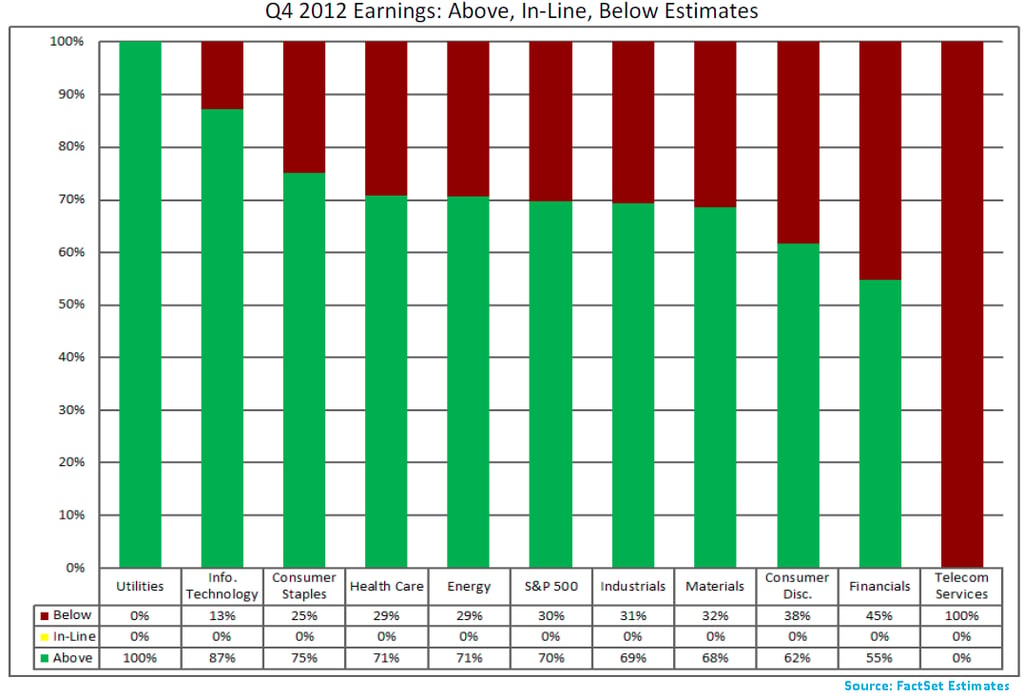 Of the 234 companies that have reported earnings to date for the fourth quarter, 70% have reported earnings above estimates. This percentage is about equal to the average of 69% recorded over the past four quarters. The Utilities (100%) and Information Technology (87%) sectors have the highest percentages of companies reporting actual earnings above estimates. In terms of revenues, 67% of companies have reported sales above estimates. This percentage is well above the average of 50% recorded over the past four quarters.
The blended earnings growth rate for Q4 2012 is 4.0% this week, above last week's growth rate of 2.4%. The increase in the growth rate this week can mainly be attributed to upside earnings surprises reported by companies in the Energy sector (including Chevron and Valero Energy). On December 31, the earnings growth rate for the index was 2.6%. Seven of the ten sectors have higher earnings growth rates today relative to that date, led by the Energy and Materials sectors. The Telecom Services sector has witnessed the largest decrease in earnings growth since the end of the quarter.
After reporting a decline in earnings growth in Q3 (-1%), the index is reporting earnings growth of 4.0% for Q4. Seven of the ten sectors are reporting earnings growth for the quarter, led by the Financials (12.9%), Energy (11.7%), and Materials (10.3%) sectors. On the other hand, the Telecom Services (-11.5%) and Industrials (-5.6%) sectors are reporting the weakest earnings growth. The blended revenue growth rate for the index for Q4 is 2.3%. Slower economic growth in Europe and less favorable foreign-exchange rates had a negative impact on both top-line and bottom-line growth for many multi-national companies in the index in the quarter. However, a number of companies have expressed optimism about renewed economic growth in emerging markets (China) in 2013. In addition, some companies have cited the damage caused by Hurricane Sandy and fiscal policy uncertainty as impediments to earnings and sales growth for the quarter as well.
Corporations and analysts are lowering earnings expectations for Q1 2013. In terms of preannouncements, 50 companies have issued negative EPS guidance for Q1 2013, while 11 companies have issued positive EPS guidance. Analysts have taken down EPS estimates also, as the estimated earnings growth for Q1 2013 has dropped to 0.5% today from an expectation of 2.4% on December 31.
This week marks the third peak week of the Q4 2012 earnings season, as one Dow component (Walt Disney Co.) and 87 S&P 500 companies are scheduled to report earnings for the fourth quarter.
Read more about the earnings trends of the S&P 500 and what to expect this earnings season in this week's edition ofFactSet Earnings Insight. Visit www.factset.com/earningsinsight to launch the latest report.