"The third significant impact on McDonald's global results for 2014 was in Russia and the Ukraine. During 2014, McDonald's Europe experienced significant declines in company-operated margins driven by weakening currencies and economic slowdown and store closures in these two markets….We expect this currency impact to significantly pressure the segment's company-operated margins again in 2015, especially in the first half." –McDonald's Corp. (Jan. 23)
Coming into the Q4 earnings season, there were concerns in the market regarding the impact of weaker economic growth in Europe, the impact of the stronger dollar relative to the euro, and the impact of the crisis involving Russia and Ukraine on U.S. corporate earnings for the fourth quarter. With the final DJIA component (Home Depot) reporting results for Q4 this past week, how did companies in the DJIA perform in the fourth quarter in Europe in terms of sales? How did the revenue numbers for Q4 2014 compare to prior quarters?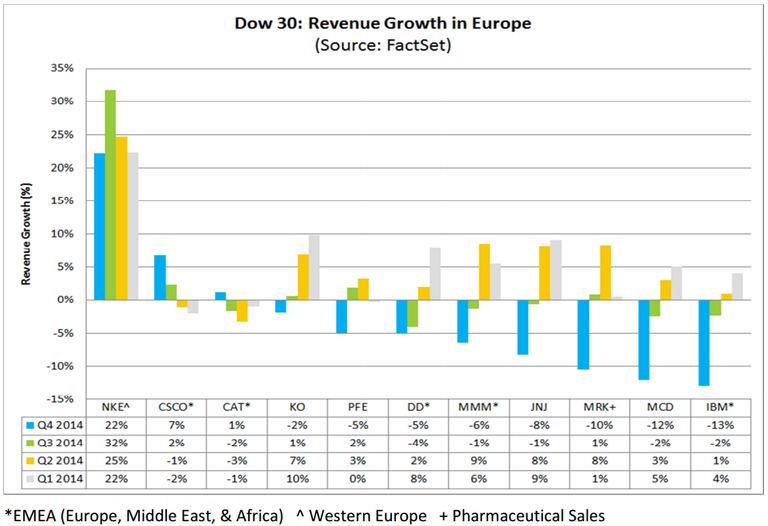 Overall, 11 of the 30 companies in the DJIA provided revenue growth numbers for Europe for the fourth quarter. Of these 11 companies, eight reported a year-over-year decline in revenues. This number was above the number of Dow 30 companies reporting a year-over-year sales decrease in the previous quarter (6). In fact, this was the highest number of Dow 30 companies reporting a year-over-year decline in revenue from Europe since Q4 2012 (9).
On a sequential basis, nine of the 11 companies reported a lower year-over-year sales growth rate from Europe in Q4 2014 relative to Q3 2014. Five of these nine companies have reported lower year-over-year revenue growth for three consecutive quarters.
One bright spot for the DJIA in terms of sales performance in (Western) Europe was NIKE. Of the 11 Dow 30 companies providing sales figures for Europe, NIKE reported the highest revenue growth at 22%.
Read more about earnings trends in this edition of FactSet Earnings Insight. Visit www.factset.com/earningsinsight to launch the latest report.