"Foreign exchange impacts reduced sales by 7.3 percentage points in the second quarter. The most notable currencies impacting sales were the euro, yen and Brazilian real, which devalued versus the U.S. dollar by 20%, 17% and 28%, respectively." –3M (July 23, 2015)
Although the volatility in the stock market over the past week has been attributed in part to fears of slower economic growth in China, economic weakness in Europe remains a worry as well. According to FactSet Economic Estimates, real GDP growth in the Eurozone is projected to be 1.5% in 2015.
Coming into the Q2 earnings season, there were concerns in the market regarding the impact of the stronger dollar relative to the euro on U.S. corporate earnings for the second quarter. With the final DJIA components (Home Depot and Wal-Mart Stores) reporting results for Q2 last week, how did companies in the DJIA perform in the second quarter in Europe in terms of sales? How did the revenue numbers for Q2 2015 compare to prior quarters?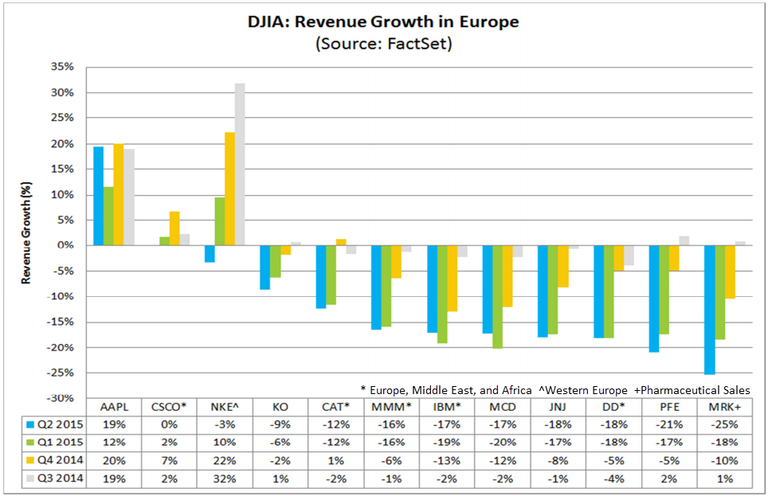 Overall, 12 of the 30 companies in the DJIA provided revenue growth numbers for Europe for the second quarter. Of these 12 companies, 10 reported a year-over-year decline in revenues. This number was above the number of Dow 30 companies reporting a year-over-year sales decrease in the previous quarter (9). In fact, this was the highest number of Dow 30 companies reporting a year-over-year decline in revenue from Europe since Q3 2012 (also 10).
The stronger dollar was clearly a key factor in the weaker revenue performance in Europe. Of the 12 companies in the DJIA that provided revenue growth numbers for Europe, all 12 cited some negative impact on revenues or EPS (or both) for Q2 due to unfavorable foreign exchange during their earnings conference calls. Six of these 12 companies specifically discussed the weakness of the euro relative to the dollar during these same earnings calls.
Read more about earnings trends in this edition of FactSet Earnings Insight. Visit www.factset.com/earningsinsight to launch the latest report.