Bank of America was a focus company for the markets this past week, as shareholders voted on Tuesday to allow Brian Moynihan to retain the titles of both Chairman and CEO at the company.
Bank of America will also be a focus company during the upcoming earnings season for the S&P 500. The company is not only projected to be the largest contributor to year-over-year earnings growth for the Financials sector, but it is also projected to be the largest positive contributor to year-over-year earnings for the entire S&P 500. If Bank of America is excluded from the index, the estimated earnings growth rate for the Financials sectors would fall to 0.7% from 8.2%, while the estimated earnings decline for the S&P 500 would increase to -5.9% from -4.5%.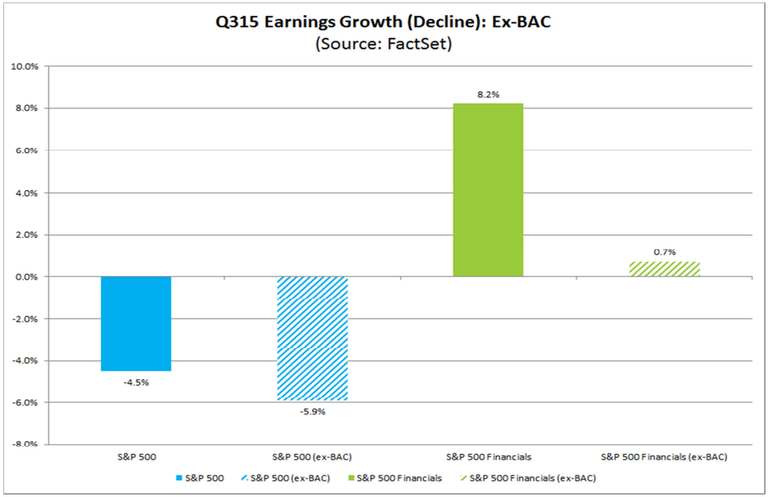 However, the positive contribution from Bank of America to the earnings for the Financials sector and the S&P 500 index as a whole can mainly be attributed to an easy comparison to a year-ago loss. The mean EPS estimate for Bank of America for Q3 2015 is $0.36, compared to year-ago EPS of -$0.01. In the year-ago quarter, the company reported a charge for a settlement with the Department of Justice, which reduced EPS by $0.43. Bank of America has only reported a loss in two (Q1 2014 and Q3 2014) of the previous 10 quarters.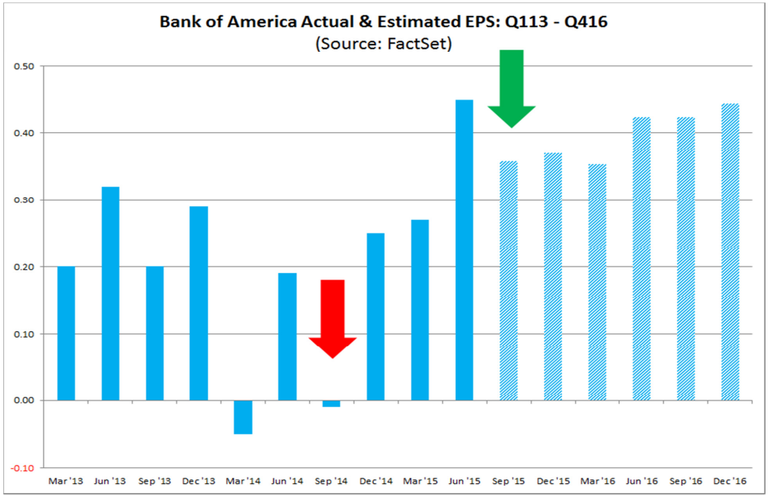 Read more about earnings trends in this edition of FactSet Earnings Insight. Visit www.factset.com/earningsinsight to launch the latest report.