Recently the market reacted to disappointing March readings for the two major U.S. purchasing manager indices (PMIs). The Institute for Supply Management's (ISM) Manufacturing Report on Business reported a March PMI of 51.5 versus an expected 52.5 according to analysts surveyed by FactSet. An index reading above 50 indicates an expansion in overall activity, and although the index has remained above that threshold for more than two years, the rate of expansion has slowed in recent months; the indicator peaked at 58.1 in August 2014 and has retreated for six of the last seven months. On the other hand, the Chicago PMI showed a contraction in activity for a second consecutive month; the March reading was 46.3, far below the 52.0 expected by the market. What is behind these weak numbers, and are they reasons for concern with respect to the outlook for the U.S. economy?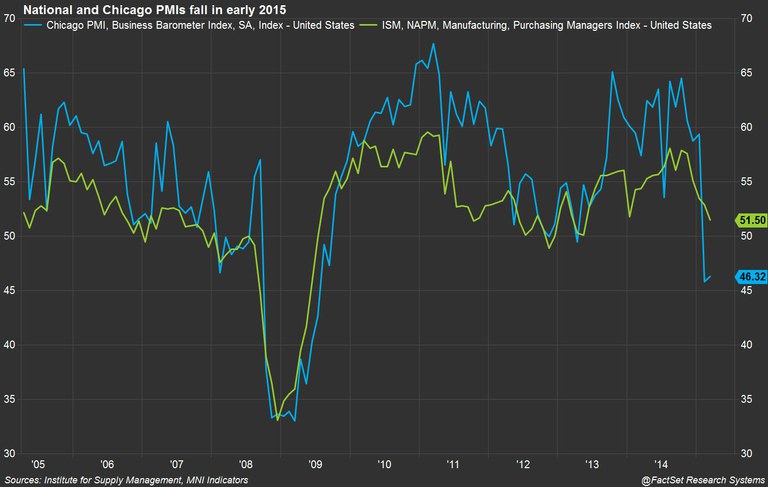 FactSet clients: launch this chart
Participants in both the national and Chicago PMI surveys cited a number of challenges to their businesses, including congestion at west coast ports, bad winter weather, the strong dollar, and plummeting energy prices. The first challenge merits a deeper look because it's a one-time event that had an unusually protracted and severe impact. A labor dispute that started last spring led to delays at the west coast ports of Long Beach and Los Angeles for both incoming and outgoing traffic, causing supply disruptions across the country. Since these ports are major trade hubs between the United States and Asia, handling a significant share of U.S. total imports, the disruption created ripple effects throughout both the regional and national economies.
The Pacific Maritime Association and the dockworkers union were in contract negotiations starting in May 2014, but the workers were without a contract since last July and talks became strained over the last few months. This led to workflow slowdowns with finger pointing from both sides as to whom to blame. A settlement was reached in February 2015 with the help of a federal mediator and the U.S. Secretary of Labor, but it is likely to be several more weeks until traffic gets back to normal at the ports. Manufacturers around the country suffered delays in receiving their shipments, and many were forced to ship their goods into other ports or use air delivery.
FactSet clients: launch this chart
In February, the ports of New York and New Jersey saw year-over-year jumps in both inbound and outbound containers shipped; imports were up 15.8% while exports were up 10.3%. These traffic increases are at least partially due to the disruptions at the west coast ports.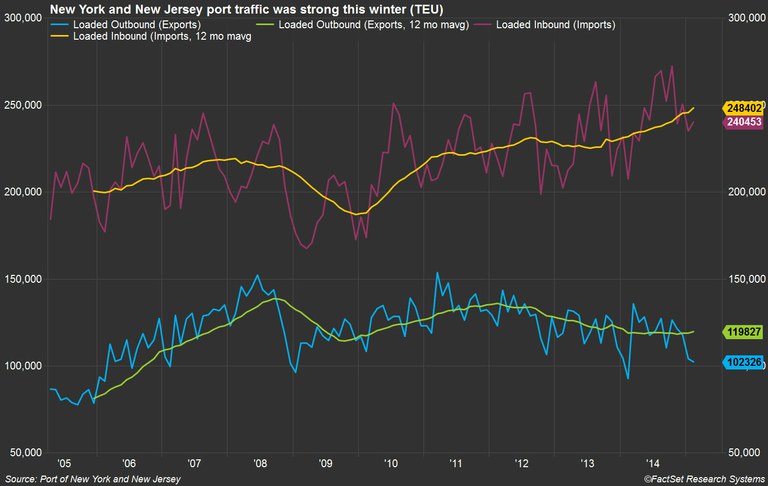 FactSet clients: launch this chart
All of the other factors cited in the PMI surveys are more cyclical events. Bad winter weather was cited in both major surveys, with respondents looking ahead to improving business prospects with the spring thaw. Low energy prices continue to have a widespread economic impact. While falling energy prices are a boost for companies that produce and sell consumer goods (due to higher consumer disposable income) and for those companies with high transportation costs, companies in the oil drilling and exploration industry are looking at a weak outlook for their businesses.
Finally, the strong dollar is hurting companies that export a significant amount of their output; the Federal Reserve's trade-weighted exchange rate indices show that over the last nine months, the U.S. dollar has appreciated to six-year highs. While the negative impacts from the port disruptions and the cold winter fade, U.S. producers will probably continue to face challenges because of low energy prices and the strong dollar.