The Brazilian market has been besieged by chaos over the last few years, simultaneously battling the worst recession in the country's (extremely volatile) history and the biggest political scandal in the last few (extremely turbulent) decades. This turmoil culminated with the impeachment of President Dilma Rousseff in 2016.
Yet the country has experienced a somewhat surprising revival of its economy and markets in the last year with the Bovespa, the local equity index, emerging as one of best performing indices in 2017. President Rousseff's impeachment is likely an important factor in this recovery, which made Michel Temer (who many consider a more "digestible" candidate for the markets) acting president.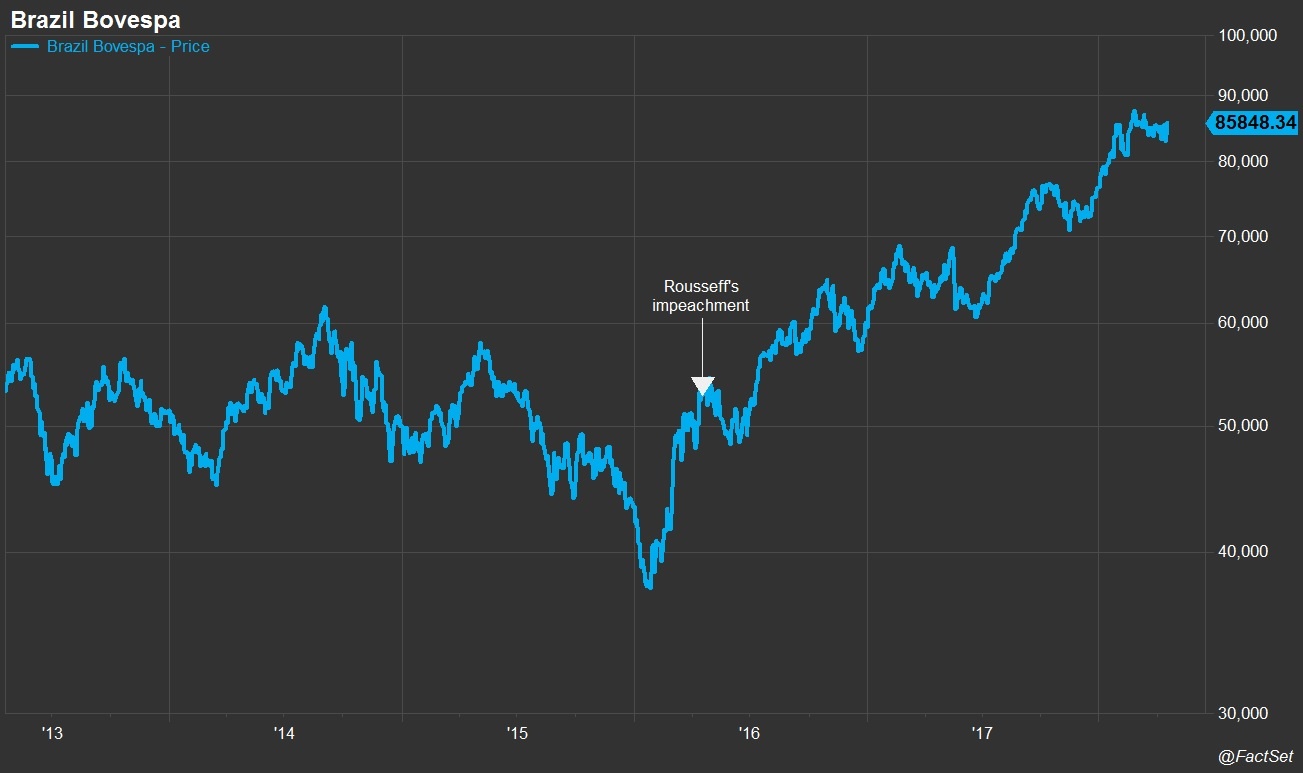 Analysts have used various arguments to explain the market surge. Some claim that many publicly-traded Brazilian companies have sound financials but have been severely undervalued due to political turmoil, while the opposition argues that Rousseff's Workers' Party had forsaken investors and removing her from office was a good thing for the Brazilian economy.
An Economic Renaissance?
From a macroeconomic perspective, there are two major indicators that have historically driven monetary and fiscal policy in Brazil: inflation and unemployment. Inflation is a particularly important indicator for Brazil, given that the hyperinflation of the early 1990s decimated the economy and forced it to institute a new currency. The charts below show that both metrics are currently either subdued or trending downwards.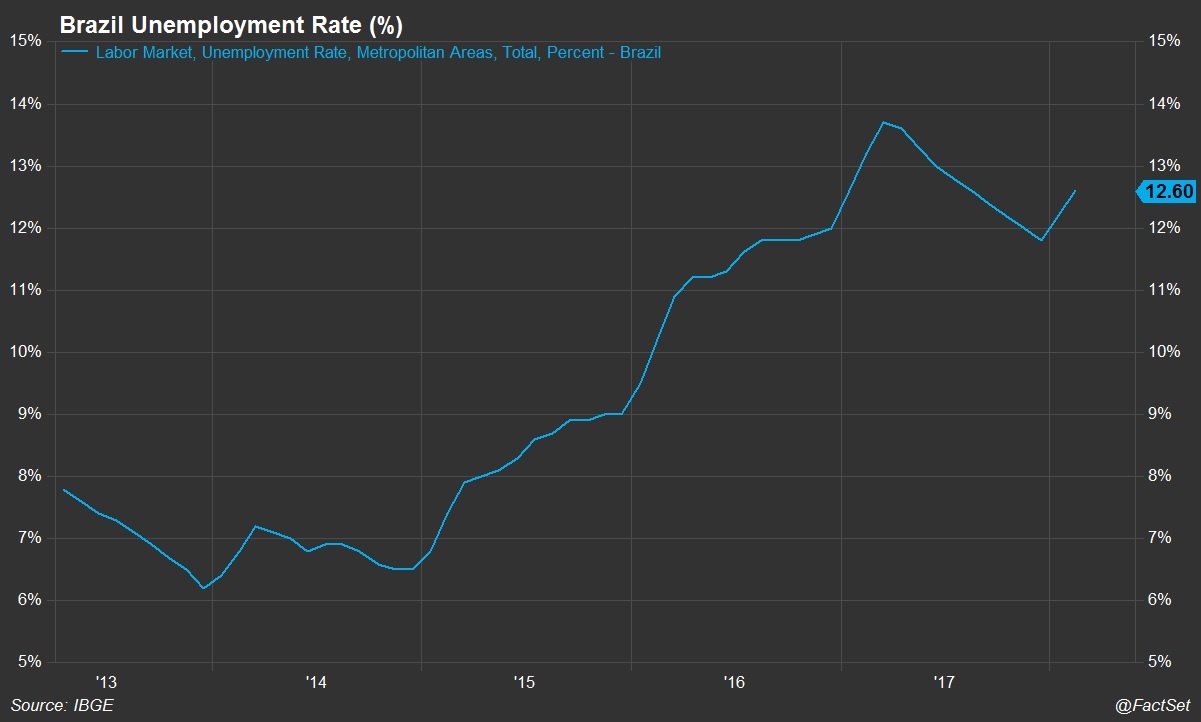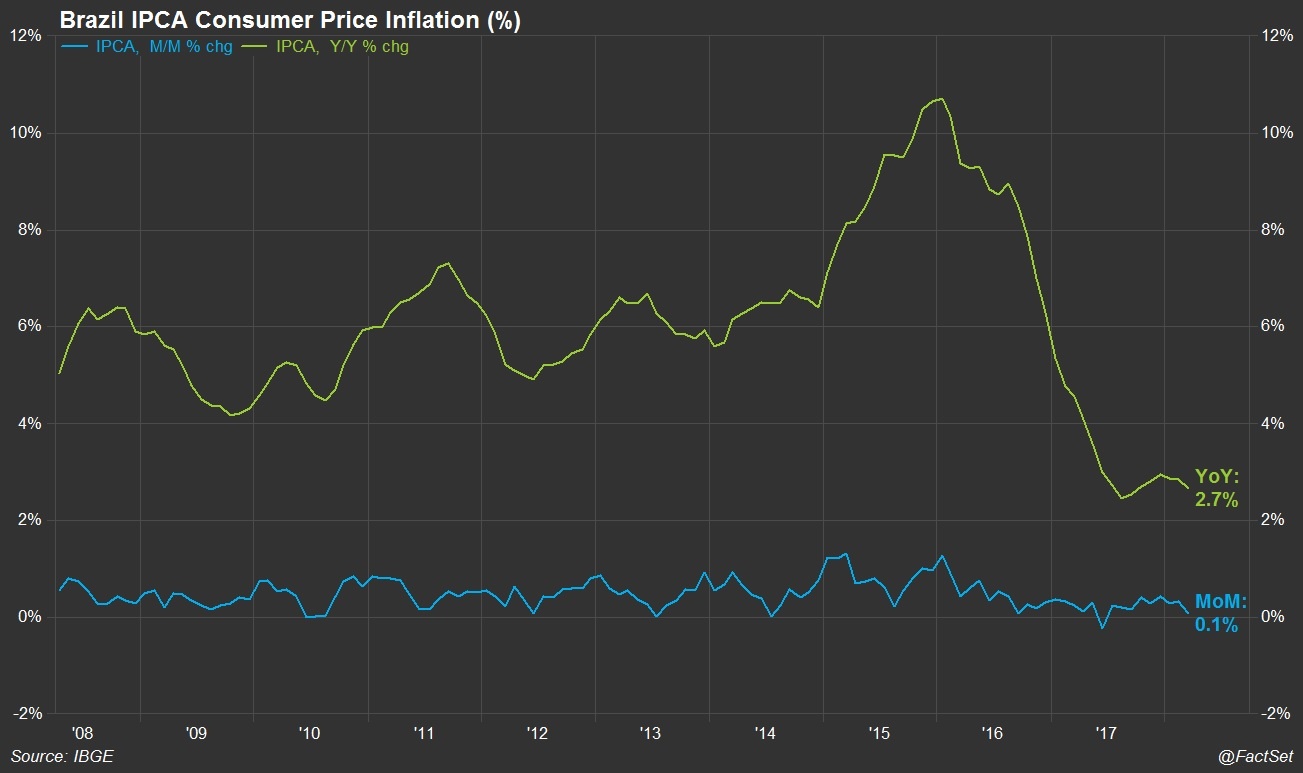 Consumer price inflation (IPCA measure), which surged to 9.0% in 2015, fell to just 3.4% in 2017, and in March of this year was up just 2.7% from a year ago. After peaking at 13.7% in early 2017, the unemployment rate fell back to 11.8% by year-end. Unfortunately, the rate has ticked back up in the first two months of 2018, reaching 12.6% in February. At the same time, we have the Central Bank of Brazil slashing its main policy rate, the Selic, to 6.5% last month, the lowest level in 20 years. This has eased credit for both individuals and companies in order to spur economic growth.
The economy has been responsive to the low interest rate environment, registering positive GDP growth in all four quarters of 2017. But consumer spending is still relatively low because, despite the drop in unemployment last year, the jobless rate remains high. The bright side here is that low inflation is allowing the central bank to take more aggressive measures in lowering interest rates to spur spending.
Brazilian M&A and IPO Activity Strengthens
Beyond the macroeconomic realm, things are looking very good for Brazilian companies. In terms of the M&A environment, we have seen significant shifts over the last few years. In 2014, the year the country plunged into recession, we saw an increased volume of M&A transactions; the following year, the volume of transactions continued to increase, but the value of transactions fell sharply. This points to market consolidation, with struggling companies trying to survive and being acquired by more powerful competitors for meager prices.
Continued merger weakness in 2016 was followed by an upward shift in transaction values in 2017, even as the number of transactions fell, indicating larger deals. The resurgence was likely a combination of a positive reaction to Temer's tenure, strong results for companies on the Bovespa, and positive GDP growth. Interestingly, despite President Temer's focus on attracting foreign investors to Brazil, cross border M&A activity (with Brazilian company targets) has fallen with this economic recovery. Cross border M&A deals involving a Brazilian target made up less than half of all deals in 2017 and this continued into the first quarter of 2018.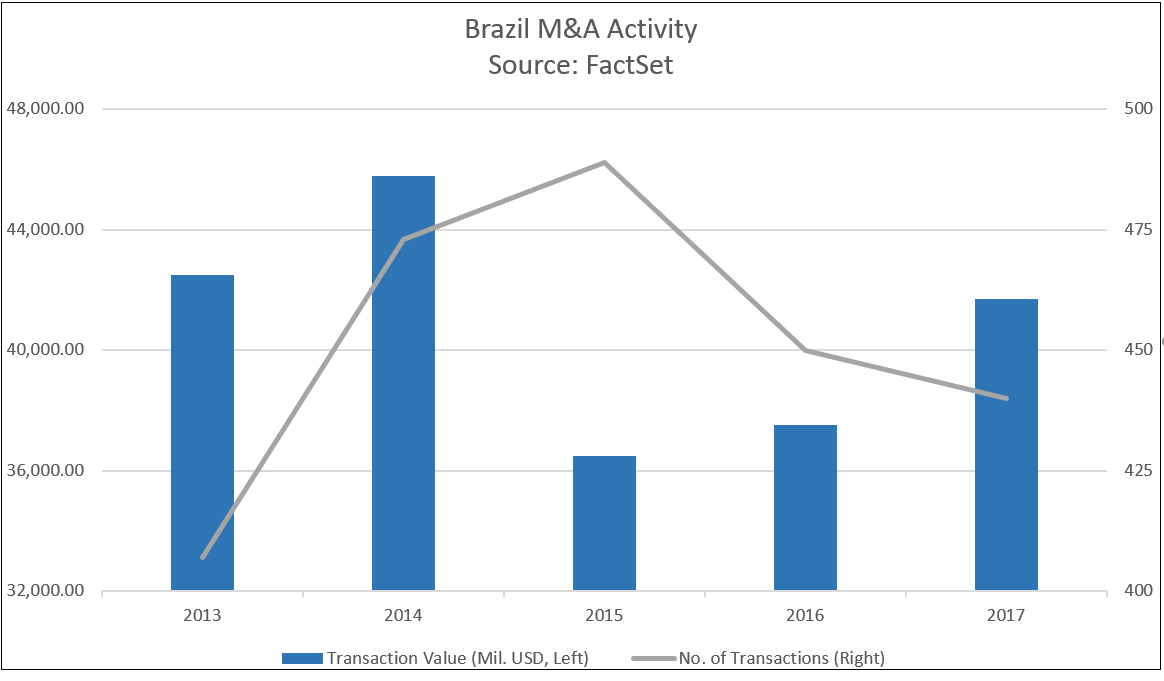 One example of the upward-trending M&A environment is the March 2018 acquisition of Fibria by Suzano, combining two big players in the paper and pulp industry. This deal, worth around 50 billion BRL, creates a global giant in this industry with a combined market value of 84 billion BRL and a total yearly production of cellulose that rivals the other top eight biggest global producers combined.
Another area to consider is the booming IPO market, which saw a 44% increase in the number of offerings between 2016 and 2017, amounting to over 40 billion BRL, the highest total amount raised since 2009. Among the companies that went public, there were some reassuring success stories. Hermes Pardini, a research and analysis company, IPO'd in February of last year and saw its shares increase by 63% at its peak, although the stock has retreated in recent weeks. At the same time, AZUL, an airline company that IPO'd in April 2017, has seen its share price grow by 64%. Right now, it appears that the positive IPO trend will persist in 2018 and 2019, especially as foreign investors have show renewed interest in Brazil after the strong performance of the Bovespa in 2017.
Will Political Turmoil Derail Progress?
While there have been many steps in the right direction, these promising trends rest upon the outcome of the country's looming elections.
Later this year, the country will elect a replacement for President Temer, who currently is riding a record low approval rate and is ineligible to run again, anyway. To make matters worse, the former favorite for succession, Luiz Inácio Lula da Silva (Brazil's president between 2003 and 2011), has been convicted of corruption, sentenced, and put in jail by the Brazilian federal court, adding more uncertainty to an already complicated situation. This creates a metaphorical finish line for the country's economic optimism; most IPOs are scheduled for the first half of the year, trying to ride the current market's positivity while also avoiding the uncertainty around who will be the next Brazilian president, a decision that could send the Brazilian markets spiraling downwards.
Brazil seems to be confidently sitting atop a ledge. On the one hand, it has the momentum of strong results and positive outlook to propel it forward into the future; on the other, it eagerly awaits the results of an election that can either reinstate confidence in a crumbling government or send investors running and plunging the country into another period of political upheaval. The markets, so far, seem to be liking their chances.