The eastward turn of Joaquin helped fend off an inflection point in the cyclical business of property and casualty risk.
Years of relative calm since the 2011 earthquake in Japan and floods in Thailand have led to declining loss ratios (the ratio of insurance losses to premiums written) and sustained improvement in the primary business of underwriting. Despite a simultaneous upward trend in operating costs, the forward combined ratio of expenses and losses to premiums has dipped to nearly 95%.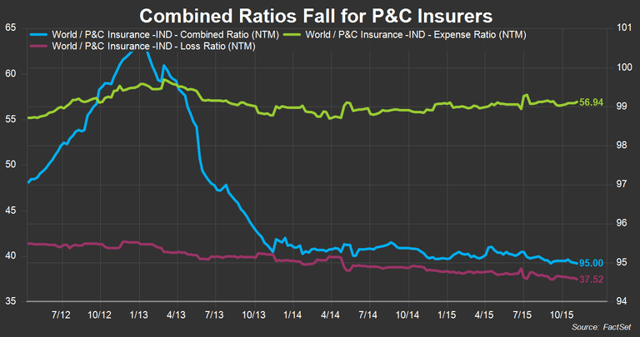 Increased operating profitability tends to build capital cushions. And though net investment income benefits from a larger capital base, elongated exposure to the low interest rate environment gives insurers fewer opportunities to capture meaningful yield (especially at equivalent levels of investment risk).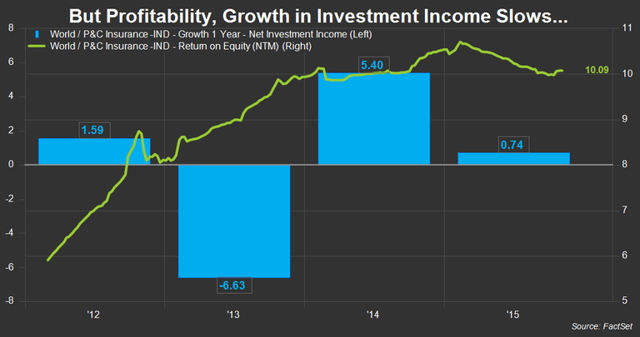 Capital accumulation also has the unintended consequence of increased competitiveness, with insurers better able to compete on price. This competitive, low loss environment has contributed to a softening pricing picture for premiums.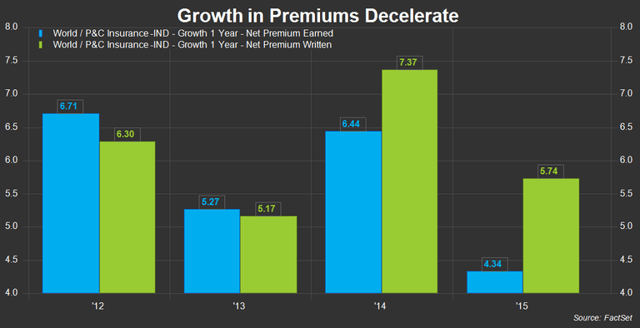 Despite the initial signs of headwinds, otherwise favorable conditions have made insurance a relatively hot investment of late. Incumbents may look to keep a handle on expenses and seek further product segmentation to help hold off a down cycle, but the market seems to have faith that property and casualty insurers will fare well in the global economy.