Brazil's economy and financial markets are in turmoil, and the news keeps getting worse. At the end of August, Brazil reported that GDP had contracted sharply in the second quarter of 2015, dipping 1.9% from the previous quarter, following a 0.7% quarterly decline in the first quarter of the year. On a year-over-year basis, GDP has contracted for five consecutive quarters, and analysts surveyed by FactSet expect the economy to shrink by 2.2% in 2015. Last week, S&P downgraded Brazil's debt to speculative grade (BB+) with a negative outlook. In August, Moody's rating agency cut Brazil's rating to one notch above speculative grade (Baa3), but the recent move by S&P may point to another cut by Moody's.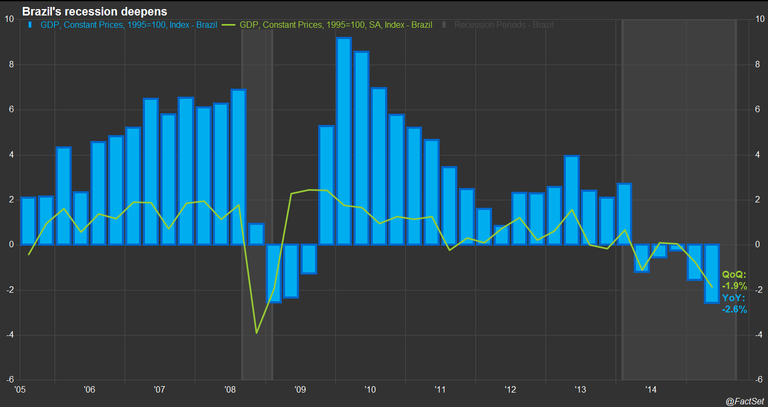 There are several global factors contributing to Brazil's economic woes. Raw materials and intermediate products make up two-thirds of Brazil's exports, and the broad decline in commodity prices has hit the Brazilian economy hard. Slower growth in China has been a driver behind falling global commodity prices, but weakness in China is an additional hit for Brazilian exports given that over the last five years China has become Brazil's biggest trading partner.
At home, Brazil has been rocked by a major corruption scandal involving the country's behemoth oil company Petroleo Brasileiro (Petrobras) and a growing number of government officials. Even though Petrobras stock is traded on the Bovespa stock exchange, Brazil's federal government controls just over 50% of the company's stock and thus maintains significant control of the company. There is mounting evidence that a cartel of companies was paying bribes to Petrobras leaders in exchange for lucrative contracts. The Petrobras officials then funneled some of those funds to politicians in the ruling Workers' Party, whose head is President Dilma Rousseff. Rousseff, who was elected to a second four-year term as Brazil's president last October, served as chair of the Petrobras board for part of the period when the corruption was occurring, but so far she has not been implicated in the scandal. Two members of her inner circle, however, have now been placed under investigation, Rousseff's approval rating is at an all-time low, and many are calling for her impeachment.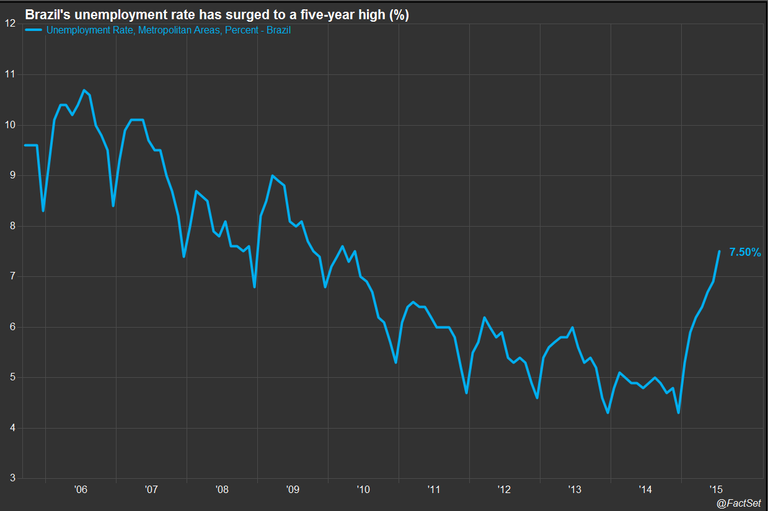 Estimates of the losses suffered by Petrobras because of the rigged contract arrangements are in the billions of dollars; this has sent the price of Petrobras stock plummeting as investors unload their shares. Traded on the Bovespa, shares of Petrobras common stock (PETR3) are down 54% from a year ago, while preferred shares (PETR4) are down 62%. The scandal has also led to a surge in the national unemployment rate as the contractors involved in the cartel have laid off thousands of workers. Total business investment is being choked as credit conditions continue to worsen for all Brazilian companies, which will likely push the jobless rate even higher. The unemployment rate has already soared this year, reaching 7.5% in July, up from 4.3% just last December and its highest level since mid-2010.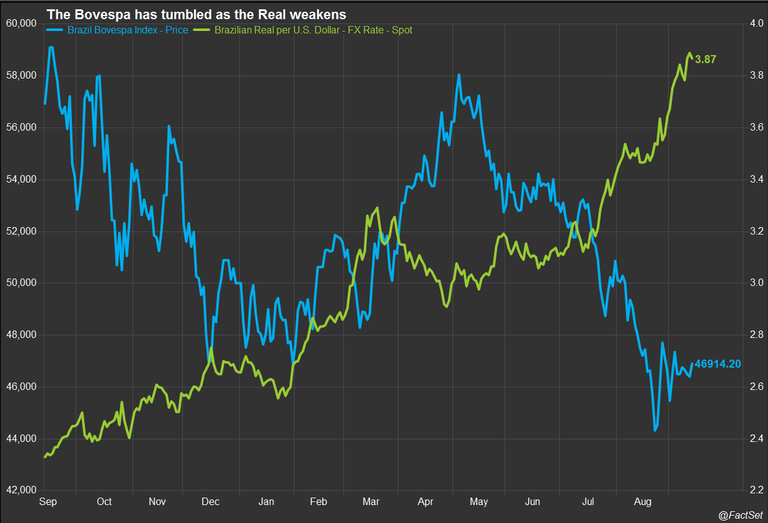 Even as GDP is shrinking and unemployment is on the rise, inflation is soaring (9.5% year-over-year in August, a 12-year high), creating a dilemma in setting both monetary and fiscal policy. The Monetary Policy Committee of Brazil's central bank left the SELIC unchanged at 14.25% at the early September policy meetings, but this follows seven consecutive rate hikes, totaling 325 basis points in increases since October 2014. Meanwhile, the Brazilian real has now depreciated by more than 25% over the last year, and at 3.9 reais per dollar is at a 13-year low.
On the fiscal side, last week Brazil's finance minister said that country's 2016 budget has to include spending cuts in order to address the primary deficit, projected to increase to 30.5 billion reais next year, compared to the surplus projected at the start of 2015. The Brazilian government has a number of challenges ahead; on top of everything, it remains to be seen how the additional financial burden of hosting the 2016 Olympic summer games will factor into the country's economic outlook.