After very strong U.S. GDP growth in the last two quarters (annualized quarterly rates of 4.6% in Q2 and 5.0% in Q3), analysts are looking for any clues signaling continued economic strength at the end of 2014 and into 2015. With personal consumption expenditures making up more than two-thirds of GDP, the American consumer is always a focus of attention, particularly when it comes to the all-important December holiday shopping season. However, the December 2014 U.S. retail sales figures were a disappointment, with sales dipping 0.9% from the previous month. A weak number was expected because of falling energy prices, but analysts surveyed by FactSet were expecting a nearly flat 0.1% number for the month. On a year-over-year basis, sales increased 3.2% from December 2013, but this is the slowest December year-over-growth rate since 2008 when the economy was in the midst of recession.
Plummeting energy prices did play a big role in the decline. Because retail sales measure nominal dollar purchases, lower gas prices translate directly into lower transaction values at gas stations. Their sales dropped off by 6.5% from the previous month, down 14.2% from a year ago. The price of RBOB gasoline fell by early 60% from its peak in mid-April to the end of December 2014; retail sales at gasoline stations have dropped by 13.7% over the same period.
Gasoline stations only make up 9-10% of total retail sales, however. Two of the biggest retail categories declined for the month as well: general merchandise stores (-0.9%) and motor vehicle and parts dealers (-0.7%). The December decline in motor vehicle sales follows two strong months in what has been a very strong year for the auto industry; on a year-over-year basis sales have surged 8.6%. In fact, light vehicle sales have been climbing steadily since the end of the recession in 2009. Interestingly, recent data show that as energy prices have fallen, consumers are moving back to light trucks, which includes minivans and SUVs. Car sales grew by just 1.2% in 2014 while light truck sales jumped 9.9%, driven by double-digit growth rates during the last five months of the year.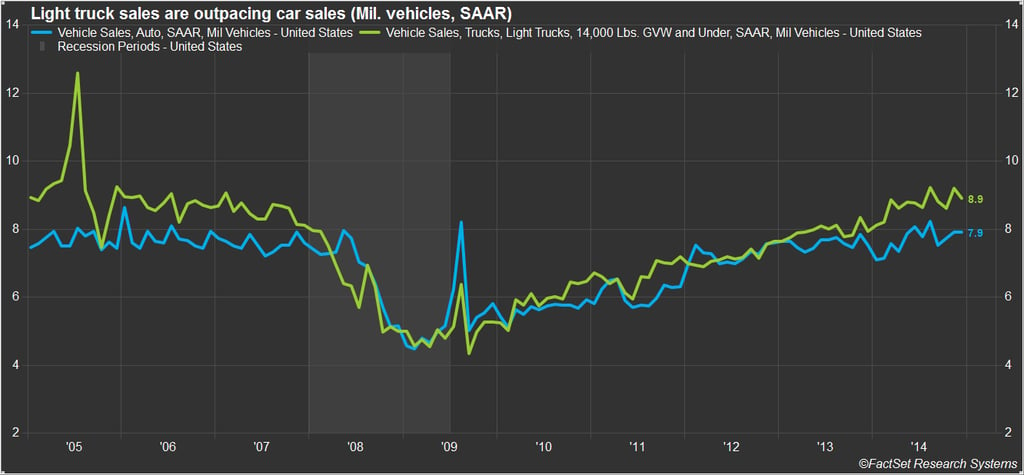 Despite the December decline in retail activity, most signs indicate that the data point was just a blip in an otherwise positive economic environment. It has taken nearly seven years, but consumer confidence has finally returned to pre-recession levels. Consumers may be upbeat as they benefit from low energy prices, but the retail sales numbers signal they are not funneling that money into other purchases—at least not yet. The month-to-month growth rate of consumer credit has slowed in recent months, with revolving credit falling in November—this may be an indication that users are putting their energy savings into paying down debt. With oil prices expected to remain low for the foreseeable future, overall CPI inflation should remain subdued. Analysts surveyed by FactSet are predicting an annual overall inflation rate of 1.3% in 2015 and core CPI (excluding food and energy) at a still-modest 1.8%; this would provide a continued boost to the U.S. consumer.