With less than a week to go before the first round, the French presidential elections have become as unpredictable as any in recent history.
After the initial turmoil following last year's Brexit vote in June, markets seem to have recovered to pre-referendum levels. The success of the "Leave" camp and the British economy's surprising interim resilience (as compared to the grim predictions from many politicians and market analysts) appear to have pulled support in the direction of eurosceptic and "Frexiteer" movements in France.
Among the 11 candidates vying for the Elysée, many are European Union (EU) and eurosceptic with high expenditure plans that could put the French economy in jeopardy or at least add uncertainty to its path. Markets seem to be in favor of two candidates in France: Emmanuel Macron, the centrist former finance minister who founded his own political movement En Marche, and François Fillon, the former prime minister who won the presidential primary of the right-wing party.
The Winner Will Inherit France's Struggling Economy
Today, the French economy is struggling with a high debt to GDP ratio, which hit a record level of 96% in 2016. Public spending is at 56.2% of GDP, contributing to a continuous budget deficit that has exceeded the European limit of -3% of GDP since 2008. The current balance has been negative for many years.
One of the major pain points highlighted in these elections is France's stubbornly high unemployment rate, which has hovered around 10% for the last five years while declining in other eurozone countries. Germany and the UK boast low unemployment rates, nearing full employment levels. This makes France a special case, largely due to a rigid job market that requires structural reforms.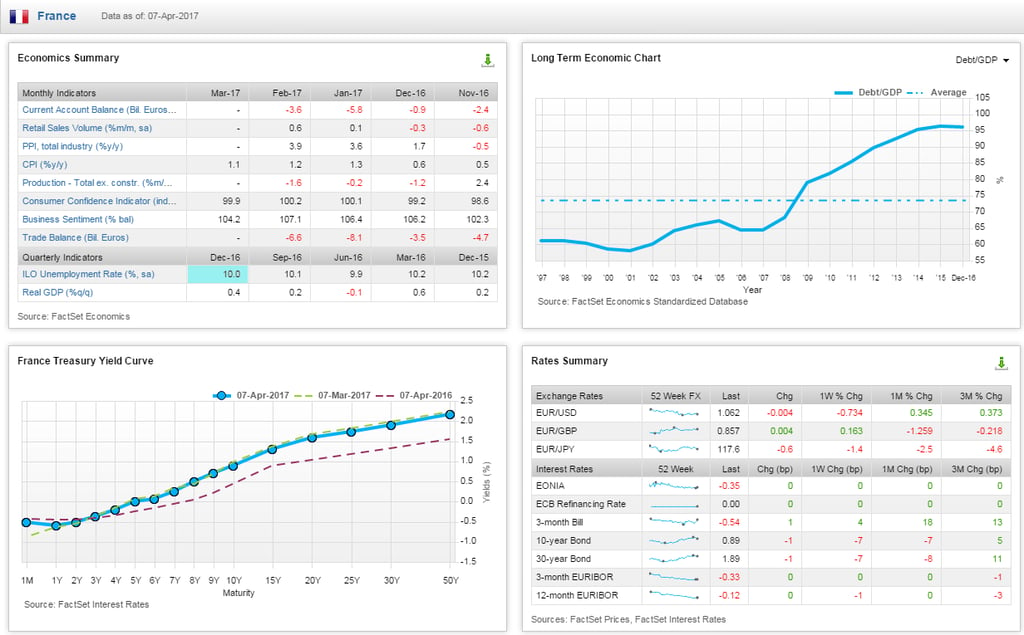 Candidates Offer Widely Divergent Programs
Suffering from low popularity, incumbent president François Hollande decided not to run again for president, which is unprecedented in recent election history. Additionally, the campaign has been hit by allegations of corruption and political infighting, and there are notable policy differences between leading candidates, who are offering radically different visions.
The far-right National Front candidate, Marine Le Pen, has pledged to cut taxes for households, increase welfare benefits for the working class, and introduce a 10% tax on foreign workers. She has also promised to exit the euro and threatened a "Frexit" referendum that would extract the country from the EU. Le Pen would also reject international trade agreements and quit NATO.
Former finance minister and investment banker Emmanuel Macron wants moderate spending cuts of €60 billion over five years and a €50 billion stimulus package over the same period. He promises more flexibility for companies in the labor market. Greater cooperation within the EU is a central pillar of Macron's agenda.
On the budget, the right-wing party's candidate François Fillon has proposed cutting €100bn of spending and reducing public sector jobs by 500,000. He is calling for more integration with Europe and wants to reduce immigration "to a strict minimum" by adopting annual immigration quotas. Furthermore, Fillon wants to introduce a 39-hour week for public sector workers, up from the current 35-hour week.
On the other side, the far-left wing's candidate Jean-Luc Mélenchon has promised to increase spending by more than €250 billion a year, financed through higher taxes and more debt, and wants a complete renegotiation of European treaties. Mélenchon has also proposed a 32-hour workweek and seeks to lower the retirement age to 60. He would also exit France from NATO and any trade agreements, promoting French products instead.
Finally, the ruling left-wing party's candidate, Benoît Hamon, would increase public spending by €71 billion a year by 2022, funded by higher taxes on business and the wealthy. While Hamon is pro-EU, he wants to pull out of trade agreements such as the Comprehensive Economic Trade Agreement (CETA) between the EU and Canada.
OAT vs. Bund Spread Is the New Risk Indicator
Following the Federal Reserve's move to raise interest rates in the United States and the solid GDP growth figures in Europe, we've observed many signs of rising yields. However, this rise is amplified for French 10Y government yield specifically under pressure due to the elections. In 2016, the spread of France to Germany's 10Y government yields (OAT vs. Bund) were oscillating in the range of 20 to 40 basis points (bps). The European Central Bank's quantitative easing actions ensured sufficient control of the situation. However, in recent months the spread widened to reach a three-year high of 80bps.
In fact, OAT vs. Bund spread is a major indicator in these elections. It moves following survey publications and local political announcements. This indicator rises each time a survey agency predicts a win or a rise in popularity of EU-critical candidates like Le Pen or Mélenchon and falls if surveys show more support for centrist candidate Macron or right-wing candidate Fillon.
Let's have a look at the spread history to understand its movement: In the early 1990s, French debt was perceived as risker than German Debt, so OAT vs. Bund spread was high. Progress towards the eurozone and the creation of the euro in the early 2000s led to a narrow spread, nearing 0 bps. The global financial crisis in 2008 and the euro crisis disrupted this alignment and resulted in a peak at 140 bps in 2011.
Now even at around 70bps, the OAT vs. Bund spread is far from predicting a disaster but certainly reflects the uncommon nature of these elections.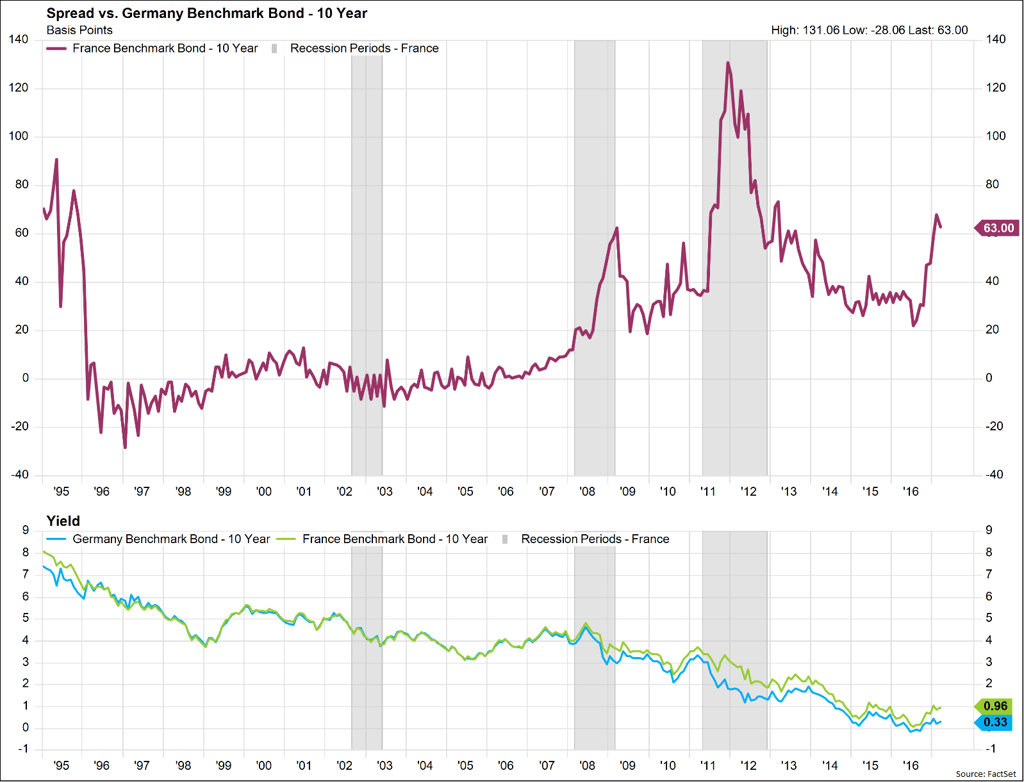 France is the second largest economy in the eurozone, and its elections are likely to further stir up Europe's political and economic dynamics and have repercussions on international economics and geopolitics. The volatility of U.S. treasury yields could be impacted if Marine Le Pen advances to the second round in addition to the widening of the OAT vs Bund spread that would naturally occur.
After the first round of elections on April 23, the second round opposing the two candidates with the highest number of votes will take place on May 7. The period between the two rounds will be crucial.