Following the imposition of new tariffs on U.S. steel and aluminum imports, auto imports may be the next trade target of the Trump administration. The metal tariffs were instituted in the name of national security, and similarly U.S. Commerce Secretary Wilbur Ross announced last month that he is investigating whether auto imports pose a threat to national security under Section 232. This could lead to new tariffs of up to 25% on auto imports.
How important are imports to the U.S. auto market and what would be the impact of higher tariffs?
One in four light vehicles sold in the U.S. is an import. The ratio of imported vehicles to total light vehicle sales peaked in early 2009 at 30% before falling to 20% at the end of 2014; however, the share of imports has been trending higher over the last three years due to the stronger dollar.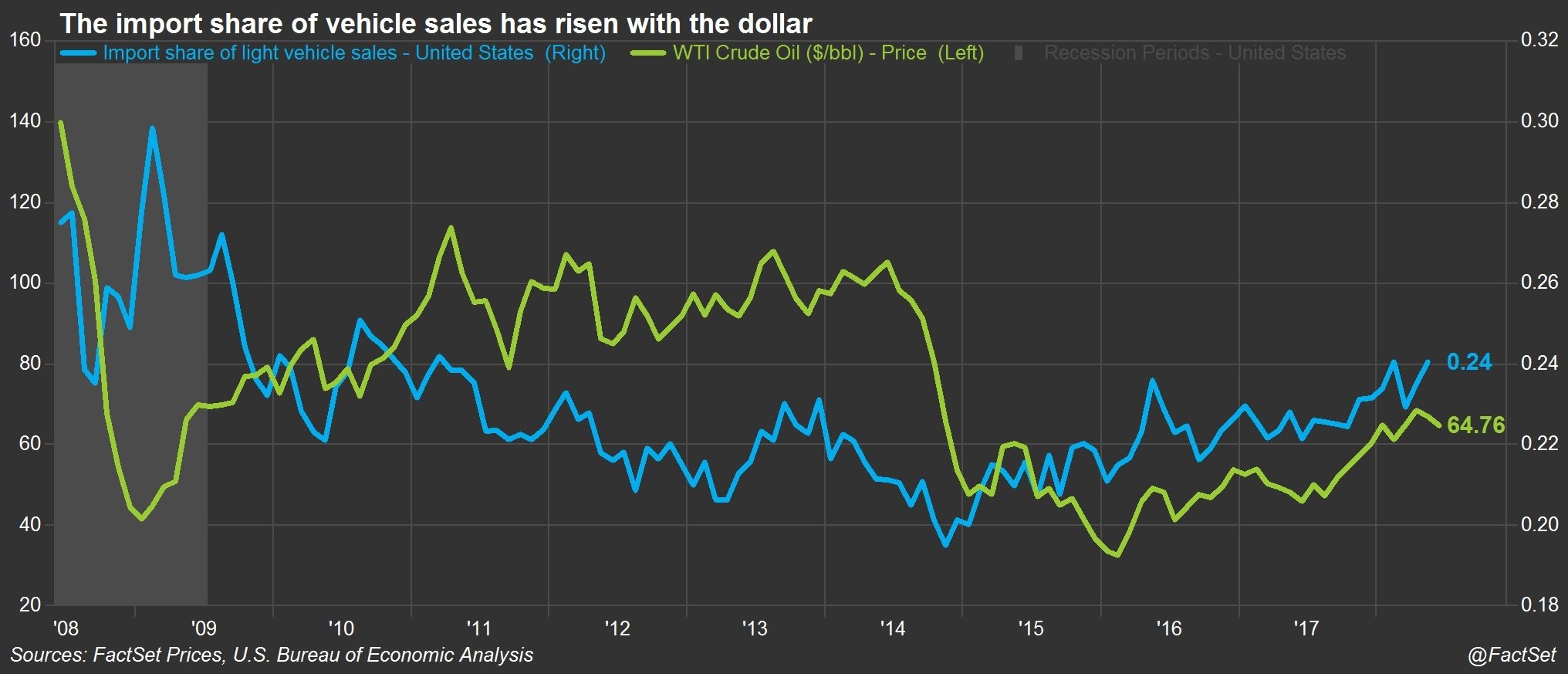 The Distortion of the Chicken Tax
Currently, auto imports are taxed at 2.5%. However, light trucks (pickups and SUVs) are subject to a retaliatory tariff instituted in 1963 by President Lyndon Johnson in response to European tariffs on U.S. chicken. The so-called "chicken tax" imposes a 25% tariff on all light truck imports, and despite calls over the last 55 years for its repeal (coming from outside the U.S. auto industry), the law still stands.
The Trans-Pacific Partnership (TPP) trade deal signed by President Barack Obama in 2016 would have gradually phased out the chicken tax for the signatories; however, President Donald Trump withdrew the U.S. from the TPP shortly after taking office in 2017. The recent trade agreement reached with South Korea is supposed to phase out the chicken tax on imported South Korean trucks by the year 2041. Canada and Mexico are currently exempt from the tariff under NAFTA, but given the recent extension of the steel and aluminum tariffs to these countries, this could change.
Since light trucks are already taxed at a 25% rate, it is important to consider the shifting composition of U.S. vehicle sales when looking at the impact of potential auto tariffs. Over the last several years, the U.S. auto market has seen a rapid shift away from cars and toward light trucks.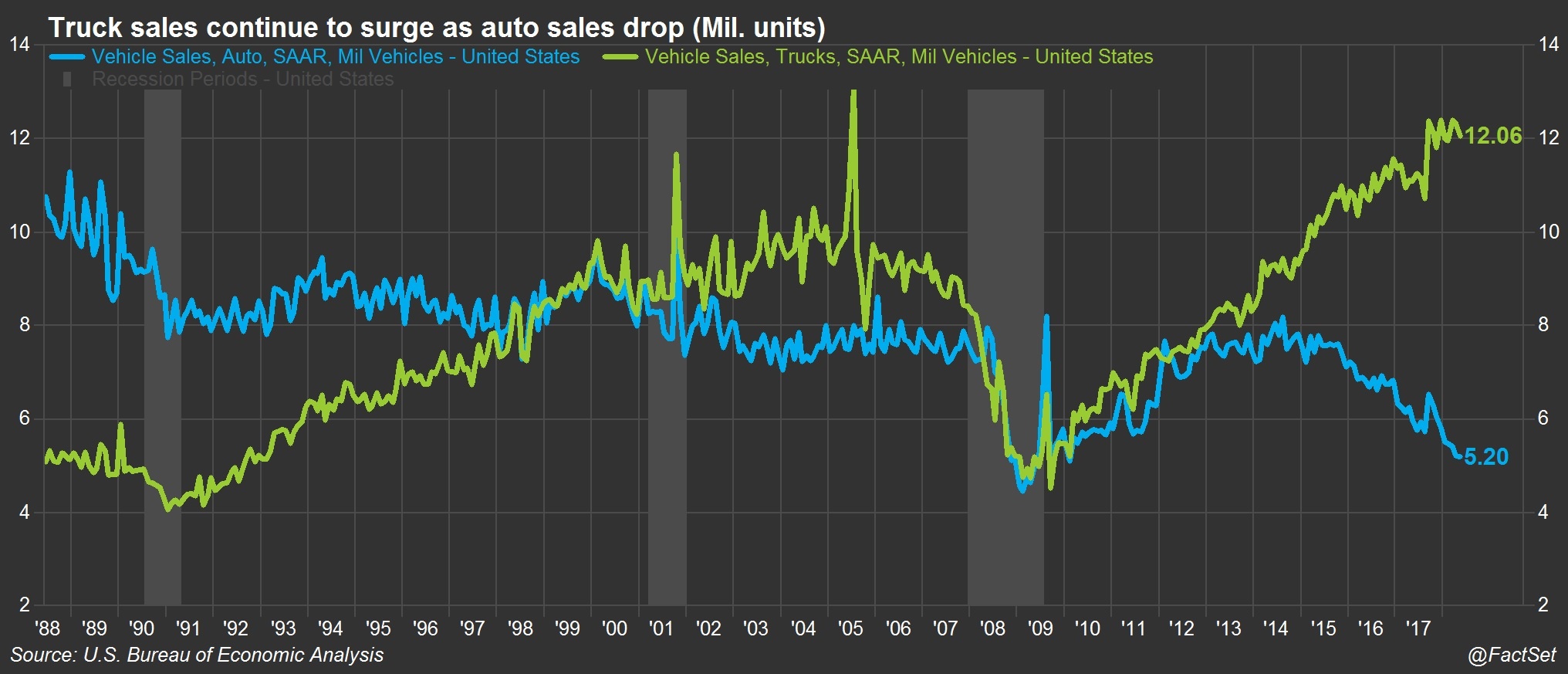 There are two key segments of the light truck market: pickup trucks and SUVs/crossovers. The chicken tax has distorted the U.S. pickup truck market by largely excluding foreign producers. With the U.S. vehicle market shifting away from autos and toward light trucks, the exclusion benefits the U.S. auto industry. The top three selling vehicles in the United States last year were all trucks, with Ford leading the pack by a mile, followed by GM (Chevrolet) and Fiat Chrysler (Dodge). Many observers believe that the chicken tax has stifled innovation by U.S. auto makers by limiting foreign competition.
Table 1: 2017 Best Sellers
| | | | | |
| --- | --- | --- | --- | --- |
| RANK | MODEL | CLASSIFICATION | 2017 SALES (UNITS) | ANNUAL % CHANGE |
| 1 | Ford F-Series | Truck | 896,764 | 9.3% |
| 2 | Chevrolet Silverado | Truck | 585,864 | 1.9% |
| 3 | Ram Pickup | Truck | 500,723 | 2.3% |
| 4 | Toyota RAV4 | SUV/Crossover | 407,594 | 15.7% |
| 5 | Nissan Rogue | SUV/Crossover | 403,465 | 22.3% |
| 6 | Toyota Camry | Car | 387,081 | -0.4% |
| 7 | Honda CR-V | SUV/Crossover | 377,895 | 5.8% |
| 8 | Honda Civic | Car | 377,286 | 2.8% |
| 9 | Toyota Corolla | Car | 329,196 | -13.0% |
| 10 | Honda Accord | Car | 322,655 | -6.5% |
American Made Doesn't Necessarily Have an American Label
Foreign producers dominate the second key light truck segment, SUVs and crossovers. The top three selling SUVs/crossovers in 2017 were the Toyota RAV4, Nissan Rogue, and Honda CR-V. In fact, all three of these vehicles are crossovers, meaning that they are built on an auto chassis. Concentrating on this category, foreign auto makers can shift production to North America using many of the same parts in their auto manufacturing plants, while taking advantage of the NAFTA open borders to sell products in the U.S. market. Toyota produces the RAV4 in Ontario, Canada; Nissan builds the Rogue in Tennessee; and Honda has CR-V production in Indiana, Ohio, and Ontario, Canada.
The Trump administration has also commented on luxury vehicle imports, particularly those coming from Germany. However, the truth is that many of these luxury brands are produced in the U.S. Like the Japanese producers mentioned above, German auto manufacturers have invested heavily in North American production facilities. Mercedes-Benz produces the GLE-Class and GLS-Class crossovers, as well as its C-Class auto, at its facility in Alabama. BMW produces the X3, X4, X5, X6, and X7 crossover SUVs at its South Carolina production facility, and Volkswagen has plants in Tennessee and Mexico. According to the German Association of the Automotive Industry, Germany's auto industry has created approximately 116,500 jobs at U.S. plants.
U.S. Auto Makers Buy from and Sell to the Rest of the World
It's not just foreign-produced autos that would be taxed; higher tariffs on motor vehicle parts are also being weighed. This could have a major impact on the cost of inputs for domestic vehicle production. According to FactSet's global supply chain data, Ford has a total of 450 suppliers in the U.S. and across 36 countries, while GM has 482 suppliers in the U.S. and in 38 foreign countries. Not only do domestic auto makers rely on overseas suppliers for parts, they rely on overseas markets to sell their vehicles. Motor vehicles exports represent 10% of total U.S. exports to the world. A move to raise tariffs on U.S. motor vehicle imports would most likely result in retaliatory tariffs from key trading partners, and have significant impacts on the U.S. auto industry.
However, consumers would be hardest hit by an auto tariff. Higher prices for automobiles would be another inflationary jolt and rising energy prices could make the tariffs especially painful (WTI crude has jumped by 38% in the last 12 months).
We'll have to wait and see whether the U.S. levies new tariffs on auto imports. But any new tariffs would have far-reaching consequences for the U.S. economy as well as the auto industry.