Despite shifts in U.S. posture on environmental issues, major companies like Apple, Unilever, and Walmart have continued to pursue clean energy initiatives. It's not a surprising stance, given investors' increasing appetite for socially responsible investing, the long-term benefits of capitalizing on climate-change related opportunities, and the economics of energy. But will sentiment or policy have more of an effect on performance?
ETFs as a Barometer for Sentiment
Preceding President Trump's announcement on the Paris Agreement and following the withdrawal statement, performance of the iShares MSCI USA ESG Select ETF and the Energy Select Sector SPDR Fund have diverged greatly. Over the last year, the iShares MSCI USA ESG Select ETF has experienced an 18.5% price increase, while the Energy Select Sector SPDR Fund's price has decreased by 0.5%. Since the beginning of February, this split has been even more pronounced; the two ETFs have experienced 9.7% and -7.6% price changes respectively.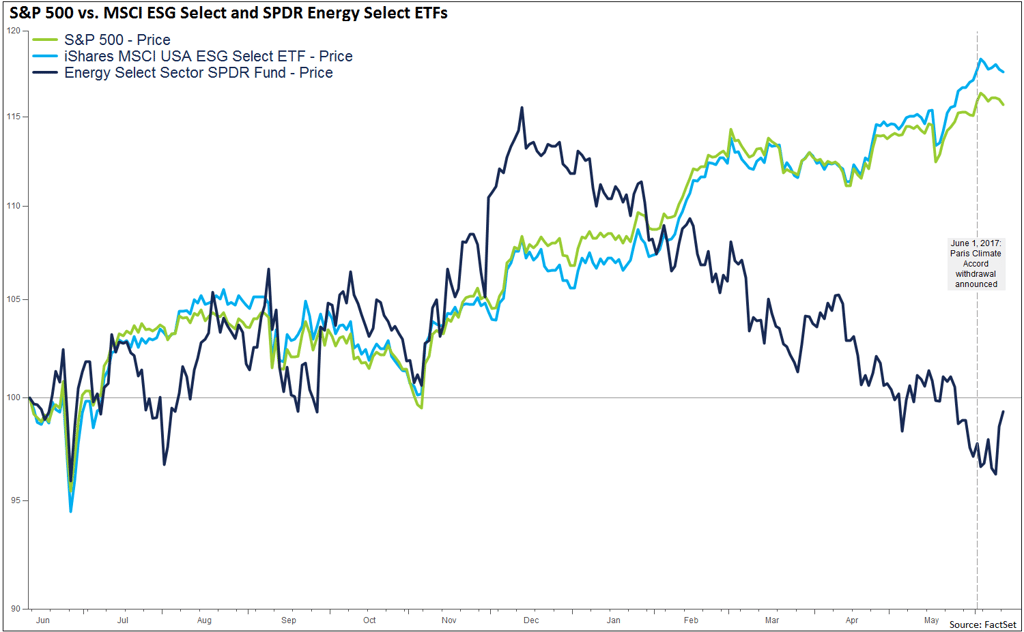 The ESG ETF, which tracks an index of companies that MSCI has determined reflect socially conscious values with regard to the environment, society, and, corporate governance, has recently trended higher than the S&P 500.
Manufacturer Employment Decline May be Irreversible
In citing economic factors as the primary cause for this withdrawal, President Trump noted that the Paris Agreement could cost the world 2.7 million jobs by 2025. Specifically manufacturers, including those in the automobile industry and commodities such as paper, cement, iron, steel, coal, and natural gas, were expected to bear the biggest burden of the Agreement's elements.
The U.S. has already experienced a steep decline in these industries over the last 20 years. Since 2010, employment in the durable goods manufacturing industry has trended slightly upwards; however, the sluggish pace of the increase does not bring the level of employment in this industry anywhere near the levels of the mid-1990s. It remains to be seen whether withdrawing from this agreement will materially revitalize these industries.

Coal: The Big Winner?
Both on the campaign trail and since taking office. President Trump and his administration have expressed a desire to revive America's coal industry and develop clean coal technology. Supporters of the platform lauded the Paris Agreement withdrawal as one of the first steps in fulfilling this promise.
Although the U.S. energy sector (as represented by the Energy Select Sector SPDR Fund) has continued its downward trend over the last year, an index of U.S. coal companies has gravitated upwards over the same timeframe. In spite of prices reaching their peak after President Trump's election, the aggregate price of this coal composite outperformed the S&P 500, increasing more than 38% over the last year.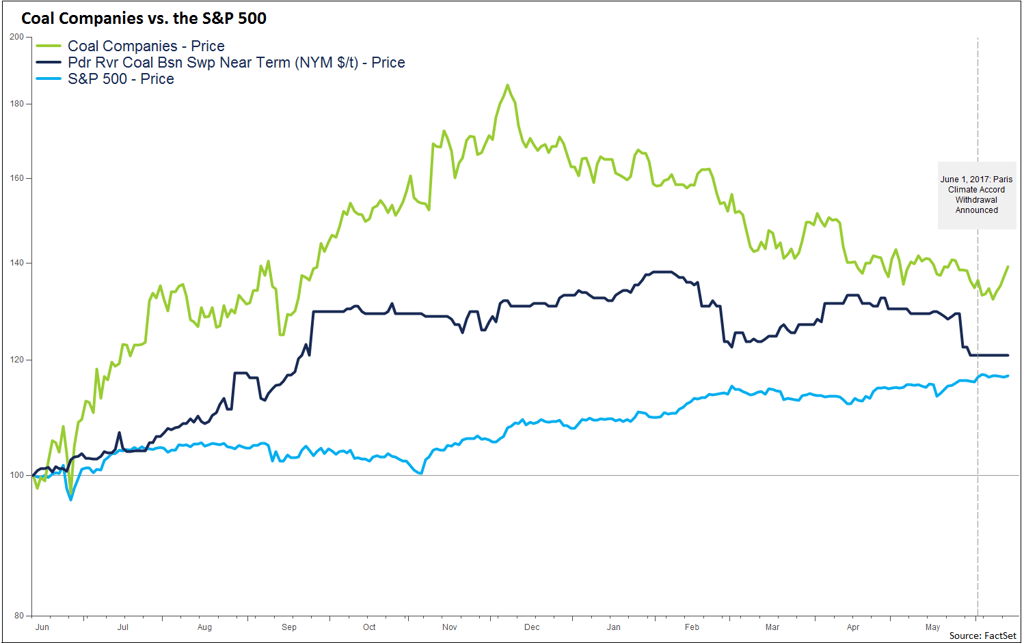 Since the withdrawal announcement, the price of coal itself has remained largely flat. After experiencing an initial drop, coal companies have again ticked upward, continuing the trend of the last year.