The IPO market is largely viewed as a sentiment indicator for the economy as a whole. Recently, discussions have revolved around an "IPO bubble" and the "death of the IPO market." Let's take a look at key figures for the United States:
25 total IPOs year to date, compared to 47 IPOs at this point last year (a 44% decline)
Nine IPOs from the Biotechnology and Medical Specialties (compared to 20 last year)
147 follow-on offerings compared to 176 this year (a 16.5% increase)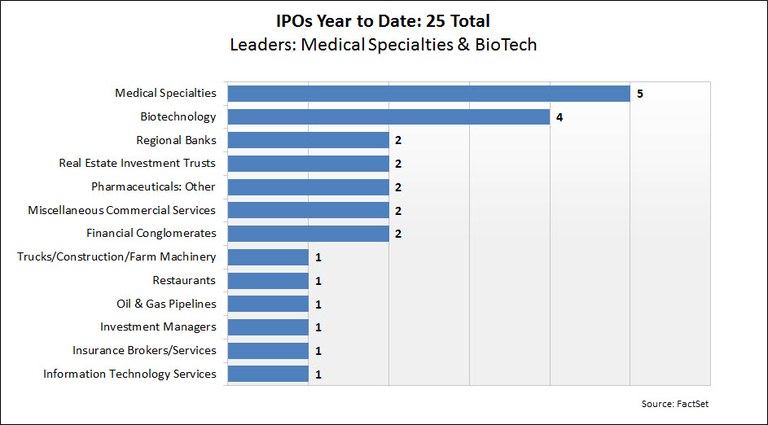 Citigroup and JP Morgan are the largest bookrunners of these deals with five IPOs each
Stifel, Nicolaus & Co assisted in nine IPOs at this point last year, only two this year

IPO activity this year is well below the unrealistic pace of 2014. Is that reason to be worried? Maybe not. Last year was the biggest year for IPOs since 2000. Companies are now raising more private capital from family, angel investors, and venture capitalists than ever before, which delays the timeline for companies to go public. The strong U.S. dollar is not helping as investors have seen the effects of higher costs and increased foreign competition at lower price points. Gross proceeds raised from IPOs are down 42% from last year according to FactSet, further signaling the stagnation of the IPO market this year. However, there are many big name private companies such as Pinterest, SpaceX, and Snapchat that could completely change the IPO landscape this year.
Keeping a close eye on the IPO calendar, particularly on the four distinct categories of upcoming IPOs, recently priced offerings, recently filed offerings and recently withdrawn offerings will help paint a comprehensive picture of the current IPO landscape.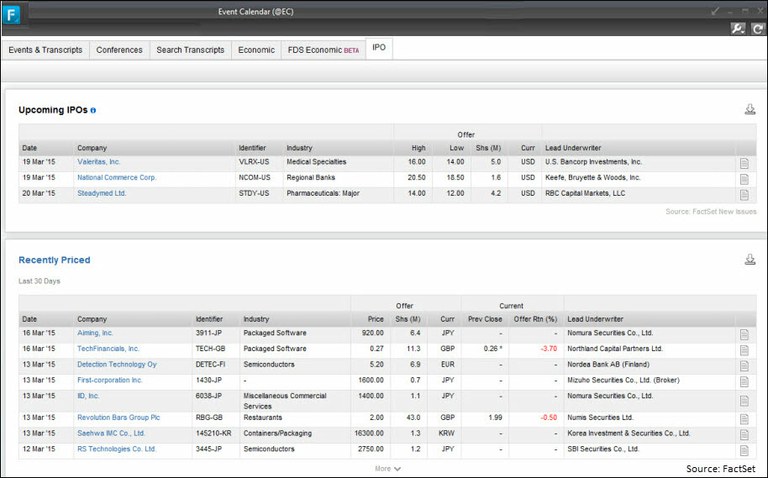 Learn more about navigating the investment opportunities presented by the IPO market in our latest Emerging Ideas webcast: