Media attention on Greece's imminent exit of the Eurozone has surged in the past two weeks, and investors are worried. Major European equity benchmarks were down close to 5% on average in June, with the DAX, FTSE 100 and MSCI Europe falling -3.1%, -6.0% and -5.0%, respectively.
At the core, investors seem to be concerned about not only Greece's failure to pay back its debt, but more importantly its contagious effect to the Eurozone as well as to the entire European Union (EU). After all, if Greece does depart from the Eurozone, it will be the first country to do so in Eurozone's history, and such a departure could deepen doubts about the long term viability of the Euro.
Hence, there are legitimate arguments for investors to be concerned about the Greece debt crisis, particularly if their portfolios are highly exposed to Greece, the Eurozone, or the EU. For example, based on conventional geographic exposure analysis of the MSCI Europe benchmark, it is more than 80% exposed to the EU and 100% exposed to Europe (inner pie chart). By conventional geographic exposure, we mean the practice of assigning a single country exposure to each company based on its country of domicile. This is far from ideal because we know many companies conduct their businesses and generate revenues globally, and their geographic exposure could hardly be captured by a single country assignment.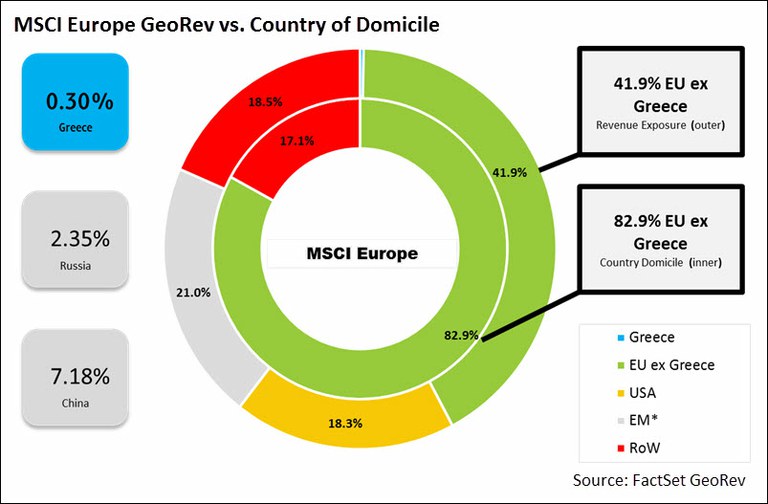 Using FactSet GeoRev, which captures a multi-dimensional approach based on companies' geographic revenues, to analyze MSCI Europe's exposure reveals a dramatically different picture.
It is no longer 100% exposed to Europe

More than 18% of its aggregate revenues comes from the U.S.

Another 21% comes from Emerging Markets

Only 42% of the exposure comes from the EU (outer pie chart).
Given the divergence observed above, concern of risk contagion to the EU might have been overblown when the biggest corporations in Europe – as measured by MSCI Europe – are at least 40% overstated using conventional geographic exposure metric. On the flip side, exposure to Emerging Markets and the U.S. is understated by close to 40%, and Grexit will likely have minimal impact on these two major economic blocs. (We base "Emerging Markets" on MSCI's definition that excludes EU countries such as Czech Republic, Poland, Greece, and Hungary, which are already included in the EU category.)
While Grexit will likely lead to a plunge in Greek currency and purchasing power and materially reduce import from its top five trading partners (Russia, Germany, Italy, Saudi Arabia and China, in descending order), the size of Greek import relative to the size of these five countries export is very small (< 1% on average) and should cause no meaningful disruption to these economies.
In light of these potentially misstated exposures, asset prices could be temporarily mispriced, and Grexit may end up being more of an opportunity for information arbitrage than a macroeconomic risk to avoid.