Earlier this month, the leaders of the European Union (EU) and Japan announced that they had an "agreement in principle" for a Japan-EU Economic Partnership Agreement. Having taken more than four years to negotiate, this new deal is expected to eliminate 99% of tariffs between the two partners and create an economic trading bloc comparable to the North American Free Trade Agreement (NAFTA) in size. Central to the pact are the reduction of tariffs on exports of European food products to Japan and Japanese cars to Europe, as well as implicit inclusion of a commitment to the Paris climate accord.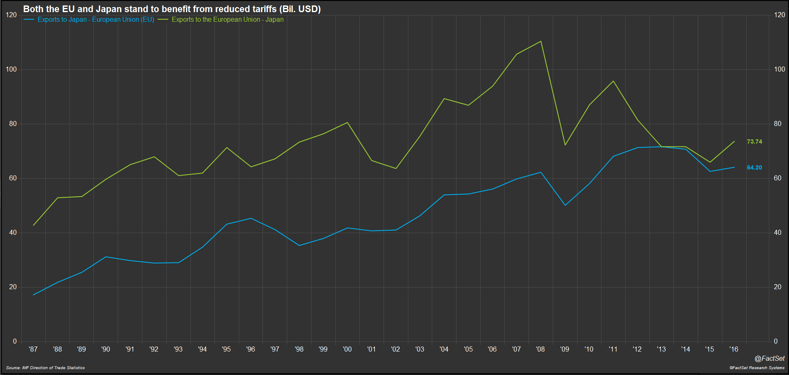 FactSet clients: launch this chart
Announced on July 6, right before the G20 gathering in Hamburg, Germany, the partnership agreement stressed both parties' commitment to "open and fair trade" and to rejecting protectionism. This message is in line with recent language in global economic forecasts produced by the International Monetary Fund (IMF) and the Organization for Economic Cooperation and Development highlighting the downside risks from increased protectionism around the world.
At the same time, the announcement contrasts sharply with protectionist rhetoric from U.S. President Donald Trump, which became a point of contention at both the recent G20 meetings and the G7 summit earlier this year. Under Trump, the U.S. has already pulled out of the 12-country Trans-Pacific Partnership pact, and the new president has promised to renegotiate NAFTA, which the U.S., Canada, and Mexico signed in 1994.

FactSet clients: launch this chart
Trade Implications
Trade flows between the EU and Japan are significant. According to the IMF's Direction of Trade statistics, the EU's exports of goods to Japan totaled $64.2 billion in 2016, making it the EU's fifth largest export market for goods and the second largest export market in Asia, after China. Japan exported $73.7 billion in goods to the EU in 2016, making it Japan's third largest goods export market, after the United States and China. Looking at the combined GDP of the two partners, the agreement would create an economic trading bloc of comparable size to NAFTA (in 2016, $21.3 trillion in nominal GDP for EU-Japan, $21.1 trillion for NAFTA).
Reducing tariffs on key agricultural exports was a top priority for European negotiators. Valued at €116 billion, exports of food and beverages made up 6.6% of EU goods exports in 2016. Food and beverage exports to Japan totaled €5.3 billion, just 4.6% of total food and beverage exports but 9.2% of total goods exports to Japan. The agreement with Japan removes duties on many cheeses, meats, and wine. In addition, so-called "geographical indications" will receive the same special consideration as allowed within Europe; this includes specialty products that correspond to a specific geographical location or origin within Europe. The European Commission press release cites protection of "the Austrian Tiroler Speck, the German Münchener Bier, the Belgian Jambon d'Ardenne, the Polska Wódka, as well as 200 other EU Geographical Indications."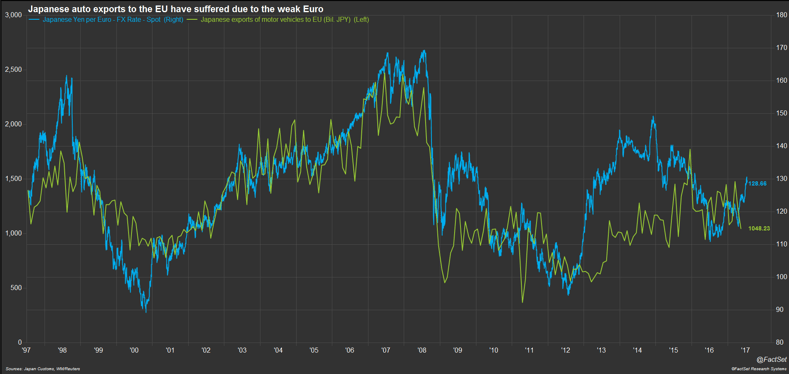 FactSet clients: launch this chart

At the same time, Japan is looking to export more cars to Europe. According to the Japan Automobile Manufacturers Association, Japan exported over 611,000 motor vehicles to the EU in 2016, with a total value of ¥1.2 trillion according to Japan Customs. Motor vehicle exports to Europe peaked in 2007, right before the global financial crisis; the dip in exports coincides with the sharp drop in the EUR/JPY exchange rate in 2008. Even though EU GDP growth has recovered over the past few years,bringing with it an increase in imports of Japanese autos, sustained EUR weakness has kept those imports from returning to pre-crisis levels. Last year, approximately 11% of total Japanese motor vehicle exports went to the EU, but the figure has been as high as 19% (2004).
In a first, the new partnership agreement includes a specific commitment to the Paris climate accord reached in 2016. However, critics from environmental groups have pointed out that it fails to include provisions on whaling and logging, and there are concerns that both European and Japanese farmers could be hurt by the increased market competition. Additionally, some agreement specifics still need to be finalized, such as details on the mechanism for dispute resolution. Once completed by negotiators, the final text will need to be ratified by the Japanese parliament as well as each national government in the EU. Leaders expect the new rules to go into effect in early 2019.