Often, investors view actively managed equity portfolios with higher turnover as tax inefficient relative to passive strategies. However, quantitatively-based strategies with a disciplined approach to harvesting losses can produce attractive after-tax returns over time.
Advantages of Quantitative Investing
Since the early 1900s, investors have used quantitative analysis to help evaluate the attractiveness of securities, including Benjamin Graham ("Security Analysis", McGraw-Hill, 1934). Today, many investment managers use some degree of quantitative analysis in their processes, from stock selection screens to "Black Boxes." Quantitative analysis can help investors sort through a wide range of data to identify specific criteria for differentiating stocks (e.g., valuations, fundamentals, momentum). In addition, quantitatively-based strategies can use optimization techniques to objectively manage portfolios with attractive return and risk characteristics, consistent with the concept of "Smart Beta." However, many "smart beta" strategies have limited potential for risk-adjusted returns since they usually focus on one specific criteria for determining stock exposures such as valuation, size, low volatility, or momentum. Our team uses multiple factors ("smart betas") in building diversified portfolios that can provide attractive risk-adjusted returns across market cycles.
Quantitatively-based strategies have several advantages relative to fundamental strategies. The investment decisions are based on an objective framework and not subject to emotional biases. Greed and fear may sometimes drive investors to make irrational decisions. Unlike fundamental portfolio managers, quantitatively–based strategies do not require a "courtship" period to become comfortable with a new stock idea. For sell decisions, quantitatively-based portfolio strategies do not fall in "love" with companies and are quick to exit deteriorating companies.

The quantitatively-based strategies used by our team employ a multi-disciplined approach of ranking stocks within sectors based on a variety of factors, including valuation, fundamentals, estimate revisions and technicals. The objective is to create portfolios that look like the "Ideal Stock" with below market valuations, strong fundamentals, favorable earnings/revenue growth trends, positive momentum, and good liquidity. The strategies use top-down leading industry group indicators based on early economic and capital market signals to tilt sector weightings relative to benchmark indices. In addition, downside risk screens are used to avoid stocks with negative earnings surprise signals and sell rankings.
Tax Awareness in Portfolio Construction
In developing a tax aware portfolio strategy, one should follow three basic principles:
Avoid Realizing Short-Term Gains
Take Advantage of Tax Loss Harvesting Opportunities (Bear Markets)
Prioritize Selling of Higher Cost Basis Stocks.
To analyze the effectiveness of different tax sensitive strategies over time, we simulated portfolios of randomly selected large cap stocks of the Russell 1000 Index over the historical 20-year period. The first scenario was based on 1,000 portfolio simulations that assumed that turnover would only occur from acquisition, trimming of oversized positions (>2% of total portfolio weight) or selling positions that have fallen to an insignificant weighting below 0.1% of the total portfolio. The second scenario assumed that all losses (short or long-term) would be harvested on a monthly basis. The third scenario was based on simulated portfolios that would harvest all losses with greater than one month holding periods which would avoid the negative effects from one-month stock price reversions. The fourth scenario depicted portfolio simulations that would only purchase stocks ranked in the top three deciles of proprietary multi-factor stock ranking models (buy universe) and harvest losses for stocks that were no longer attractively ranked.
Assumptions
Large Cap Universe - Russell 1000 Index (Source: FactSet)
1000 Trials of Randomly Selected 100 Stock Portfolios Over 20 Years (through 1/31/13)
Initial Portfolios reflect stocks with 1% weighting each
Individual Stock Holdings >2% of Portfolio are Trimmed
Individual Stock Holdings <0.1% of Portfolio are Sold
Federal tax rates of 15% for dividend income and long-term gains (losses), 35% for short-term gains (losses)
Stock Rankings Based on Proprietary Multi-Factor Models (Top Three Deciles)
Simulations based on monthly periods over 20-years performed with MATLAB software
Simulation Results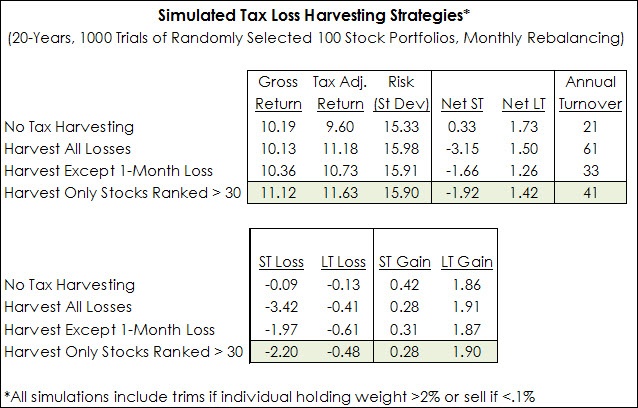 In the base case, the portfolio simulations with no tax harvesting had average gross and after-tax adjusted returns of +10.2% and +9.6% (annualized), respectively. The resulting annual turnover (21%) and taxable gains/credits were due to the trimming of oversized positions >2% (reduced to 2%) or the sale of stock positions that were less than 0.1% weighting in the portfolio. On a monthly basis, proceeds from sales would be proportionately reinvested in new positions (total stock positions maintained at a constant 100 level).
In the second case, the simulations were modified to harvest all losses on a monthly basis. In this strategy, the average gross return declined to +10.1% but the average after-tax return increased to +11.2%. Portfolio volatility increased to 16% versus 15.3% in the base case. The average turnover was 61% over the 20-year period.
In the third case, the simulations would harvest all losses except for one-month losses that could be subject to short-term price reversal effects. For these simulations, average portfolio turnover was reduced to 33% the average gross return increased to +10.4%. However, the average tax-adjusted return was +10.7% (about 45 bps below harvest all losses).
The fourth case, we applied a multifactor stock ranking screen, reflecting "smart" beta exposures to valuation, fundamental and technical factors. Only stocks ranked in the top three deciles would be purchased into the portfolio. On a monthly basis, any holdings that have a loss and not ranked in the top three deciles of the stock screen would be sold. The average gross and tax-adjusted returns for these simulations were +11.1% and +11.6%, respectively. This strategy outperformed the harvest all losses strategy on an after-tax return basis by about 0.5% and should have lower transaction costs with an average turnover of 41% (versus 61% for harvest all losses).
The results indicate that portfolio strategies with a focus on tax loss harvesting can reward an investor with higher tax-adjusted returns relative to a passive, lower turnover strategy. The higher relative after-tax versus gross returns resulted from the harvesting of short-term losses at tax credits of 35% while long-term gains had tax costs of 15%. However, even higher returns can be achieved with a portfolio strategy based on smart betas and a tax loss harvesting discipline.
For more information, visit www.glenmede.com.