Markit's exchange-traded product (ETP) data has been integrated with FactSet's analytical tools to support research, investment decisions, risk management, and reporting.
FactSet users can leverage Markit's ETP data in multiple tools:
Portfolio Analytics: Identify systematic sources of relative ETF performance compared to the benchmark and analyze exposures that helped or hindered benchmark tracking to evaluate a fund manager's performance. Compare ETFs to competitor funds or its peer group. Create multi-asset class portfolios to test investment theories with a variety of instruments, including ETFs, mutual funds, stocks, and bonds. Additional functionality like customizable layered groupings, auditing, charting, and multi-period date options enable users to extract greater value and insight from Markit's ETP data.
Universal Screening: Select predefined quick screens, search by specific criteria, or build custom reports from more than 1,600 data points. Screen on any number of data points to identify funds that meet exact criteria or the marketplace by looking at AUM trends, fund flows, liquidity and other analytics across geographies and market segments.
ETF Snapshot: View an extensive fund profile report providing the essential facts for a fund in a simple one page report, updated on a daily basis. This report provides key performance, risk, and management information in a simple-to-consume format. Reports are also available as PDFs.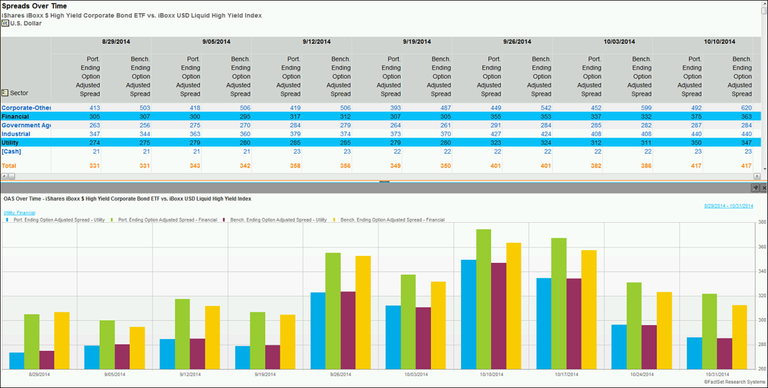 Markit ETP data integrated on FactSet includes 5,200+ ETPs and 1,300+ analytic data points:
Multi-asset Composition Data: Daily portfolio composition information for global ETPs across asset classes. This lets users calculate an intraday net asset value (NAV), understand the exposure and risk profile, and perform detailed analysis based on holdings.
ETP Analytics: An independent suite of analytics, comprising performance, exposure, liquidity, risk, and tracking metrics for global ETPs.
ETP Encyclopedia: Normalized, detailed reference data for ETPs listed globally, with data sourced directly from issuers, prospectuses, and exchanges, and newly issued ETPs.