There's no getting around it, the U.S. M&A market is in a slump (going on 22 months now, if anyone wants to know). This is part of the normal M&A cycle that I've discussed in earlier posts. However, unlike every cycle in the last 10 years, 2018 has managed to create its own noteworthy dynamics and set some new records we haven't seen since the heydays before the global financial crisis (GFC), specifically in the high end of the market.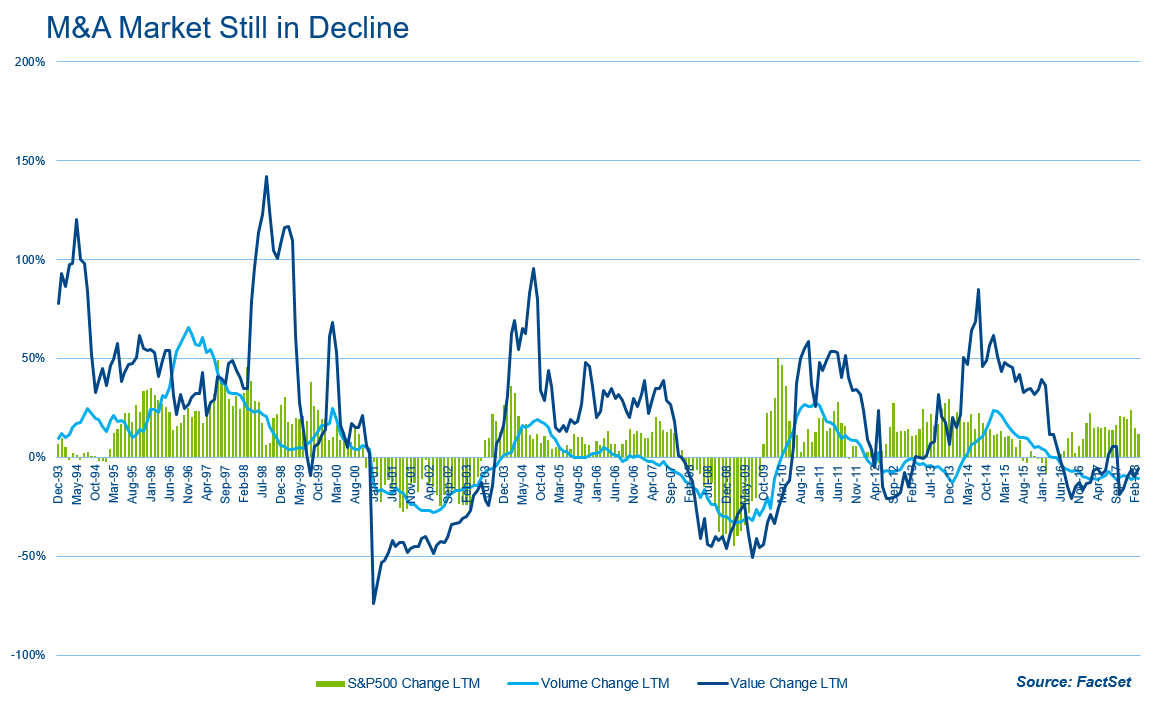 Despite the overall contraction, through April 2018 the M&A market has recorded the highest number of billion-dollar deals since 2007 and the second highest level of billion-dollar deals over comparable periods in the last 21 years. In terms of total deal value, 2018 has topped them all. We'll have to wait and see whether this trend can continue through the rest of the year. In this regard, the top end of the M&A market is behaving much like the top end of the real estate market in downturns – it is clearly not suffering as much as the rest and may help trigger a reversal of fortune in the overall market.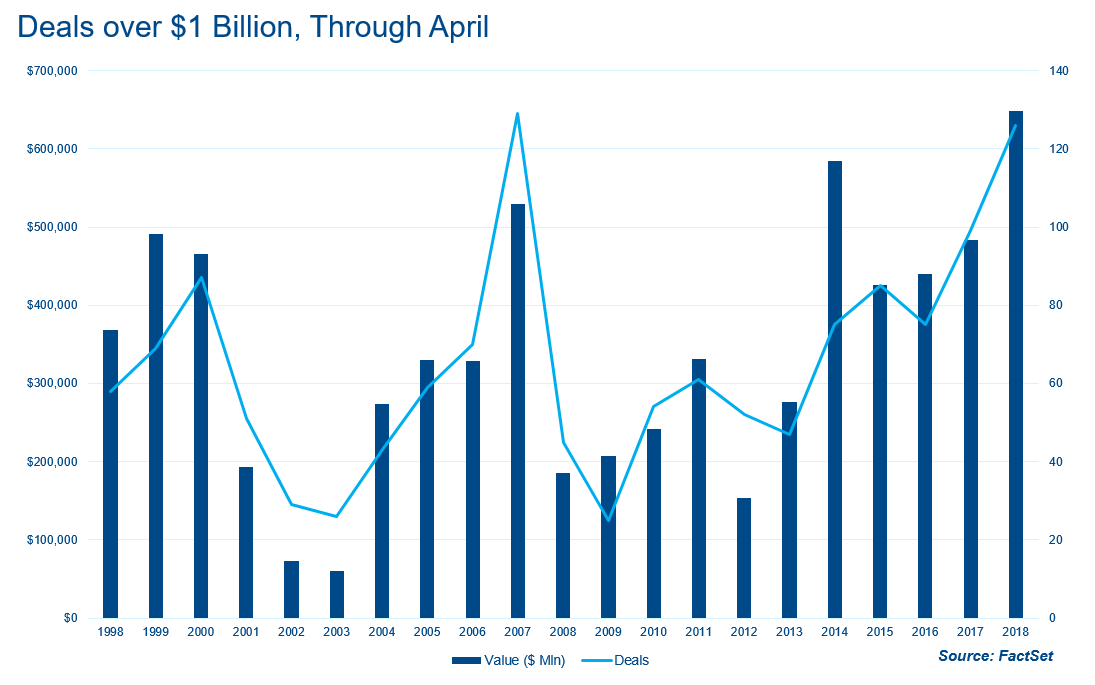 Speaking of real estate, looking at target FactSet industry provides additional insights, with the top three deals all having some connection to property. Could this be related to tax reform? Potentially, but given that Real Estate Investment Trusts have been ranked #4 or #5 for comparable periods in 2016 and 2017, it seems unlikely. Hotels/Resorts/Cruiselines and Real Estate Development both had off years in 2017, ranking near the bottom of the deal volume list ; however, since 2016 both have remained in the top 15 of billion-dollar deal volume out of 118 industries. In other words, there is generally a healthy and steady stream of high-end activity in these two industries.
Industry

Deals

Value ($ Mil)

Top Deal (Buyer / Seller)

Value ($ Mil)

Real Estate Investment Trusts

8

$40,609

CYS Investments, Inc. /

Two Harbors Investment Corp.

$12,322

Real Estate Development

5

$15,992

VICI Properties, Inc. /

MGM Growth Properties LLC

$10,445

Hotels/Resorts/Cruiselines

5

$14,381

ILG, Inc. /

Marriott Vacations Worldwide Corp.

$5,375
In terms of announced deals, April 2018 reported the highest volume of billion-dollar deals of any month since January 1998; it ranks as the eighth highest value month for billion-dollar deals over that period. The top four deals we have seen year-to-date are all looking to consolidate and subsequently remake their respective industries:
| | | |
| --- | --- | --- |
| Buyer / Seller | Seller Industry | Value ($ Mil) |
| Cigna Corp. / Express Scripts Holding Co. | Services to the Health Industry | $67,629 |
| T-Mobile US, Inc. / Sprint Corp. | Wireless Telecommunications | $58,761 |
| Marathon Petroleum Corp. / Andeavor | Oil Refining/Marketing | $30,154 |
| Keurig Green Mountain / Dr. Pepper Snapple Group | Beverages: Non-Alcoholic | $25,251 |
Staying with billion-dollar deals, in the first four months of 2018 we saw the second highest number of mega-deals involving hostile buyers or competing bids in the last 21 years, surpassed again only by pre-GFC 2007.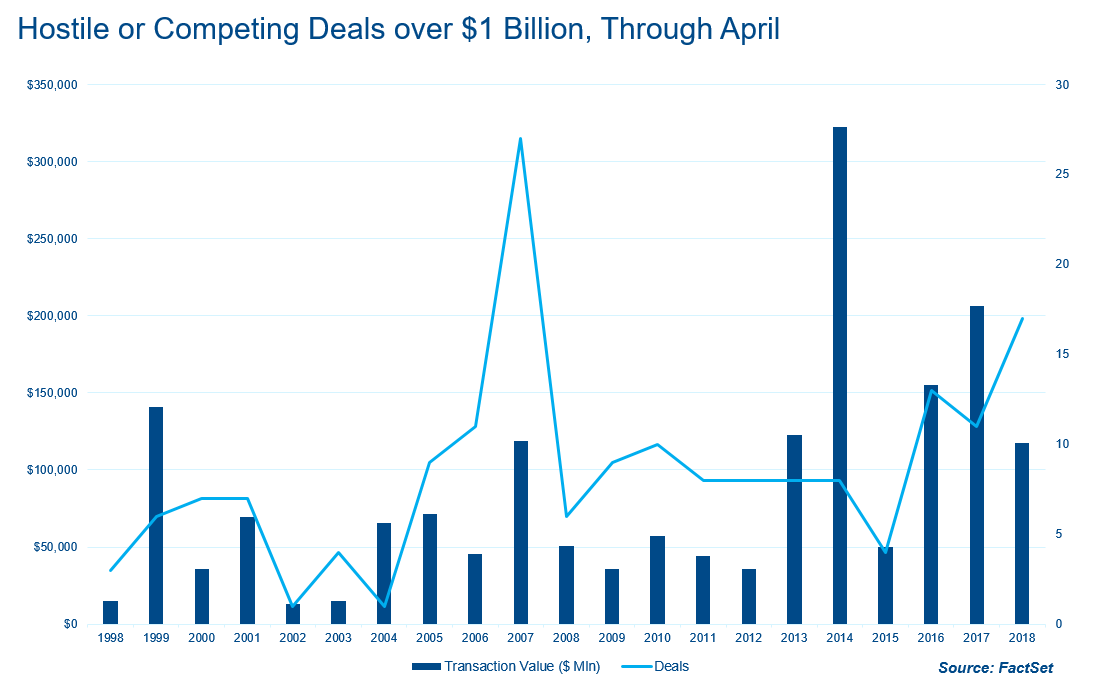 The overall volume of hostile and competing bids through April 2018 is relatively flat and in fact ranks in the bottom third over the last 20 years, so the question then becomes why the spike in mega-deals? The growth is driven by hostile deals, which are on the rise.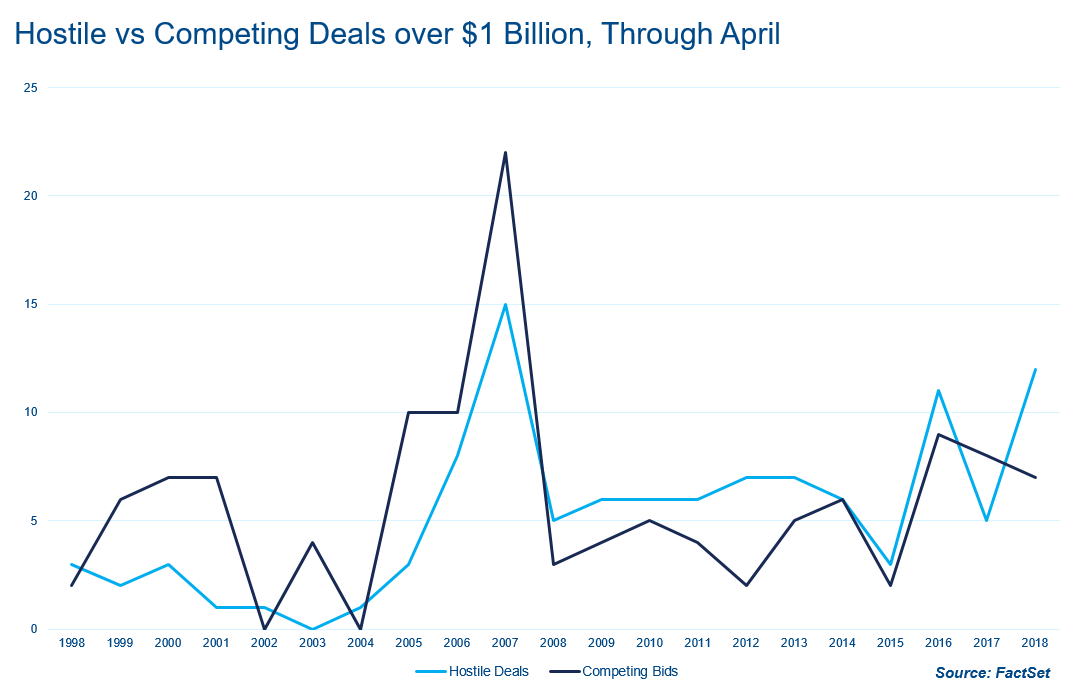 Whatever the conditions triggering this increase – market, economic, political, or otherwise – 2018 has been full of hostilities in the top deals in M&A. A notable example of this is the ongoing battle in the Water Utilities industry, where four companies are firing shots across three deals.
| | | |
| --- | --- | --- |
| Announced | Buyer / Seller | Value ($ Mil) |
| 26-Apr-2018 | California Water Service Group / SJW Group | $1,868 |
| 19-Apr-2018 | Eversource Energy / Connecticut Water Service, Inc. | $1,030 |
| 15-Mar-2018 | SJW Group / Connecticut Water Service, Inc. | $1,010 |
In the first deal, California-based SJW Group signed a cross-country agreement with Connecticut-based Connecticut Water Service in March. Subsequently, in April, fellow Northeast company Eversource Energy submitted an offer for its (relatively) local competitor, outbidding SJW for Connecticut Water Service. Now California Water Service Group has submitted an offer to acquire its local competitor, SJW. It's hard to say if this is an East Coast / West Coast thing like Biggie/Tupac in the 1990s or whatever that breakdancing fad was in the 1980s, but the cultural implications will not likely be as lasting and the hostilities will likely stay on paper and in proxy fights.