The outlook for the Middle East remains challenging in 2018. There is continued pressure on oil prices and the countries in the region are looking for ways to diversify their economies. As an alternative source of income, at the beginning of 2018 the UAE and Saudi Arabia were the first countries to introduce a VAT of 5%; the other Gulf countries will follow suit by the end of the year.
The uncertain atmosphere has affected the M&A market, with the number of completed deals dropping by 35% in Q1 2018 compared to the same quarter one year ago.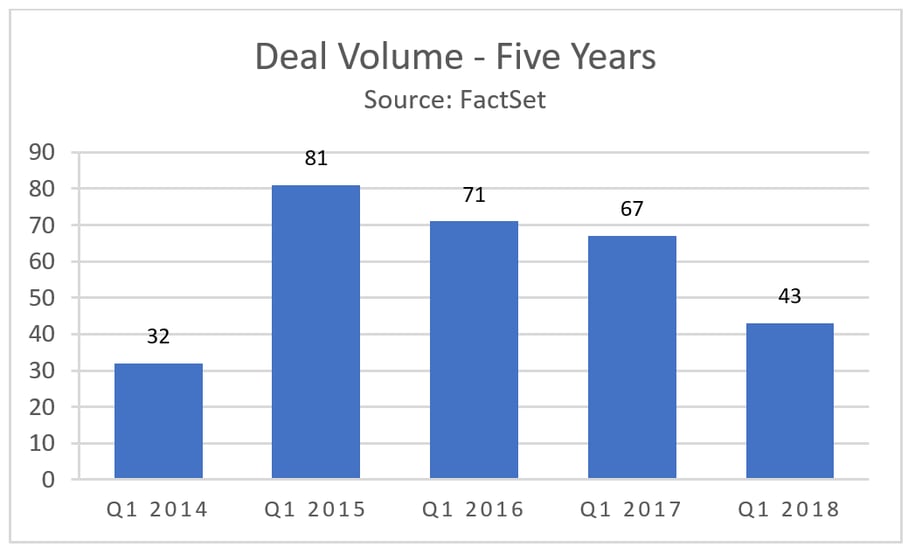 In terms of value, the difference is even more dramatic, with the dollar value of deals plummeting 92% from Q1 2017. In Q1 2017, the total value for 67 completed deals was $34.1 billion; in the first quarter of 2018, the number of deals dropped to 43 with a total value of $2.5 billion.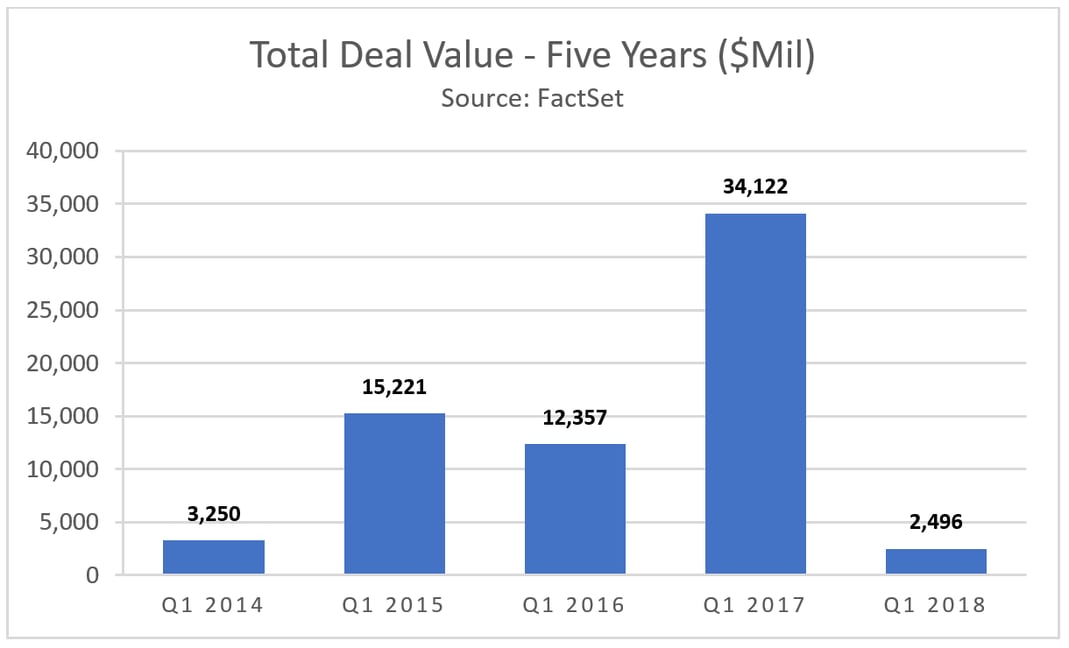 Deal volume fell to 43 in Q1 2018, a 12% drop from the previous calendar quarter; this was the lowest number of completed deals of the last three quarters.
Sector Performance
Ranking the sectors by total deal value, the Energy Minerals sector comes in first with $900 million for one transaction, followed by Distribution Services with $549 million across three deals. Ranking third was the Finance sector with $392 million across six transactions.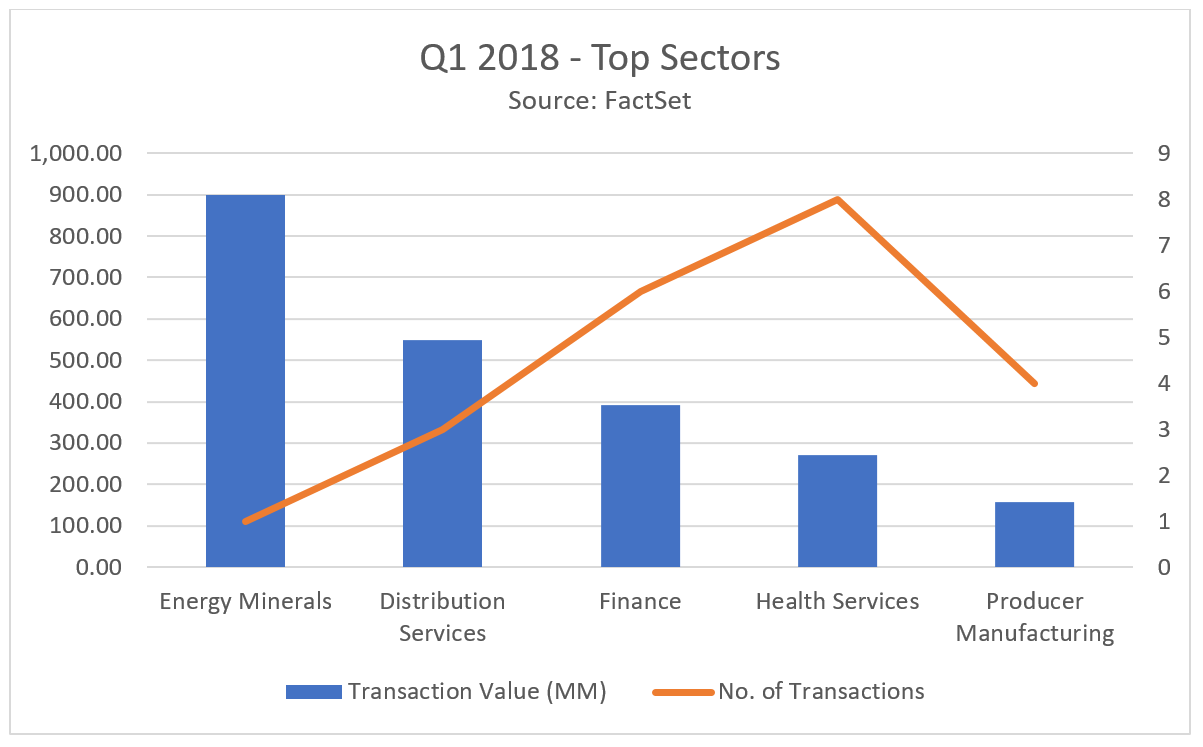 Deals by Country
The country that registered the highest number of deals in Q1 2018 was the UAE with 14 deals and a total transaction value of $448 million. In term of deal value, Malaysia came in first with one deal worth $900 million.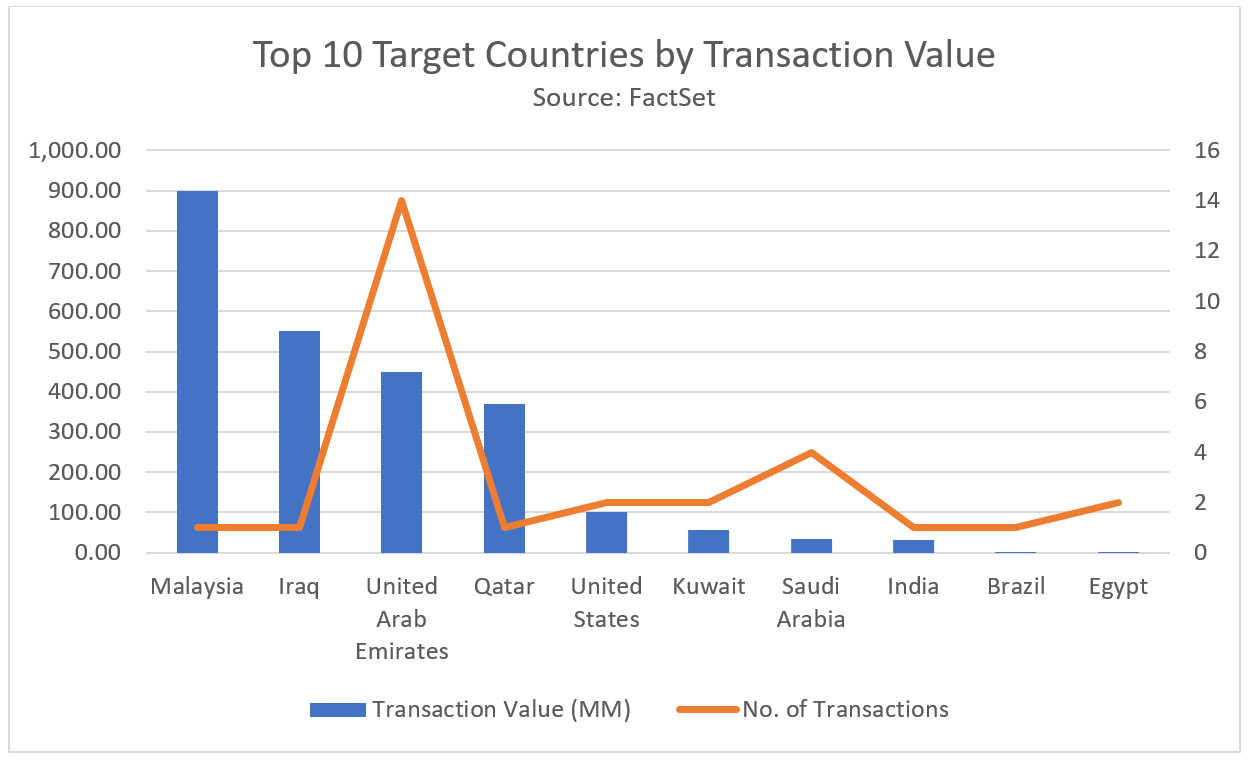 Inbound transactions, where both acquirer and target company are in the Middle East, represented 37% of the total deals in the region in the first quarter with 16 deals out of 43. Again, the UAE ranks first with 11 deals totaling $448 million, followed by Qatar with a total transaction value of $370 million, and Kuwait with $56 million.
| | | | | |
| --- | --- | --- | --- | --- |
| Rank | Target Country | Transaction Value (MM) | % of Total | No. of Transactions |
| 1 | United Arab Emirates | 448.37 | 50.46 | 11 |
| 2 | Qatar | 370.78 | 41.73 | 1 |
| 3 | Kuwait | 56.38 | 6.35 | 1 |
| 4 | Saudi Arabia | 13.00 | 1.46 | 1 |
| 5* | Oman | - | - | 1 |
| 5* | Syria | - | - | 1 |
| | | | | |
| | Total | 888.52 | 100.00 | 16 |
* Tie
Outbound transactions, where one of the parties is located outside the MENA region, represented a total value of $1.6 billion across 33 deals.
Largest Deals Announced in Q1 2018
The largest transaction completed in Q1 2018 involved Aramco Overseas Holdings Coöperatief UA, a subsidiary of Saudi Arabian Oil Co, a company ultimately owned by the Government of Saudi Arabia, and PRPC Polymers, a subsidiary of the Malaysian company Petronas Chemicals Group, a company ultimately owned by Government of Malaysia.
Aramco Overseas Holding acquired a 50% minority stake in PRPC Polymers Sdn Bhd from Petronas Chemicals Group Bhd for approximately $900 million in cash and assumed liabilities, subject to certain post-closing adjustments. As part of the deal, Petronas Chemicals Group Bhd also agreed to divest 50% of any shareholder loans it holds in PRPC Polymers Sdn Bhd to Aramco Overseas Co BV. The acquisition would boost Aramco Overseas Co BV's global refining capacity to 8-10 million bbl/day by 2030 from over five million bbl/day currently, and would grow its chemicals production capacity to 34 million tonnes from 12 million tonnes over the same period.
The second largest deal of the first quarter of 2018 was between Shell Iraq BV, a subsidiary of the Dutch company Royal Dutch Shell Plc, and the Japanese company Itochu Corp. Itochu Corp acquired Shell Iraq BV from Shell EP Middle East Holdings BV for $406 million in cash and $144 million in assumed liabilities. The transaction would allow the Itochu group to indirectly own a 19.6% minority stake in the technical service contract of Shell Iraq BV in the West Qurna 1 oil field. Shell Iraq BV provides oil refining and distribution services.
The third largest transaction completed was between Qatar Foundation and Vodafone & Qatar Foundation LLC. Under the terms of the transaction, Qatar Foundation would pay $343.3 million in cash on completion and $27.5 million in future payout, 12 months after completion, to Vodafone & Qatar Foundation LLC to acquire Vodafone & Qatar Foundation. Vodafone & Qatar Foundation LLC is based in Qatar and operates as a holding company. It controls Vodafone Qatar PQSC, which provides mobile telecommunication services. The deal was expected to close within three months of announcement.
League Tables
| | | | |
| --- | --- | --- | --- |
| Target or Acquirer Financial Advisor | Transaction Value (MM) | % of Total | No. of Transactions |
| Morgan Stanley | 900.00 | 36.05 | 1 |
| Lazard | 549.99 | 22.03 | 1 |
| Rothschild & Co | 549.99 | 22.03 | 1 |
| FTI Consulting, Inc. | 194.79 | 7.80 | 1 |
| CHILDS Advisory Partners LLC | 100.00 | 4.01 | 1 |
| | | | |
| --- | --- | --- | --- |
| Target or Acquirer Legal Advisor | Transaction Value (MM) | % of Total | No. of Transactions |
| Allen & Overy LLP | 506.92 | 20.31 | 3 |
| DLA Piper Group | 100.00 | 4.01 | 1 |
| Baker Mckenzie SAS | 21.70 | 0.87 | 1 |
| Bessis Avocats | - | - | 1 |
| Eversheds Sutherland | - | - | 1 |