The global economy is on a sustainable growth trajectory that will provide a catalyst to financial markets and a source of strength for corporate profits. Though periods of volatility may challenge investor resolve over the course of 2015, resilience will prevail thanks to a global growth story buoyed by tectonic shifts in the real economy, continued improvements in global consumer and business spending, and supportive global central banks.
Of course, resilience has been a defining characteristic of markets for some time now, as we have seen them shake off such potentially destabilizing factors as Europe's chronic economic malaise, China's growth slowdown, and Japan's sharp and surprising return to recession. That's not to mention the various geopolitical hotspots — Ukraine, the Middle East and elsewhere — that have flared up from time to time. Along the way, markets have been fortified by all-time high U.S. corporate earnings; renewed monetary stimulus from central banks in Japan, Europe and China; and plummeting oil prices that have provided a positive supply shock to consumers and businesses. This confluence of events has bolstered markets worldwide (including new records for domestic bourses) and has raised investor confidence that such trends can be sustained in 2015.
Regionally, emerging market economies continue to outpace their G7 brethren. While China with its 1 billion consumers and $10 trillion GDP has led the way, a veritable "new China" has emerged in the ASEAN region, which has more than 600 million consumers and an aggregate GDP of $2.4 trillion. Economic growth in the emerging markets is most notable in those regions with low trade barriers, high foreign direct investment and strong property rights.
But there is also progress being made in the developed world. While the UK and Germany both are aligned for global expansion, it's the U.S. that truly stands out, due in part to its exposure to the tectonic shifts — particularly in energy — that are changing the economic and investment landscape. However, the dramatic decline in oil prices and the strengthening U.S. dollar are having negative impacts elsewhere, wreaking havoc in oil-producing nations, upsetting the capital expenditure plans of global energy companies and pressuring the currencies of emerging markets.
Forecast for Year-End 2015
TRED With a Global Perspective
Yogi Berra once said, "If you don't know where you are going, you might wind up someplace else." With this in mind, we've built our 2015 expectations employing a multi-faceted framework — which we've dubbed TRED — that seeks to pinpoint both our destination as well as our current location.
We believe markets ultimately reflect economic activity and innovation trends that are dynamic, integrated and ever-evolving — but not always evident in day-to-day pricing. TRED provides an integrated view of global economies, financial markets and investment strategy, positioning investors to withstand bouts of volatility with confidence in what lies on the other side of the storm. Building wealth is predicated on taking risk, not avoiding it; a reliable and an adaptive approach to assessing that risk on an ongoing basis is essential to developing resilience in the face of volatile markets.
TRED consists of the following inputs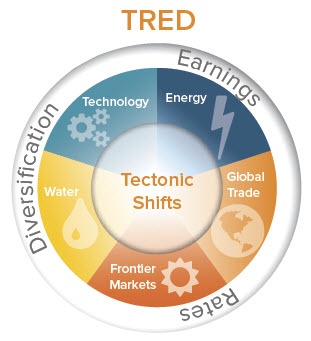 Tectonic Shifts are both catalysts for explosive growth as well as long-term risks that bear careful watching. They move markets in ways that defy conventional forecasting, often revealing themselves in extraordinary, trend-reversing price shifts.
2015 Impact: The shifts we're watching this year include Energy, Global Trade, Technology, Frontier Markets and Water, each of which will impact various global regions in different ways and to different degrees, as can be seen below.
Tectonic Shifts Will Be Felt Across the Globe

Rates provide a window into the overall economic health of countries, regions and the world as a whole. Their impact can be seen in inflation levels, sovereign yields, currencies and the unconventional central bank policies that have been the norm since the Great Financial Crisis.
2015 Impact: While markets have thus far taken the sluggish global economy in stride, persistently low rates in 2015 would call into question the appropriateness of this sanguine attitude.
Earnings deliver an unbiased view of the strength or weakness of a cross-section of global and domestic companies, not only driving individual investment decisions but also reflecting the health of the global economy.
2015 Impact: Given the Voya Global Perspectives philosophy that "fundamentals drive markets," investors in 2015 should be more concerned about positioning their portfolios for a robust expansion in earnings rather than worrying about slowing economic growth.
Diversification enables investors to pursue a thoughtful, considered investment philosophy that replaces unintended bets with prudent investment discipline.
2105 Impact: As we do every year, for 2015 we advocate building an effectively diversified portfolio that balances return and risk while embracing a rational, consistent investment philosophy that helps avoid the suboptimal decisions that too often derail long-term success.