On November 29, 2012, Tiffany & Co. (TIF) lowered its FY13 earnings guidance. See how hard the stock price fell and how often the company has lowered its guidance in the last few years using FactSet's Guidance History report. This report provides a historical view of the guidance issued by a company for any item and provides calculations that allow you to more easily identify whether companies were aggressive or conservative with their guidance. In addition, the report provides you with a dynamic view allowing you to see the frequency for which a company issues guidance and access past guidance linked directly to source documents.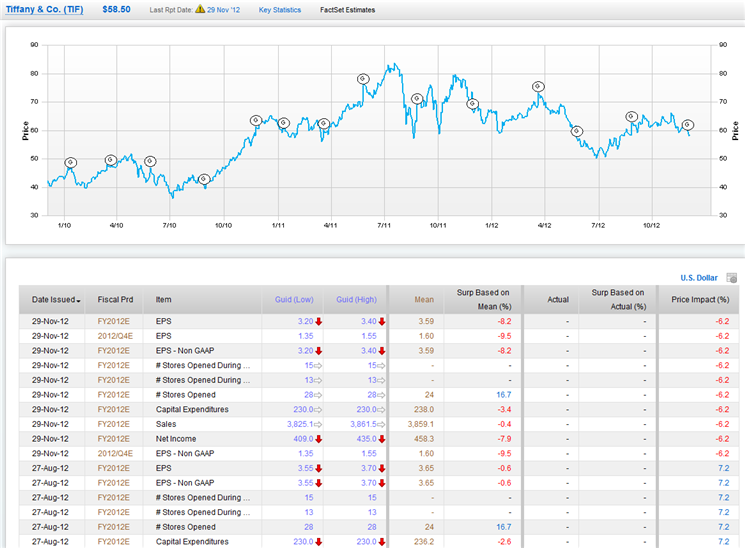 In addition, FactSet will be hosting a live webcast on December 11, 2012 entitled "From Tiffany& Co. to Target: What's in store for retail this holiday season?"
To Register, go to: http://solutions.factset.com/emergingideas
FactSet Content has the answers, from economic trends of consumer spending to ownership trends of hedge funds. Join us as we take a look at the recent performance of the retail industry to predict what's in store this year. We will be addressing the following topics:
-How will the global economic slowdown impact this year's holiday retail sales?
-Have investors been bullish or bearish on the consumer sector?
-What can we learn from consumer confidence and personal savings trends?
-What are analysts estimating for retailers like Target and Tiffany & Co?