Following the first round of French presidential elections on April 23, Emmanuel Macron and Marine Le Pen will face off in a second round on May 7. It is the first time in the history of the Fifth Republic that none of the candidates comes from the Republican or the Socialist parties.
While Macron's win in the first round sent a wave of positive impact in the markets, recent reactions should not lead us to think that political risk has completely disappeared. In fact, the second round involves a battle between an approach to reform existing structures (presented by Macron) and a commitment to shake the economic system (advocated by Le Pen). Although an immediate extreme outcome has been avoided, we cannot deny that the election of a far-right candidate in France is reminiscent of events (Brexit and Trump's election) deemed improbable not so long ago, which ultimately became reality.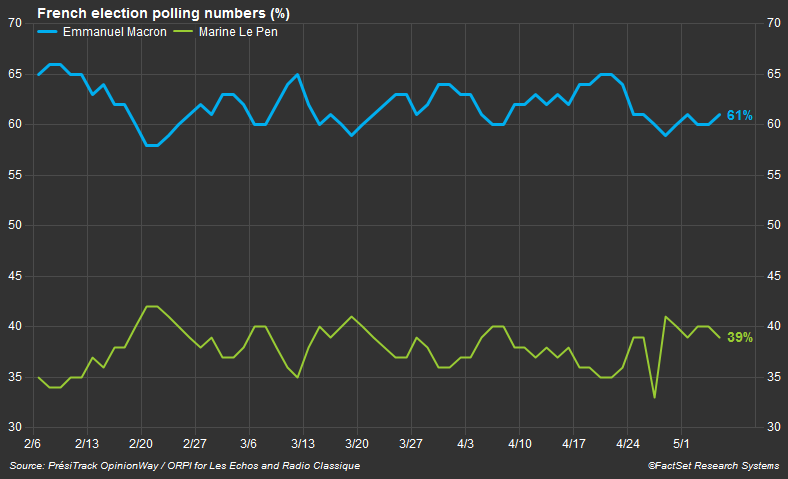 Market Reactions After the First Round
Before the first round, markets showed signs of concern about a second round vote between two euro-skeptic candidates, namely Le Pen and Mélenchon. The OAT vs. Bund spread had widened to reach a three-year high of 80 bps. As the first round placed Macron in the first position and avoided such an outcome, markets moved positively. With the likelihood of a French exit from the EU diminished, the OAT vs. Bund spread narrowed and returning to its 2016 levels of 40 to 50 bps. The spreads on peripheral bonds like Italy and Spain also tightened, given the optimism on the future of the European Union.
On the equity side, the CAC 40 index wiped pre-first round losses and rose significantly to its highest level since 2008. European indices increased consequently.
Modeling the Scenarios
Although markets reacted positively to first round results as Macron took the lead in the vote, we think that the second round result still involves some uncertainty. Therefore, we have modeled factor shocks to evaluate how the markets would react to the two possible post-election scenarios: Emmanuel Macron or Marine Le Pen wins.
Each scenario imagines a series of shocks that we apply to U.S. and European equity and fixed income portfolios using FactSet's multi-asset class risk model.
The scenarios produce potential outcomes for a U.S. equity portfolio (S&P 500 index), a U.S. pure-fixed income portfolio (Bloomberg Barclays US Aggregate), a pan-European equity portfolio (STOXX 600) and a euro denominated fixed income portfolio (Bloomberg Barclays EUR Aggregate).
Our hypothesis on the risk model were:
Factors: The impact is modeled using three types of factors: exchange rate (EUR/USD), government yields (German Bund, French OAT, Italian BTP) and French equity (CAC 40 index) (For more on this, see our post on these proposed propagators: Forecasting the Unforeseeable: Government Policy Risk Management.)
Event-Weighted Stress Test: We chose to run this model as an event-weighted stress test so that periods that have changes similar to the shock amounts are weighted higher than non-similar periods.
Risk Model History Limit: We specified a risk model history limit so the model will only consider factor correlations until the start of 2010—just before the brink of the European Debt Crisis of 2011. We decided not to include the 2008 crisis in history, as we want to weigh in more the impact of events specific to eurozone. Including 2008 crisis would add a large amount of noise in the model.
Horizon: We set the period over which the shock happens as one week for the purpose of this model, as it will allow all market sectors to react, including banking sector.
Date: We ran the simulation on April 27, 2017.
Emmanuel Macron wins Election

Marine Le Pen wins Election

Scenarios

EUR rises by 2% against USD

Bund 10Y yield -10 bps

OAT 10Y yield -20 bps

CAC 40 rises by 5%

EUR declines by 10% against USD

Bund 10Y yield -30 bps

OAT 10Y yield +170 bps

BTP 10Y yield +270 bps

CAC 40 declines by 20%

Impact on U.S. Equity (in USD)

+1.22%

-2.46%

Impact on U.S. FI (in USD)

-0.09%

+2.23%

Impact on E.U. Equity (in EUR)

+3.51%

-9.60%

Impact on E.U. FI (in EUR)

+0.92%

-2.22%
What if Emmanuel Macron Wins?
The markets were already enthusiastic after the first round results, with the CAC 40 rising by 5% the day after the election, Monday April 24. In order to model a vote in favor of Macron, we made an assumption of French OAT 10Y yield and German Bund 10Y yield returning to their end of 2016 levels. French OAT and German Bund 10Y yields would narrow by 20 bps and by 10 bps respectively, resulting in OAT vs. Bund Spread change of -10 bps. EUR/USD rate would rise by 2%.
European equity markets would benefit further if Macron wins and gains could attain +3.51% in local currency. U.S. equities would also increase. In the fixed income segment, European bonds would benefit, as the election of Macron would revive hopes of more European integration. The impact on non-EU bonds would be insignificant.
What if Marine Le Pen Wins?
This scenario models high post-election shock that could prompt a Frexit and potentially break-up of the euro. The impact has three components. First, the consequences of a Marine Le Pen vote would threaten the shape of European yields. French 10Y yields would spike by 170 bps and return to their 2012 average levels. This would also be reflected in peripheral countries, like Italy, where the Italian 10Y yield that would rise by 270 bps. In the counterpoint, a flight-to-quality move by investors would imply a notable rise in demand for German Bunds. German 10Y yield would therefore decline by 30 bps and come back to the zero level territory observed in the past year. Second, the EUR/USD FX rate would decrease by 10% to put the two currencies at parity level. Third, French equities would eliminate all the gains realized since one year ago and decline by 20%.
The impact would most likely be notable on the European equity markets that could plummet by 9.60%. U.S. equities would also follow the same trend but with lower magnitude. Negative impact would also be observed on the European bonds market as spreads would rise to reach Euro-crisis levels. In this context, non-European bonds would act as safety assets, which is why U.S. bonds would gain 2.23%.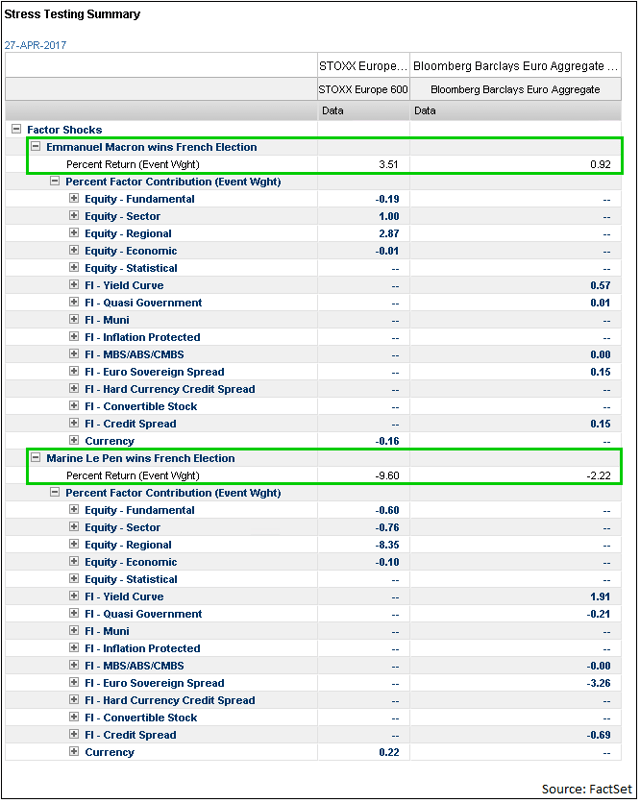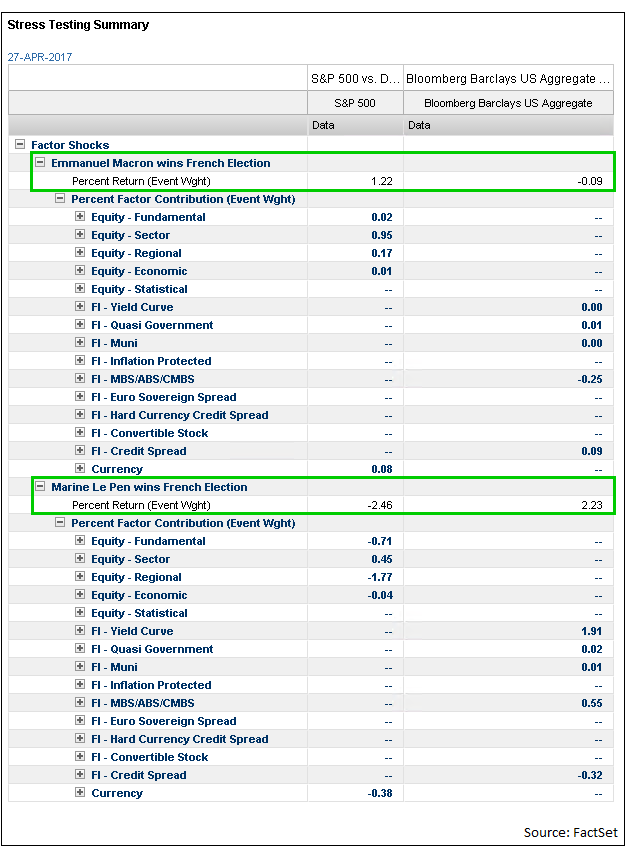 Macron's lead in the first round of French presidential election sparked a rally in the markets. A sentiment of relief was felt as equity indices rose and euro government spreads narrowed. The second round vote will be crucial. It will either confirm these reactions or result in an unexpected outcome that could impact both equity and fixed income portfolios, as shown in our stress tests.