A well-established investment firm, citing illiquid markets, last week took the unprecedented step of blocking investor withdrawals from one of its high-yield bond funds — the first time a U.S. mutual fund halted redemptions without first obtaining relief from the U.S. Securities and Exchanges Commission (SEC). The firm, in an unusual move, sent a letter to investors barring redemptions while it liquidates its high-yield bond fund, which, down 27% this year, was one of the worst performers. The firm said poor bond-market trading conditions made it impossible to raise sufficient cash to meet rising redemption demands from investors without resorting to fire sales of assets. Fund investors may not receive all their money back for a long time, if at all, unless market conditions improve. In recent months, the market for lower-quality/higher-yielding corporate debt, commonly known as junk bonds, has been deteriorating following a long boom period driven by factors including a changing Fed policy environment and a rout in oil and commodity prices.
The decision to wind down the mutual fund without giving investors all their cash back could have significant repercussions for both the company and the massive mutual-fund industry, which has thrived for decades by promising to allow investors to take a long-term view of the markets while retaining the right to cash out shares at any time. Daily redemption and settlement within seven days or less is a defining feature of mutual funds and ETFs. (FactSet's Dave Nadig wrote about the illiquidity of bond ETFs last month.)
SEC Introduces New Liquidity Risk Management Reforms for Asset Managers
Rising liquidity risk management concerns by policy makers, academics, and regulators has caused the SEC to propose new liquidity risk management rules and regulation that will affect the entire asset management industry, which Investment Company Institute estimates holds assets of $18.2 trillion in the U.S. and $33.4 trillion worldwide.
The proposed new rules package is directed at registered open-end funds (mutual funds and ETFs) and is part of a broader SEC agenda to modernize the Investment Company Act of 1940 ('40 Act) to address changes in a more complex environment and perceived new systemic-risk concerns in the asset management industry. Passage is expected in January 2016, with a tiered 18-30 month implementation period.
Proposal required elements include:
Classification of the liquidity of fund portfolio assets, with six categories based on days to liquidate
Assessment, periodic review, and management of a fund's liquidity risk
Determination of a three-day liquid asset minimum
New governance procedures, including board approval and review
New disclosure and reporting requirements
The SEC's intent is to protect investors within a consistent and comprehensive regulatory framework that promotes liquidity risk management best practices, modern metrics, enhanced governance and more transparent reporting by investment fund companies for mutual funds and ETFs to better ensure investors can redeem their shares and receive their assets in a timely manner. In addition, the proposal would codify the 15% limit on illiquid assets included in SEC guidelines. The SEC means to establish a more "nuanced" approach within a clearly defined risk management process to identify and categorize liquidity risk across a range on a spectrum on the portfolio security level, rather than as a binary outcome objectively defined as either "liquid" or "illiquid."
This rules-based reform package is significant given the mutual fund regulatory apparatus has changed little for decades; the SEC has historically issued "guidelines" (not rules) to affect behavior. Its last material change in 1992 updated the threshold on a guideline limiting mutual funds to hold no more than 15% in investments that couldn't be sold within seven days, originally set at 10% in 1969.
Shifts in asset managers' behavior predate the proposed SEC rules. We've seen more and more clients tracking liquidity more precisely for their investment decisions, monitoring portfolio trading activity, categorizing liquidity classifications, developing enhanced written governance procedures, and adopting new reporting requirements.
Massive Fixed Income Growth, Complexity and Industry Changes
Today, bond markets are bigger than ever before; the Securities Industry and Financial Markets Association states that at over $39 trillion, the U.S. bond market is about 1.5 times the size of the U.S. equity market and nearly twice the size of the five largest non-U.S. equity markets combined.
Following the 2007-2008 financial crisis, a global re-leveraging cycle fueled by an extended period (2009-2015) of extremely low interest rates drove growth and expansion in the credit markets, specifically in more opaque segments such as high-yield and emerging market debt. An unintended consequence of new regulations and increased capital requirements targeting the banking industry has prompted a dramatic shift of management of that risk away from banks to asset managers, particularly in open-end funds: mutual funds and ETFs.
U.S. Mutual fund and ETF markets, with $17.8 trillion in assets under management at the end of 2014, remained the largest in the world, accounting for 53% of the $33.4 trillion in mutual fund and ETF assets worldwide. Individual Investors are heavily invested; the Investment Company Institute reports that 53.2 million, or 43.3%, of U.S. households own mutual funds, with $7.3 trillion of that in IRA and DC plans.
Alternative strategy bond funds have become very popular with millions of investors in recent years. Record-low interest rates encouraged retail investors to take on more risk, including the debt of less creditworthy issuers, to get higher returns. According to Morningstar, high-yield bond assets at U.S. mutual funds reached $305 billion in June 2014 as spreads narrowed to a multi-year low — tripling their levels since 2009.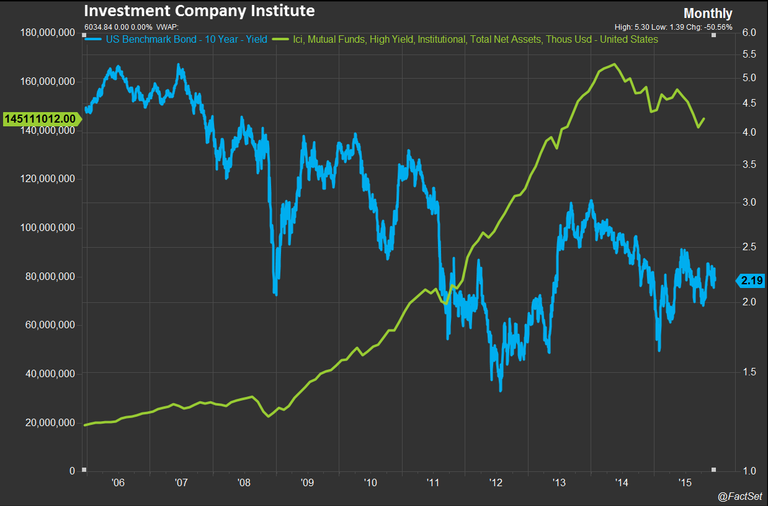 Liquidity Risk Concerns
High-yield bonds have become harder to trade, as banks are committing less capital to market-making activities and no longer hold inventories because of new banking regulations and higher capital standards. Liquidity risk concerns focused on fixed income have peaked because the stakes are higher than ever before as open-end funds own a significant portion of the corporate bond market and as millions of households are investing retirement savings in bond mutual funds and ETFs.
Have we reached a tipping point for liquidity? The idea of a run on mutual funds might not be far-fetched. Historically, runs are associated with banks that are highly leveraged with mismatched funding, as they fund long-term loans with short-term debt. The programs in our financial system designed to avoid destabilizing runs are built for banks. Consider the inherent friction with unleveraged investors purchasing leveraged bond mutual funds; as with banking, there is a similar liquidity mismatch in mutual funds that hold relatively illiquid assets funded by investors entitled to daily redemptions.
Investors in open-end funds holding relatively illiquid assets have an incentive to withdraw early to avoid being last out the door. That is, investors attempt to pre-empt an anticipated decline in a fund's asset value due to a need to sell assets to meet the redemptions of other investors. The problem is potentially more acute when it comes to funds that invest in corporate bonds that don't trade frequently, like high-yield, emerging markets, and alternative strategy bond funds.
Mutual fund "first-mover" advantages may unfairly disadvantage existing shareholders and create a spiral where redemptions increase the incentives for remaining investors to redeem in order to avoid those costs paid by non-redeeming investors. Large capital withdrawals can force funds to unwind potentially large fractions of the portfolio at "fire sale" prices. A funds net-asset value (NAV) determination can add to this spiral effect by fueling more fire sales. By law, mutual fund investors who redeem during the day transact at the fund's end-of-day NAV. Portfolio rebalancing activity — selling positions and unwinding hedges — often occur on subsequent days. As a result, non-redeeming investors bear the liquidity costs of first-mover redeeming investors, which may not be immaterial as higher transaction costs are commonly associated with less-liquid securities.
A surprising number of established investment funds own junk bond funds, the staple holdings for pension funds, retirement plans and mom-and-pop investors, that hold the largest amount of assets that are so illiquid, trade infrequently, and are hard to price. In some instances, the percentage holdings well exceed the maximum 15% illiquid securities holdings guidelines. Illiquid fixed income assets have been popular among fund managers because they are cheap to buy and normally pay high coupons, providing a yield premium (also known as positive carry) for carrying the extra risk.
Asset managers with excessive amounts of illiquid assets in their mutual funds could drive the downward price pressure, now that the SEC proposal will codify the 15% maximum level of illiquid positions as a percentage of the overall portfolio.
Market Stress and Liquidity Risk Management
Falling commodity prices and expectations for higher interest rates have changed the direction of cash flows. Lately, investors have pulled money-driving high-yield bond spreads higher, as the junk bond mutual fund sector is on course for its worst performance in seven years. Lipper data shows the sector is losing 3.01% this year, compared with 2008 when junk funds lost 25.5%. Morningstar shows that outflows in November were $3.3 billion, the most since June. The mutual fund that blocked investor redemptions is one of the five high-yield funds suffering the heaviest net outflows year to date. All 30 of the largest high-yield bond funds tracked by Morningstar have lost money this year, reflecting price declines as investors shied away from risk.
History shows us that blocking redemptions doesn't guarantee that investors will get a better deal. It might force them to lock-in even bigger losses. Values are often temporarily beaten down due to a lack of liquidity in markets or momentary panics, although sometimes prices fall because they were too unrealistically high to start; investors learned that lesson in the crisis. AIG resisted selling some securities at what it said were "dislocated market prices." Banks like Citi insisted for a time beaten-down collateralized debt obligations could one day recover, only to discover their "value" was a mirage all along.
Rational year-end patterns may add selling pressure as some investors exit losing funds and investments late in the year to generate losses to reduce capital gains taxes. However, the psychological damage caused by a fund blocking investor redemptions can escalate mutual fund fragility and drive irrational behavior. Investors may panic feeling a fund is likely to sell more-liquid holdings to meet the earliest redemptions and leaving remaining investors even more exposed to illiquid bonds, as a higher percentage of the funds' new total asset composition.
The perception that mutual funds and ETFs appear to offer greater liquidity than the markets in which they transact becomes reality as fund growth heightens the potential for a forced sale in the underlying markets if some event were to trigger large volumes of redemptions.
The SEC is intent on protecting investors by establishing a modern liquidity risk management process — new liquidity risk metrics and disclosures — within a consistent regulatory framework. It has studied the perceived systemic risk concerns relating to asset management industry and produced a white paper entitled Liquidity and Flows off U.S. Mutual Funds this September.