If you are a portfolio or risk manager with GNMA mortgage holdings (or a prepay modeler like me) you may be forgiven for feeling some satisfaction that the FHA is facing billions in potential losses for loans that it guaranteed throughout the past 5 years1. FHA, which insured a higher share of mortgages during the recession, has changed its upfront (UFMIP) and annual premium (MMIP) policies so many times over the past four years that it caused durations and prepay projections to vary considerably depending on when a mortgage was originated or refinanced.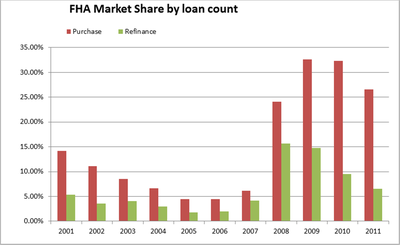 Source: HUD, 2012
A great way to see the effect of these policy changes is to calculate the UFMIP and MMIP cost for a typical loan. In the figure below, I calculate these costs for a new 30-year 4.0% mortgage as a percentage of loan size and chart how they changed since 2009. The MMIP is capitalized at the 4.0% rate for 60 months (although this may no longer be appropriate as of April 1st, 2013 as FHA again will change its policy2).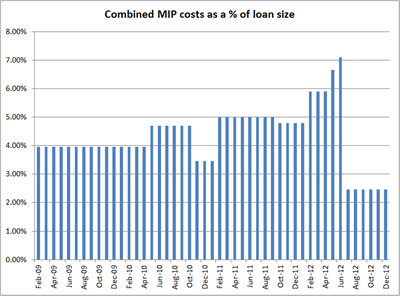 Source: FactSet Fixed Income Research Estimates
A large change occurred in August of 2012; however, this only affects loans that refinance into another FHA loan and originated before June 2009. So two loans that originated only one day apart in 2009 could see a $5000 difference in MIP related refinancing incentive for a $200,000 loan. Additionally for refinancing, two other factors come into play: the amount of rebate that you get from FHA for the UFMIP that was paid on the original loan and the potential net present value of savings from getting out of paying the current MMIP on the original loan. Depending on when the loan was issued and when the refinancing is considered, the variation in these values will affect the refinancing incentive substantially.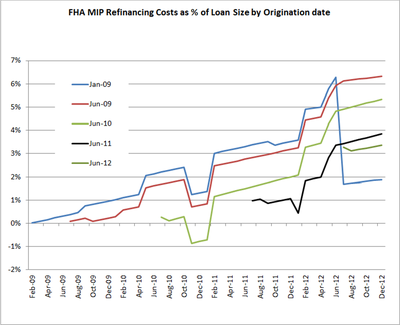 Source: FactSet Fixed Income Research Estimates
This translates into a volatile duration pattern for 2009 vintage FHA 30 year pools relative to the 2010 vintage and conforming 30 year mortgages. This is a case where regulatory volatility (i.e., risk due to abrupt changes in government policies) directly impacts the interest rate risk of GNMA securities. At FactSet we continue to monitor these changes to make sure that they are reflected in the prepayment model.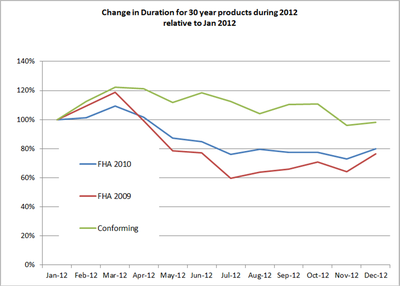 Source: FactSet Fixed Income Research Estimates
---
1Nick Timiraos, "Tangled in the Housing Bust, FHA Seeks a Hand", The Wall Street Journal February 11, 2013 pp. A2.
2FHA TAKES ADDITIONAL STEPS TO BOLSTER CAPITAL RESERVES , January 30th, 2013 http://portal.hud.gov/hudportal/HUD?src=/press/press_releases_media_advisories/2013/HUDNo.13-010