Two months have passed since Indian Prime Minister Narendra Modi's surprise announcement on November 8 that the country's two highest-denomination currency notes, 1000 rupees and 500 rupees, would no longer be valid legal tender. The technical term for taking currency out of circulation is demonetization, and relative to the total money supply, this demonetization was huge. By value, these two denominations represented approximately 86% of the total currency in circulation, a tremendous shock for a mainly cash-based economy.
Indians were given until the end of 2016 to deposit or exchange their money, but limits were set on how much cash could be directly exchanged or withdrawn via ATM. Delays in disseminating the new bills to banks and in recalibrating ATM machines created huge lines as citizens waited to exchange or access their money. The vast majority of the outstanding Rs1000 and Rs500 notes were expected to be exchanged by year-end, with special facilities planned in early 2017 for foreigners and citizens who were traveling abroad during the official transition period.
Intended Benefits
According to the press release from the Reserve Bank of India, this action was taken "to tackle counterfeiting Indian banknotes, to effectively nullify black money hoarded in cash and curb funding of terrorism with fake notes." In the short-term, we can expect to see increased tax collection as money generated in the shadow economy is exposed; the question is whether these benefits will be long-term. Other positive results from the sudden demonetization will be lower interest rates and lower inflation.
As deposits have flooded in over the last two months, India's banks have been cutting interest rates on deposits. In order to encourage borrowing so that they can pay interest on those deposits, we are also seeing lower lending rates. These lower rates, along with lower inflation due to the contraction in the money supply, should prove to be an economic stimulus once the initial pain of the transition subsides.
Potential Downsides
As for negative impacts, in general these should be somewhat short-lived, with certain industries with higher exposure to the cash economy hit harder, such as real estate. We have already seen the pain inflicted upon the Indian manufacturing sector, where the Nikkei India Manufacturing Purchasing Managers Index (PMI) showed a contraction in December (index reading less than 50) for the first time in 12 months.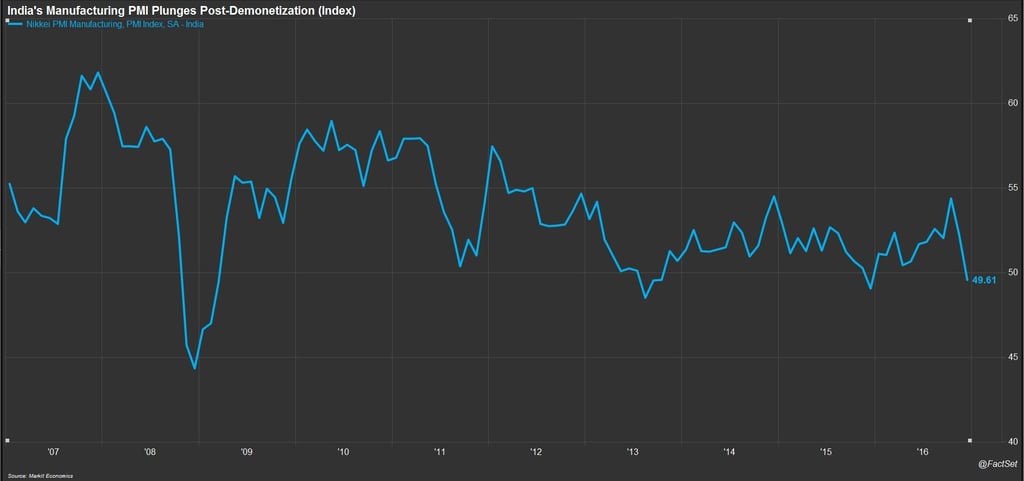 FactSet clients: launch this chart
Prior to the demonetization, the index had been showing steady increases, corresponding with strong real GDP growth. In the wake of the economic chaos created by the demonetization, analysts have sharply reduced their GDP growth estimates for the last two quarters of the fiscal year, which ends on March 31. Analysts surveyed by FactSet are now expecting 7.3% year-over-year growth for both the December and March quarters, revised down from pre-demonetization forecasts of 7.6% and 7.8%.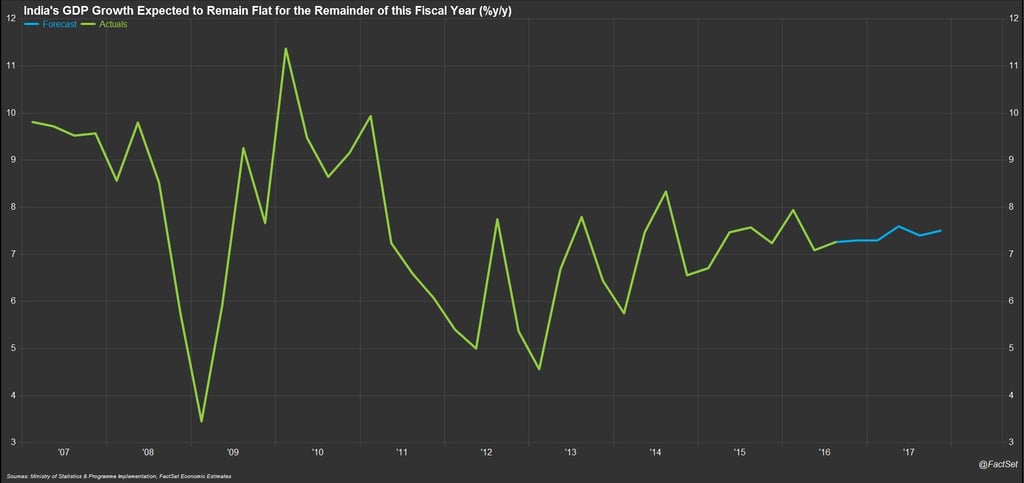 FactSet clients: launch this chart
It remains to be seen how much of the negative impact will linger past the December and March quarters. The stock market fell after the demonetization announcement and the SENSEX is down 4.8% from three months ago, but there are other factors at work. For example, all emerging markets are down following the November 8 2016 U.S. presidential election due to the strong dollar and rising U.S. bond yields.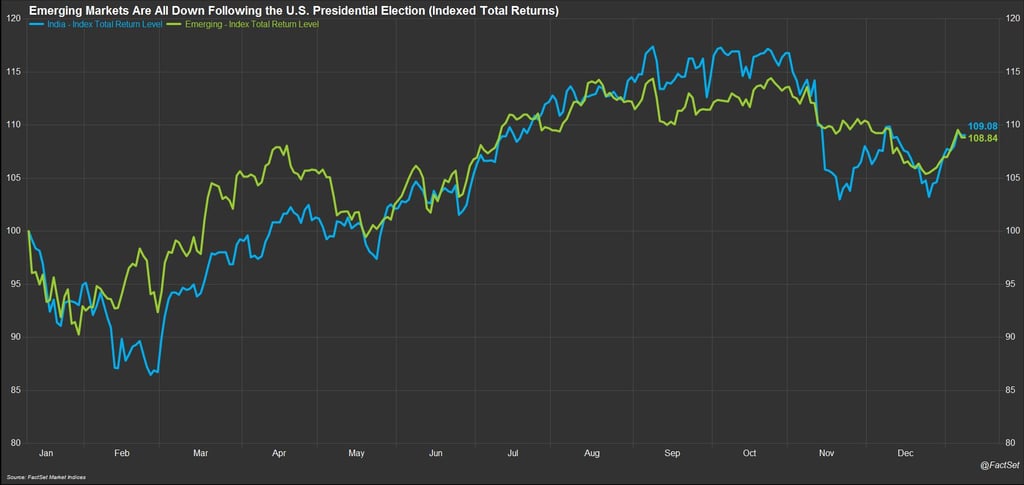 FactSet clients: launch this chart
The Indian stock market has moved higher over the last two weeks as investors bet on a rosier path ahead, but deeper and more prolonged economic damage could have adverse effects on the longer-term outlook. However, at this time, Asia's third largest economy is still expected to be the region's fastest growing economy over the next three years, with annual growth averaging just over 7.5%.