Raquel Svec, Senior Content Manager, Fund Contribution, contributed to this article.
If mutual fund managers are like artists, then asset allocation, stock selection, risk, and performance assessments are the brushes and pallets they use to create successful funds. A fund manager may invest a significant amount of money and time to perfect a fund's formula, but like an artist, if she's unable to find an audience, her hard work will go nowhere. So if you're a fund manager, what's the best way to ensure you're getting better data to the investment community and creating an audience of buyers?
Marketing and the Modern Fund Manager
Concepts such as big data and artificial intelligence are evolving, and institutional investors are increasingly interested in using raw data to derive rich analytics. Mutual fund managers need to consider these requirements as they put their products to market. Timely and accurate data is vital to enabling the investment community to evaluate mutual funds effectively. Asset managers who are platform-agnostic with their fund data distribution can find marketing opportunities if they're able to demonstrate their consideration for high quality and accurate data.
One efficient way to distribute fund data to a financial platform is through a centralized feed. Scraping the web and regulatory reporting documents for fund data does not always offer complete information, and, for a mutual fund, holdings data is crucial to performing analysis. A focus on a fund's top 15 holdings is not enough to complete a full fund analysis, but when a feed offers complete holdings, institutional investors are able to thoroughly evaluate the mutual fund.
For example, with a complete list of holdings, investors can decompose risk by ratings exposures for a fund such as the Vanguard Dividend Appreciation Index Fund. Some investors interpret high credit ratings as a sign that a company will be able to distribute dividends in the future as debt obligations are paid. The top Moody's ratings in this fund are between upper medium and lower medium grade ratings: A1, A3, and Baa1. When compared to the S&P 500, this fund has a higher exposure to companies with the highest rating available, Aaa.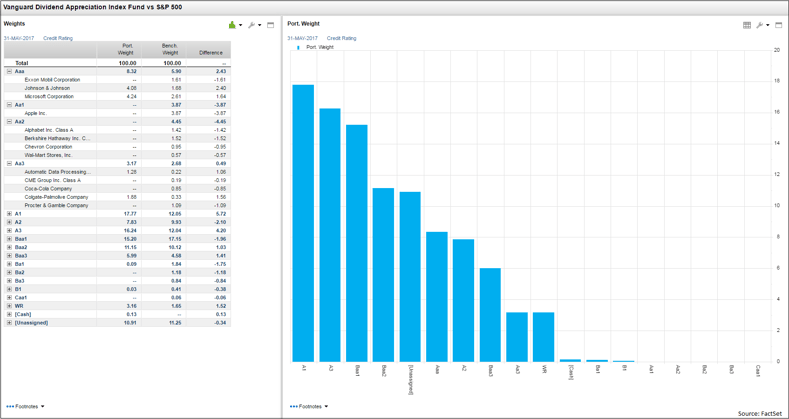 Further analysis shows that in the past 10 years, the Vanguard Dividend Appreciation Index Fund has significantly outperformed the S&P 500 in cumulative total return. In 2007, when the global financial crisis hit the market, this dividend-focused fund was able to demonstrate more resiliency than the benchmark.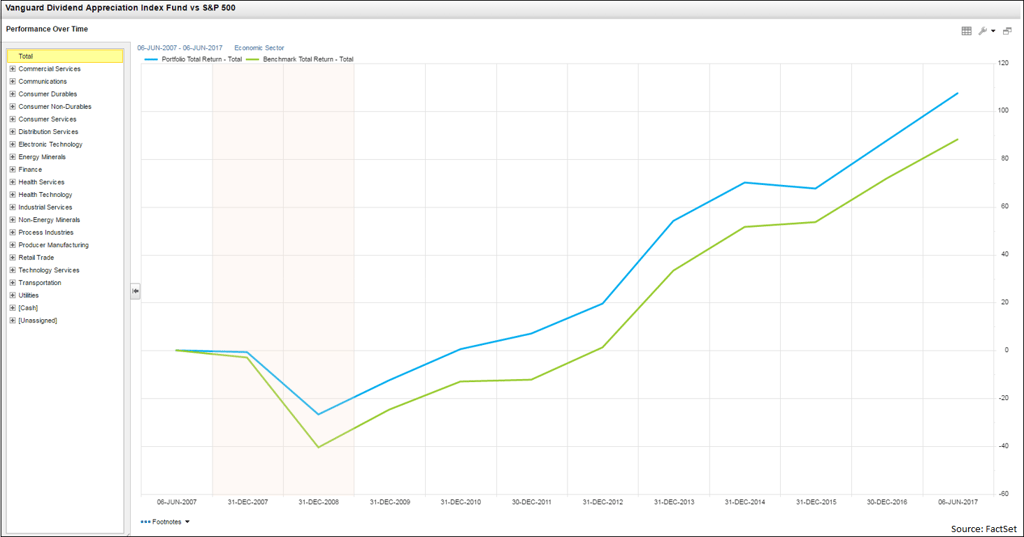 Full holdings data helps investors decompose risk using exposure, attribution, characteristics, or performance reports.
Getting Better Data to Investors
Fund managers follow a few typical routes to distribute data to third parties, including handling it themselves. However, there are challenges tied to using in-house fund dissemination, including susceptibility to employee turnover, format adaptability issues, overlooking critical information, and differing accounting methodologies.
Fund managers with contemporaneous data delivery can find unique opportunities in the growth of the startup industry. Lately, some active mutual funds are diversifying by investing in startups, known as "unicorns," as a means to realize unique returns tied to manager selection. The recent announcement of the Saudi-SoftBank tech fund, focused on investing in technology startups and finance companies, illustrates how the Saudi Arabian government is using funds to diversify and drive an oil-based economy towards one of futuristic technology startups. We anticipate that these investments will lead to more startups and financial technology platforms.
Like the artist who finds a market through a digital community like Etsy, the new generation of fund manager can leverage innovative technologies and third-party platforms to reach potential investors. One viable strategy is using a fund administrator.
Fund administrators are able to quickly and reliably disseminate data to third-party financial technology platforms while accommodating various file formats and types of information. For example, when a fund administrator provides an industry identifier, such as ISIN or CUSIP, at the fund and security level, financial platforms are able to map data through to each of their analytics tools.
Fund administrators continue to grow in relevance. Since 2009, State Street Corporation has seen a 53% increase in its assets under custody and administration. This year, State Street is expected to earn $5.3 billion in servicing fees, according to FactSet consensus estimates.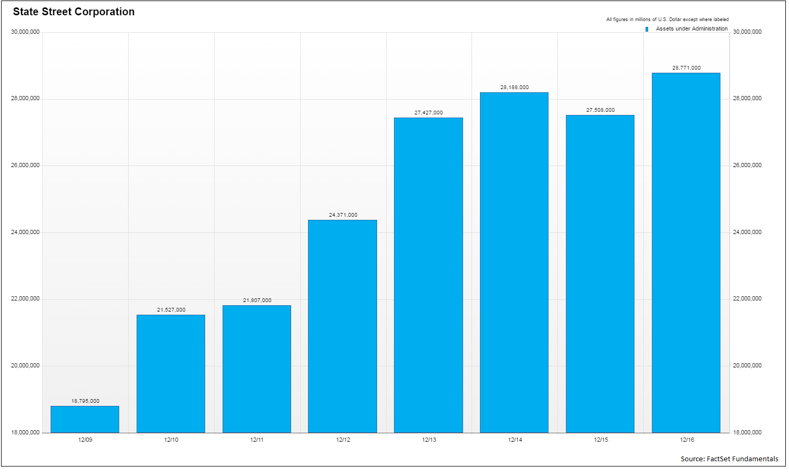 To find increasingly sophisticated buyers in an increasingly crowded market, mutual fund managers must distribute data efficiently. Without this consideration, the fund may incur the opportunity cost of not being represented on popular financial data platforms and websites. Efficient fund marketing can help fund managers to increase assets under management, and their selection of current data distribution methods can ensure the high quality data that leads to it.