Last week, the Organisation for Economic Co-operation and Development (OECD) released its June 2015 Economic Outlook, predicting slower global growth in 2015 compared to 2014's 3.3% expansion. The OECD's forecast for world GDP growth of 3.1% in 2015 and 3.8% in 2016 represents a downward revision from the Outlook published in November 2014, when they were predicting growth of 3.6% and 3.9%, respectively. Weakness in various parts of the world in early 2015 led to the reductions, with prospects for growth not expected to resume until late 2016.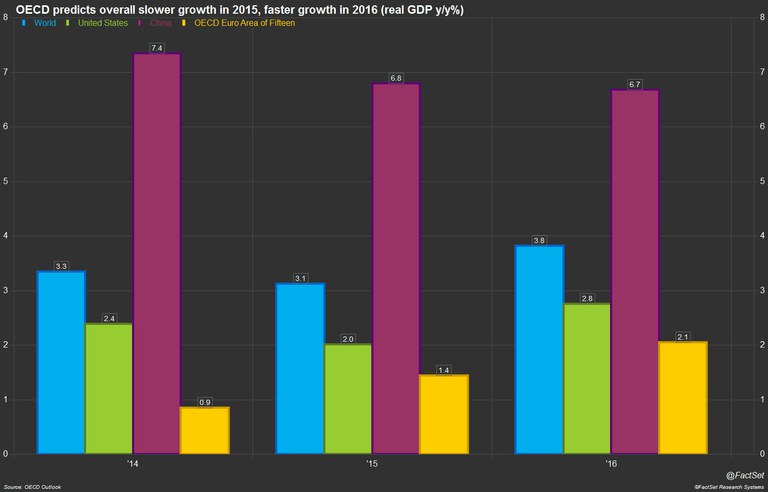 The OECD release emphasized the need for more capital spending, and encouraged policy makers to implement structural changes that will help to stimulate investment, boost demand growth, and reduce policy uncertainty. In contrast, researchers at the International Monetary Fund (IMF) are advocating a more direct approach: more government spending. Earlier this month, the IMF published a staff discussion note in which the authors argue that national governments need to stop obsessing about their debt levels and invest more money in their economies. The authors contend that by investing in infrastructure at a time when global interest rates remain low, countries can spur economic growth, which will in turn help increase revenues and allow them to reduce their debt in due course. This prescription does not apply to all countries; but for those nations that have more fiscal flexibility, it may provide a better long-term solution than austerity measures.
So how are the largest economies in the world faring with respect to overall growth, and how is public and private investment spending contributing to that growth? Following the 0.7% contraction in U.S. GDP (annualized q/q percent change) in the first quarter, the OECD revised its forecast for U.S. growth down significantly to 2.0% in 2015 and 2.8% in 2016, compared to 3.1% and 3.0% in the November forecast. Digging into the components of GDP, private investment has been strong for the last five years, averaging 7.6% growth; meanwhile, government spending has fallen for four consecutive years, and saw another decline in Q1 of this year. With political pressure to keep government expenditures down, how likely is the U.S. to follow the IMF's recommendation? U.S. government spending on structures has fallen to its lowest share of GDP in decades, dipping to 1.5% in the first quarter. Addressing the nation's infrastructure deficiencies has often been at odds with reducing the budget deficit and the national debt among politicians, so this situation is unlikely to change anytime soon.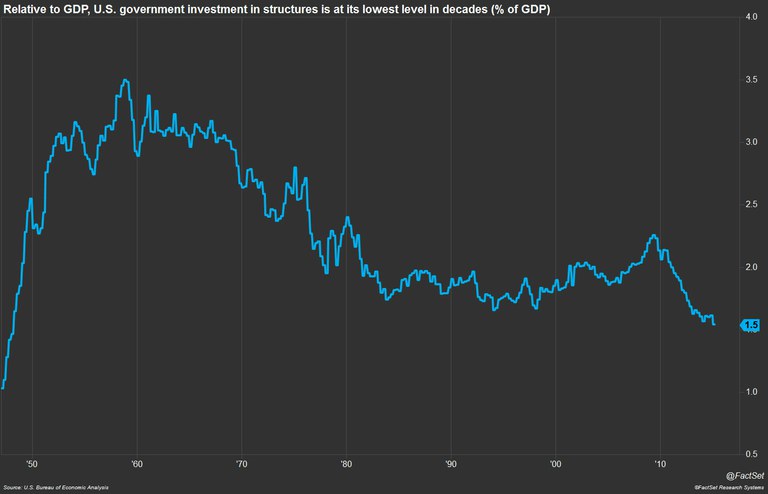 As Europe tries to regain its economic footing, the OECD has raised its outlook for the Eurozone countries because of aggressive quantitative easing, euro depreciation, and low oil prices. The region grew by 0.9% in 2014, and the OECD expects growth to continue to accelerate over the next two years, with forecasts of 1.4% in 2015 and 2.1% in 2016 (compared to forecasts of 1.1% and 1.7% in the November Outlook). Last year's expansion came mainly from private consumption, which grew 1.0%, its largest increase in seven years. Contrary to the U.S., Eurozone government spending has grown slightly in the past two years, but public spending only contributed 0.1% to 2014 real GDP growth. After two years of contraction, private investment grew in 2014 and contributed 0.2% to GDP growth. If consumer and business sentiment continue to improve, this would further stimulate private consumption and investment, supporting the Eurozone recovery.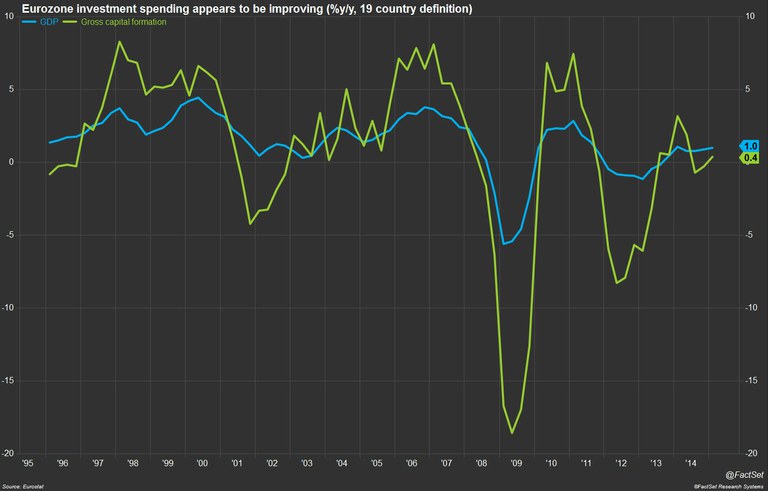 While boosting government spending may be a prescription for many countries to lift their economic performance, China is looking to move away from its reliance on government spending as a driver of growth. Language from government officials indicates a desire to move towards an economy driven by private consumption and investment, but the Chinese economy has a long way to go before the Chinese consumer will be a significant driver of economic growth on par with major developed countries. China's consumer currently represents just 36% of GDP, compared to an average 60% for the G-7. China's GDP growth slipped to 7.4% in 2014, the slowest growth rate since 1990. The OECD is predicting a continued slowdown in growth over the next two years, with the economy only expanding by 6.8% in 2015 and 6.7% in 2016. This is taking place as the economy faces a potential collapse in its property market and the Chinese government is tapping into its arsenal of monetary policy tools to prevent a hard landing.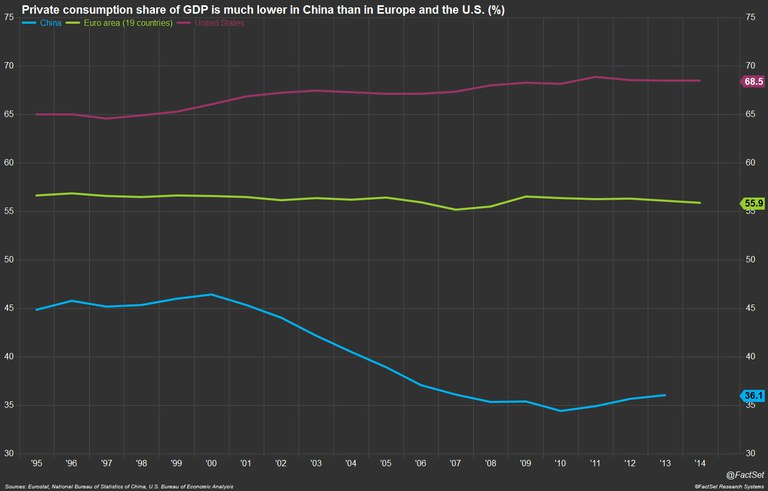 In order for the global economy to return to a more sustainable growth path, both the OECD and IMF believe that higher levels of investment are required, although the two organizations differ in how to accomplish that. The world's three biggest economies find themselves in different phases of their economic cycles, but the expansion of both private and public investment will certainly play a large role in economic performance over the next two years.