The Basics
FactSet StreetAccount provides timely, relevant, and curated news, tailored for the financial professional. Comprised of former analysts, traders, and portfolio managers, StreetAccount's Content team possesses deep industry knowledge that makes it uniquely suited to summarize and contextualize the news by transforming daily events across hundreds of sources into concise, intelligent, and meaningful summaries. Document Distributor, FactSet's delivery mechanism for unstructured content, provides access to the full history of StreetAccount News in an XML format tailored to power sentiment and natural language processing models.
The product information and content statistics contained in this document are as of March 2019.
The Coverage
FactSet StreetAccount covers a global universe of companies dating back to 2003. Document Distributor provides access to over 2 million individual stories. Figure 1 highlights the growth in monthly story volume, while Figure 2 details the increase in the yearly story production through time. Since 2012, StreetAccount has demonstrated a steady increase in coverage.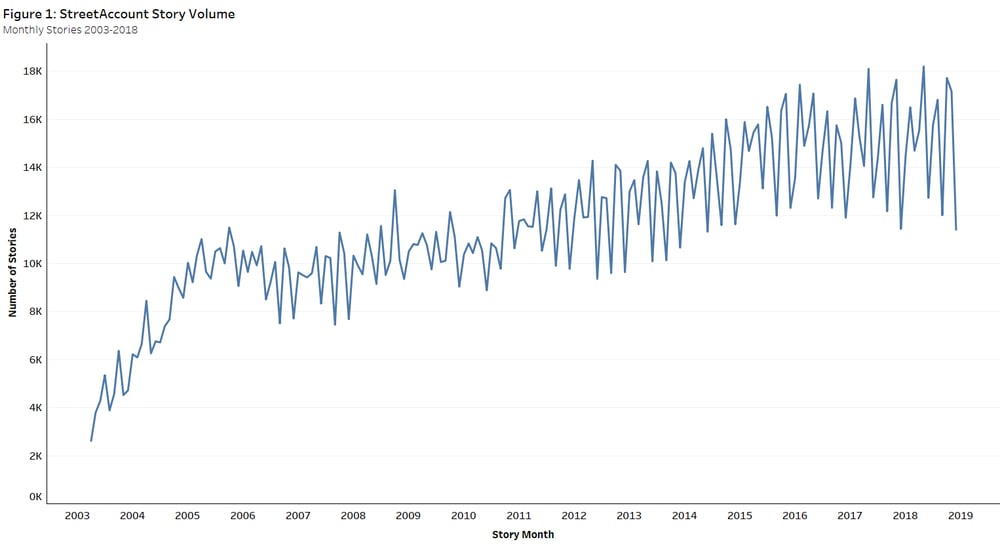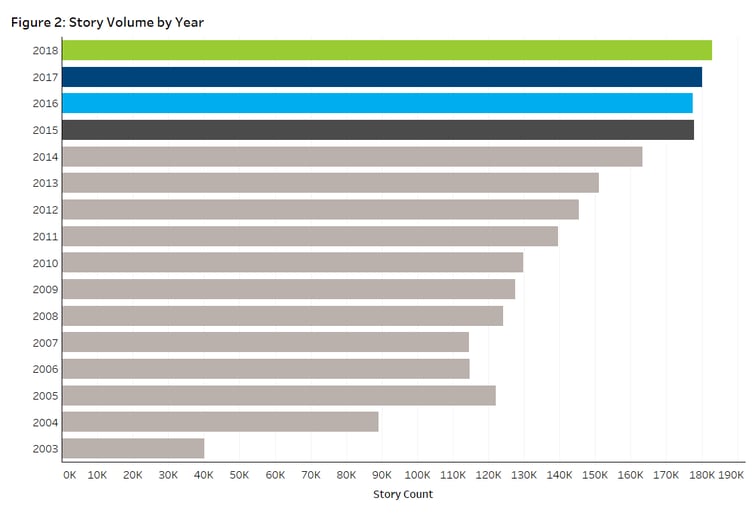 The Differentiators
StreetAccount simplifies news consumption by providing real-time access to market-moving information in a distilled fashion. StreetAccount's writers are former financial professionals who know the industry and think like financial professionals rather than journalists. They leverage their experience and knowledge to ensure that StreetAccount content is intelligent, relevant, and unbiased. Additionally, a story is contextualized by maintaining and providing direct links back to the source content and other related stories. The added benefit of this approach for data analysis is that StreetAccount writers have reduced the noise that is inherent in news coverage. This human component provides a compelling and concise corpus for further analysis.

StreetAccount writers scan all possible sources for corporate and market related news, including media outlets, social media, corporate conference calls, FDA and EU drug approvals, SEC filings, FTC antitrust decisions, brokerage firm upgrades/downgrades, and trading floor conjecture. This diverse list of sources guarantees that StreetAccount can identify impactful novel news, while filtering out the redundant.

This high-quality content is made available via Document Distributor, which provides a consistent XML structure accompanied by extensive tagging to facilitate data analysis. For each story the following items are provided: Story Time, Publish Time, Update Time, FactSet Entity ID, Tickers, Language, Country, FDS Subjects codes, StreetAccount Category codes, Reference Stories, Reference Headlines, Reference Dates. For more information on each of these items, please review the Document Distributor StreetAccount User Guide on the Open:FactSet Marketplace.
Example Use Case
News analytics has many applications, from customizing and prioritizing content based on user preferences to more systematic implementations used to construct factors, measure risk, or influence trade execution. Regardless of the end goal, the process is similar. Unstructured documents are parsed, tagged, and reduced to an actionable metric. The StreetAccount XML DataFeed is ideal for analysis as it offers a solution for the most common challenges: finding the stories that have meaning, identifying the companies they impact, and categorizing the content of a story. To highlight how these challenges are reduced with StreetAccount and Document Distributor, a simple but meaningful example is to explore how an event was captured, presented and formatted for news analytics.
News Not Noise
In early 2019, Boeing came under scrutiny after two plane crashes occurred, less than six months apart, involving their 737 Max Jet. Figure 2 shows the overall volume of StreetAccount News for Boeing from January 2017 – March 2019. On average, Boeing has had 30 StreetAccount stories per month. This volume represents how StreetAccount writers have filtered and reduced thousands of stories and sources to those that were meaningful.
The distilled nature of StreetAccount streamlines analysis by removing the noise but also increasing the probability of detecting abnormal periods of news that can impact market activity. The chart highlights three distinct outliers: June 2017, July 2018 and March 2019. In each case, the increase in coverage was driven by key events that impacted Boeing. In June 2017, Boeing launched the MAX 10 with 15 customers, in July 2018 a successfully Farnborough Airshow drove the headlines, and in March 2019 media attention on the 737 crashes increased coverage. Each of these months directly impacted Boeing's performance with monthly returns of 5.57%, 6.2%, and -13.44% respectfully.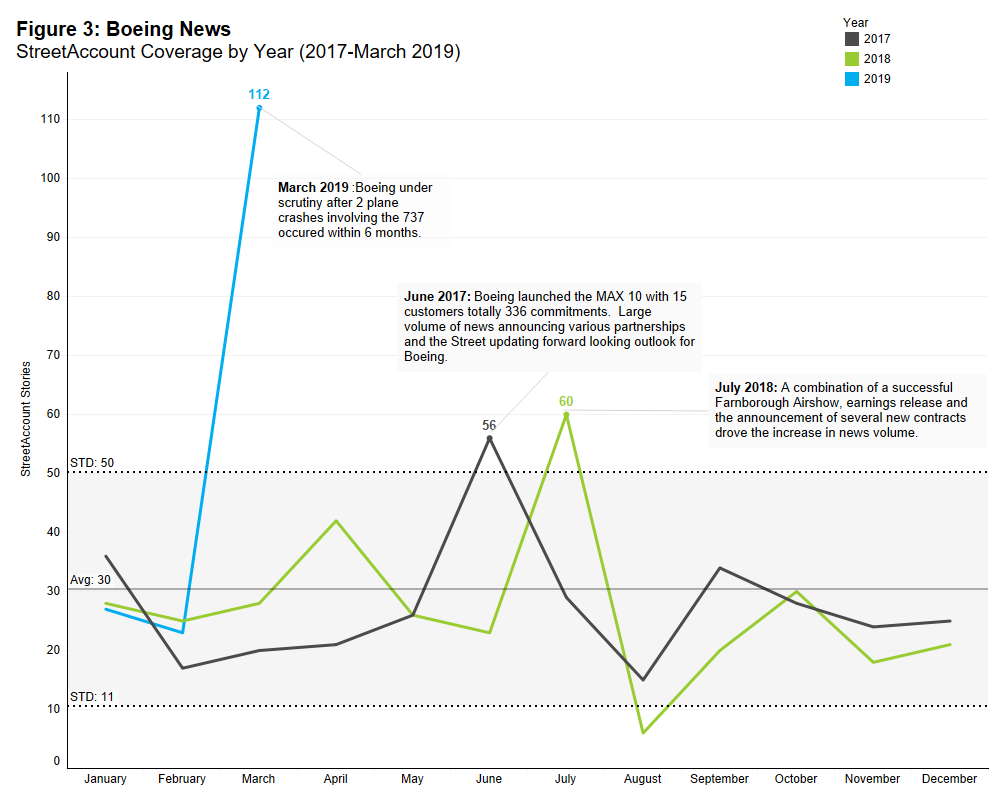 Who is Impacted?
The events in March 2019 impacted not only Boeing but the entire airline industry. One of the greatest challenges in news analytics is deciphering if news is relevant to a company. Advances in named entity recognition has increased the accuracy of systematic approaches to tagging companies, but what about news that does not explicitly mention an organization? StreetAccount inherently provides links to companies beyond those directly referenced. Figure 3 contains a breaking news headline from StreetAccount and the related companies provided in the corresponding XML document from Document Distributor.
The headline is a key event, but the tagging from Document Distributor is what makes it actionable. Each story is tagged with both the Ticker Region and associated FactSet Entity Identifier for companies related to the article. StreetAccount connected the dots between this story and related companies. In this example the simple headline was instantly tied to firms that operate 737's and fly into Canada: American Airlines (AAL-US), Air Canada (AC-CA), Southwest Airlines (LUV-US), and WestJet (WJA-CA). From a systematic analysis perspective, layering this human intelligence adds information to quantify an event and understand the potential wider impacts it may have across industries, companies, supply chains, and much more.
Revisiting stories for Boeing in March 2019, Figure 4 maps the full network of companies identified by StreetAccount as related to those stories. The inclusion of the FactSet Entity Identifier unlocks a wealth of content that can be connected to augment the analysis. For example, incorporating FactSet's Supply Chain allows us to focus on stories where Boeing's Customers were also tagged. The blue names below represent Boeing customers and the size of their name is related to the number of stories.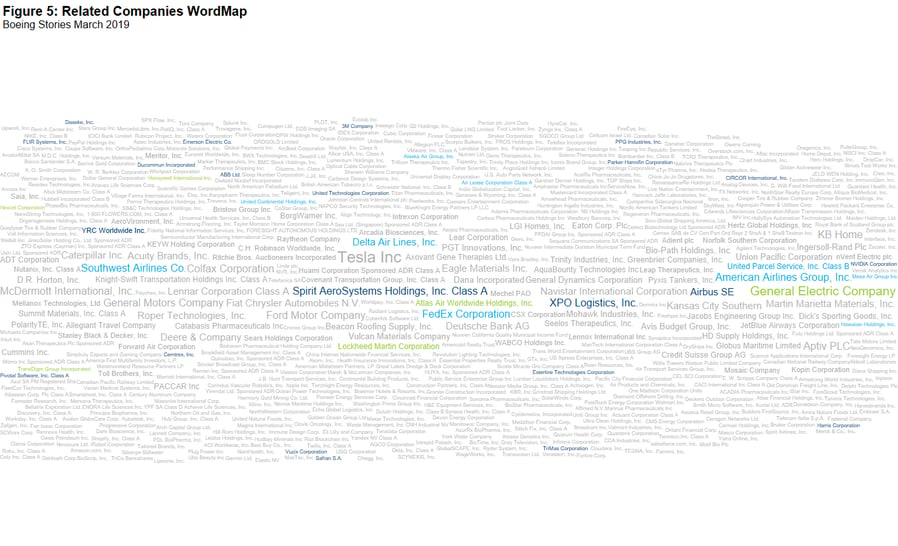 It comes as no surprise that in a month with news focusing on airline safety that key customers such as Delta, Southwest, and American Airlines are so visible.
Categorizing and Classifying the News
Figure 5 flips the analysis and shows the top 5 types of news for Boeing in March 2019. StreetAccount provides various categorical tags to support advanced filtering and event specific weighting. Here we can see a large portion of news was identified as "Regulatory." This includes stories discussing several countries that banned or suspended 737 operations, as well as, FAA and FBI investigations.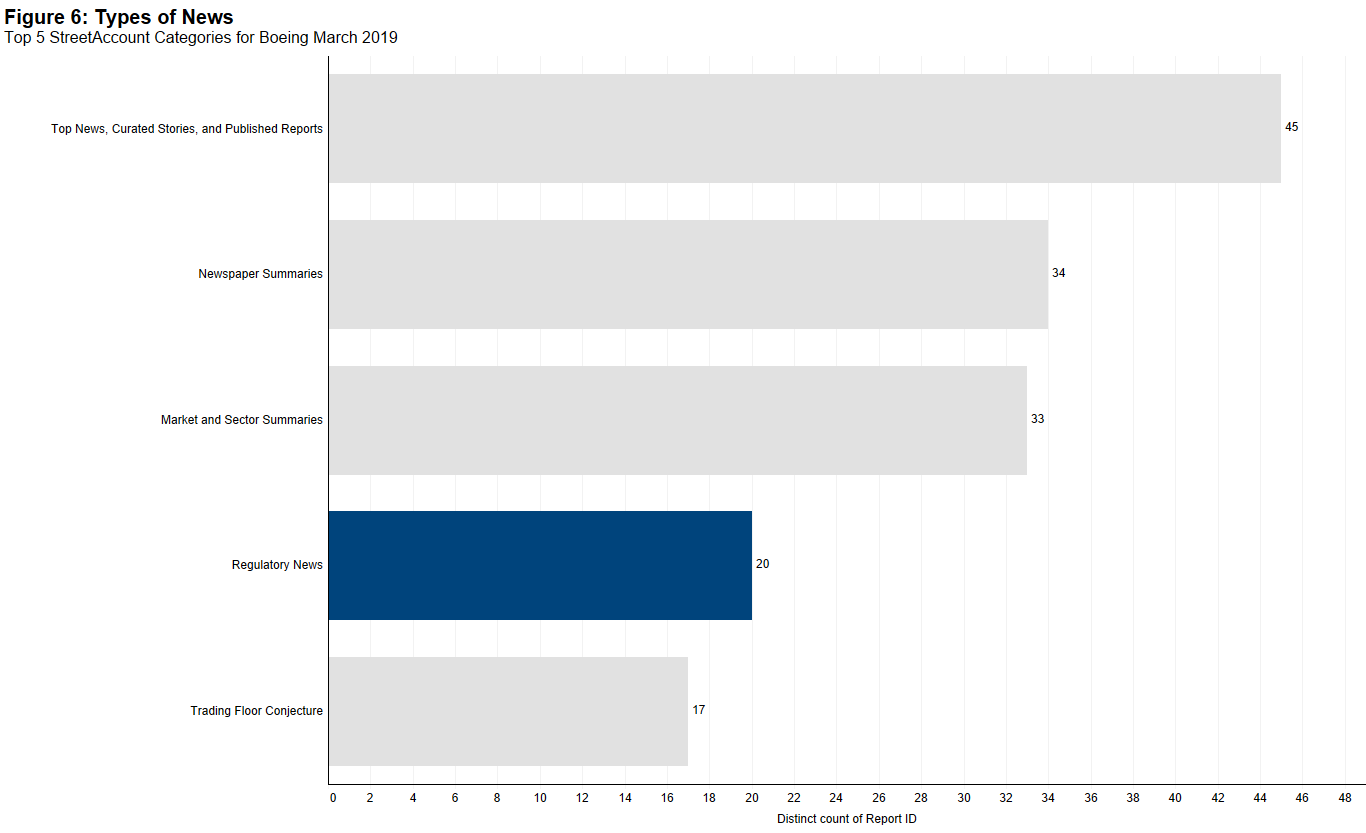 Broadening this concept, one can see how understanding the category of news can be critical to analysis. Identifying the sentiment around earnings releases, mergers and acquisition rumors, or how the street is reacting to recent events can provide a substantial edge to any investor.
News moves markets. To successfully act on news, especially in a systematic manner, it is critical to understand the scope, type, and scale of the event. StreetAccount paired with Document Distributor provides an out of the box solution. Industry experts at StreetAccount focus on providing relevant news that eliminates noise, while Document Distributor provides easy access to the complete corpus of extensively tagged stories in a consistent machine-readable XML format.
If you have any questions or would like to learn more about any of the content mentioned above, please contact us at OFSupport@factset.com.
Please visit the product page on the Open:FactSet Marketplace for more information: FactSet Document Distributor - XML StreetAccount News.