The Basics
FactSet's Revere Business Industry Classification System (RBICS) suite of products provides a comprehensive structured taxonomy offering precise classifications for global companies, based on their operating footprint. The taxonomy has a 14 by six matrix structure, with 12 anchor industries and two specialty industries with each industry supporting five additional layers of depth. For levels four through six, a patented, bottoms-up approach of classifying companies according to the products and services they offer results in an unparalleled level of precision and granularity. The top levels' market-defined approach ensures companies are grouped based on behavioral similarities and stock co-movement.
There are four packages available in the RBICS suite:
RBICS – Focus includes single-sector mappings of approximately 48,000 of the most-liquid and publicly-traded companies based on their primary lines of business.
RBICS – Extended Universe includes single-sector mappings for approximately 3 million private and public companies, on a current-only basis, at Level 4 of the RBICS taxonomy.
RBICS – Revenue includes a multi-sector mapping of approximately 45,000 of the most-liquid and publicly-traded companies. Revenue percentages associated with each reported business segment are standardized into the most granular sectors of the RBICS taxonomy.
RBICS – Tradenames includes 170,000 products/services (Tradenames) associated to each line of business within the RBICS company universe.
The product information and content statistics contained in this document are as of May 2019.
The Coverage

The RBICS product suite offers various levels of coverage designed for specific use cases. The graphic below offers a side-by-side comparison of each. RBICS Focus, Revenue, and Tradenames offer comprehensive coverage for a global universe of public companies. While RBICS - Extended Universe offers extensive coverage of approximately 3 million entities including public and private companies.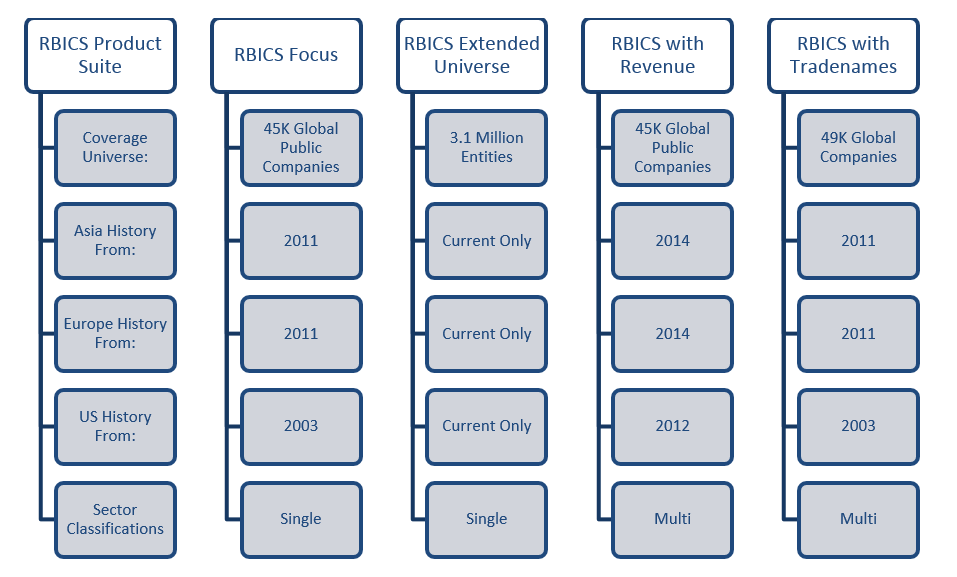 The charts below highlight the RBICS Taxonomy matrix. L1-L3 are market-defined, reflecting the macro view of stock co-movement while levels 3-6 are product/service based. Additionally, a breakdown of number of companies per Economy is included showing the distribution of companies across the taxonomy.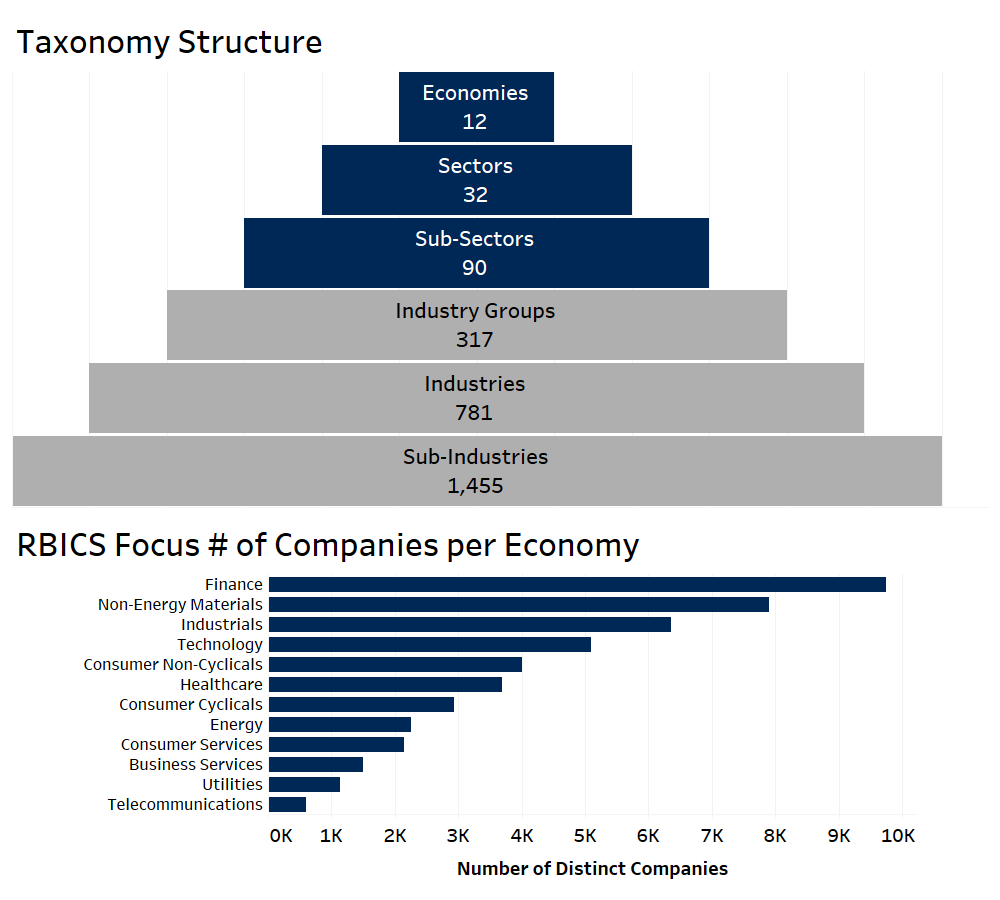 The RBICS with Revenue DataFeed covers 45,000 global companies, with U.S. -major history from 2012 and global history from 2014. The regional coverage is broken out by number of companies with revenue information per fiscal year, per region.

The Differentiators
The FactSet RBICS taxonomy offers users a precise classification methodology. To overcome disparate and non-standardized company disclosures, standardized industry definitions are applied to companies globally and only primary sources of information disclosed directly by companies via regulatory filings, investor reports, or company press releases are used. This normalized global industry classification structure allows for the profiling of companies from single-sector to multiple-sector categorization, revealing a more robust picture of companies' primary and ancillary lines of business with quantified sector exposures and concrete products/services information.
The data collection process is one area of differentiation for the RBICS suite of products. FactSet Analysts are specialized by industry vertical and trained to interpret information in a consistent manner and input them into a specialized Java-based data management system with built-in quality and error-checking features.
FactSet monitors data quality using a combination of system and human quality controls. FactSet utilizes technology such as an internally developed document reader with customizable searching and translation tools to augment the data collection and review efficacy. Ultimately, the information quality results from the patented taxonomy and the well-trained analysts following the methodology yet exercising sound judgment to ensure collection of material data and proper assimilation of the information in order to generate unprecedented visibility into companies and markets. The analysts also monitor daily changes resulting from corporate actions. FactSet profiles for newly listed companies and IPOs based on their prospectus.
Traditional categorization methods only assign companies to a single classification structure. The RBICS multi-sector categorization of global companies allows users to create a more robust framework for financial and economic analysis. This facilitates a more thorough understanding of a company's business and risk exposure. It also encourages the creation of more accurate peer groups and a more thorough understanding of the competitive landscape at the industry level. Finally, the private company coverage offered in RBICS – Extended Universe allows for a more comprehensive review of industry participants and is particularly useful for CRM or investment banking applications of the data.
Example Use Case
The RBICS with Revenue DataFeed gives a multi-sector view of where a company's revenues are generated. This information is sourced from a company's reported segment information and allows a user to understand how much of a company's revenue comes from its various lines of business. RBICS provides this data in a standardized format allowing for cross-company comparison.
In Amazon's most recent annual filing, the company disclosed the following business segment breakdown. Notice that AWS accounts for over $25 billion in revenue.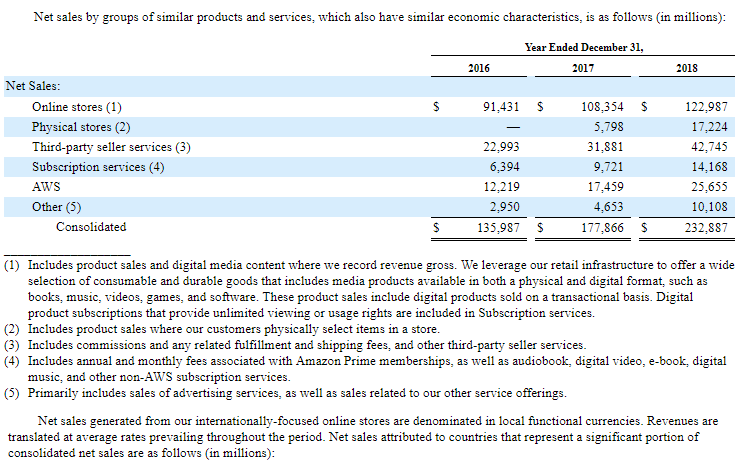 Each company uses its own business segment definitions when disclosing revenue breakdowns, making it very difficult to compare different companies. Using management commentary and compiling information from a variety of other primary sources, FactSet standardizes this information, removing the burden of understanding what business segment AWS belongs to. This normalization makes it quick and easy for users to understand exactly what each company segment represents and to do meaningful cross-company comparisons.

Once AWS has been identified as being part of the Other Hosting Services sub-industry, it is easy to do a market-share analysis to see who else is a player in that space. A query of companies with revenue in the sub-industry provides an immediate view of the competitors in the market from both a pure-play perspective as well as those where hosting services make up a smaller portion of the company's revenues. The view below shows any company with more than 50% of its revenue derived from the Other Hosting Services sub-industry.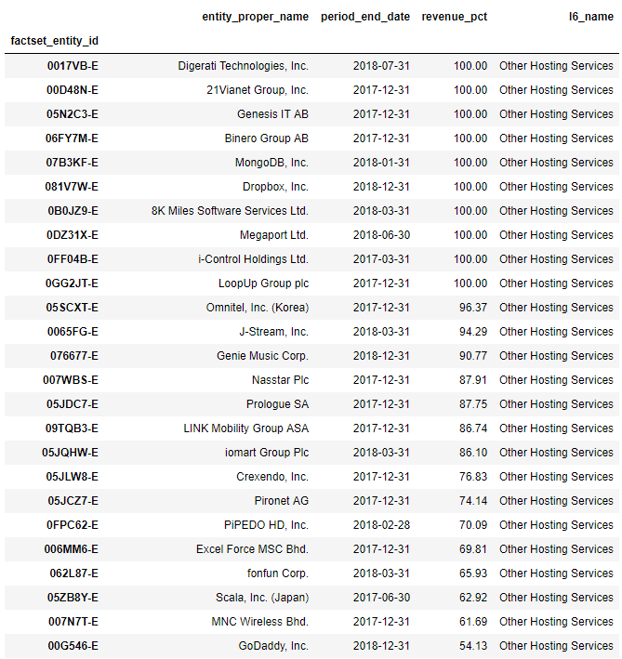 This information is useful on a stand-alone basis but becomes even more powerful when coupled with FactSet Fundamentals data to understand the absolute amount of revenue being generated by these companies from the Other Hosting Services sub-industry.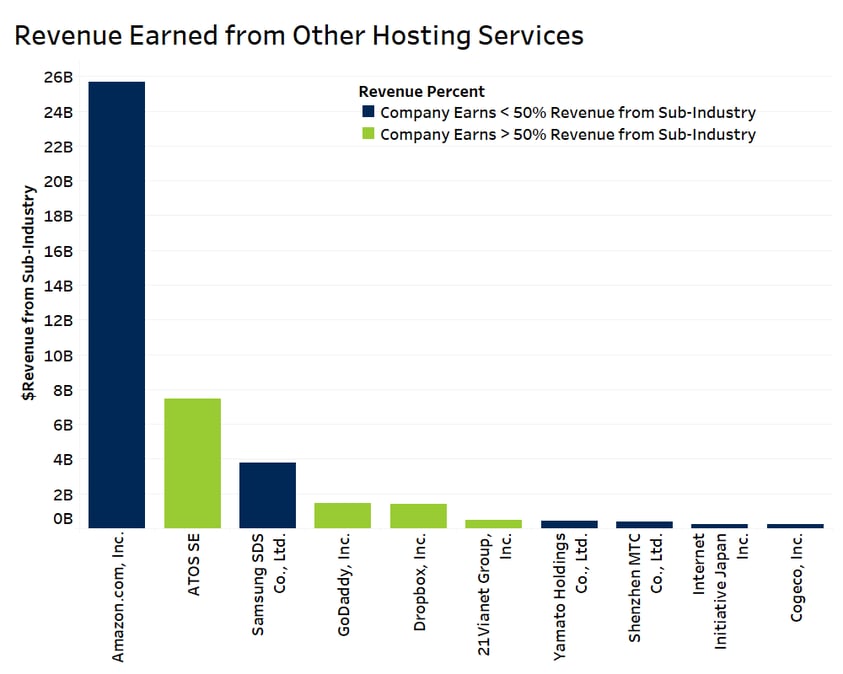 While Amazon only received around 10% of its revenue from Other Hosting Services, they are the dominant player in the sub-industry. The chart above shows that the next nearest competitor, ATOS SE generates more than 50% of its revenue from this line of business but generates less than a third of the revenue Amazon captures from internet hosting.
The FactSet Revere Business Industry Classifications System (RBICS) is a comprehensive structured taxonomy giving users a precise classification of global companies and their individual business units.
If you have any questions or would like to learn more about any of the content mentioned above, please contact us at OFSupport@factset.com.
Please visit the product page on the Open:FactSet Marketplace for more information: FactSet RBICS.