During each corporate earnings season, it is not unusual for companies to comment on subjects that had an impact on their earnings and revenues for a given quarter, or may have an impact on earnings and revenues for future quarters. Through Wednesday (April 25), approximately 36% of the companies in the index (181 companies) had reported earnings results for the first quarter. Given the recent focus on tariffs by the Trump administration, have companies in the S&P 500 commented on "tariffs" during their earnings conference calls for the first quarter?
To answer this question, FactSet searched for the term "tariffs" in the conference call transcripts of the 162 S&P 500 companies that had conducted first quarter earnings conference calls through April 25.
Of these 162 companies, 45 (or 28%) cited the term "tariff" during the call. This number is well above the numbers for the previous four quarters (through the same point in time in the ea rnings season). At the sector level, the Industrials sector has witnessed the highest number of companies (19) discussing "tariffs" on earnings calls of all eleven sectors.
Broadly speaking, slightly more than half (25) of the companies that have discussed tariffs on their earnings calls saw little to no impact on their earnings in the first quarter or anticipated little to no impact in future quarters. However, slightly less than half (19) also expressed concerns about the potential for tariffs to have negative impacts on customers, inflation, and the overall economy in future quarters. About one quarter (12) of the companies also discussed the uncertainty of the implementation or impact of future tariffs. The number of companies do not add to 45, as some companies made comments in multiple categories (e.g. no impact in Q1 but uncertainty in future), while other companies made comments about tariffs that did not fit any of these categories.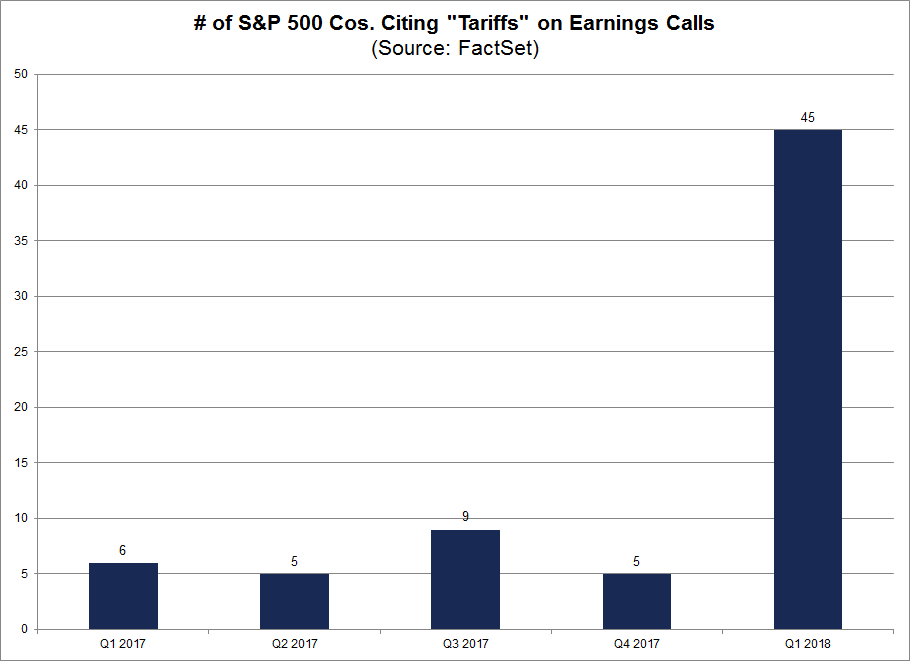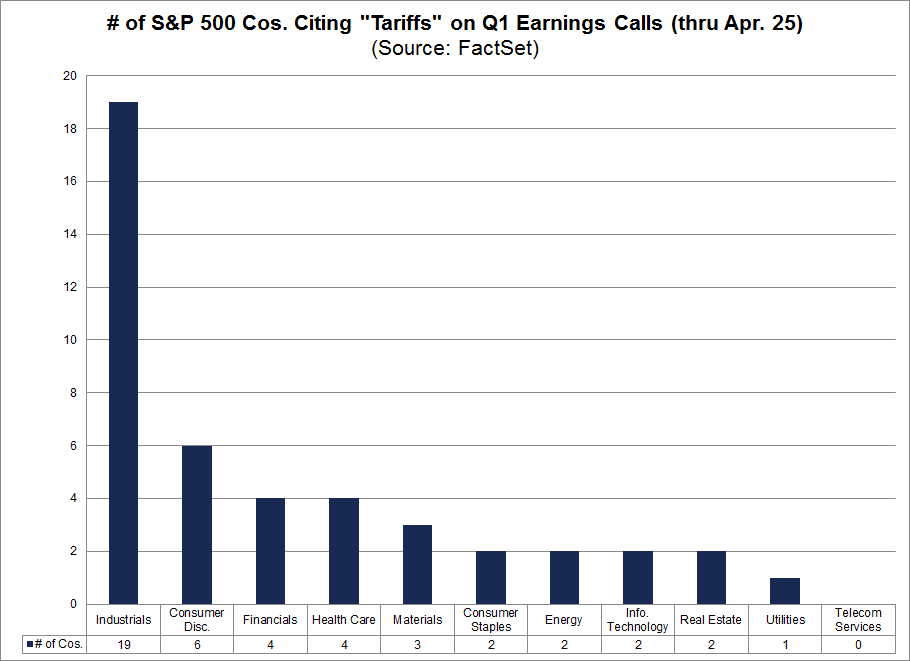 Specific comments on "tariffs" from companies in the Industrials sector can be found below.
What Companies are Saying
"So Ben, we have not seen any quantifiable shipper behavior change based on recent developments in the U.S. trade policy. As I mentioned earlier, rebound in trade in 2017 drove the best air cargo growth since 2010. But all that being said, as the Chairman just mentioned, we do continue to advocate against any move towards protectionist trade policies that could slow economic growth and undermine all the positive impacts from the tax reform legislation." – FedEx (Mar. 20)
"We're not seeing things from our customers yet. That's too early to tell. Certainly, we do have some things that we source out of China. We're keeping our eyes on it and how they may be affected by the list of things that may have a tariff. But I think it's too early to tell, because we really don't know what's on and what's not quite yet. So too early to tell." – Cintas (Mar. 22)
"Outside of that, volatility is something that financial markets like, it creates activity. So, a few of the geopolitical and kind of political posturing, tariffs, a whole bunch of things that are driving some volatility in marketplaces make markets interesting and therefore more active." – IHS Markit (Mar. 27)
"So, Ricky, what is known, right, is the fact of steel and aluminum and we know that that has not really had an impact on any of us when it comes to the specific componentry. I think that we're evaluating some of those things that – again, we have a robust supply chain." – Acuity Brands (Apr. 4)