Varun Rampall, Associate Product Manager, Research Product Development also contributed to this article.
Since the beginning of the year, social media stocks have been on a roller coaster ride, complete with the long, upward climbs and sudden, frightening drops. These companies have been under immense pressure to control the flow of "fake news," keep up user engagement, develop new revenue streams, and, now more than ever, assure the protection of user data. Arguably, the best-known name in the space, Facebook, has been the focus of this intense scrutiny.
Founded in 2004, Facebook first IPO'd on May 18, 2012, but its initial offering didn't go smoothly, with the stock dropping over 50% shortly after hitting the market. Since then, the social media giant has seen remarkable growth, closing at an all-time high of $193.09 on February 1, up 408% from its IPO price, after a very impressive Q4 2017 earnings report revealing continued growth.
Despite its astronomical growth, recent news that political data company, Cambridge Analytica, had access to unsanctioned Facebook user data during the 2016 U.S. presidential election has spurred calls for an investigation and possible industry regulations. This revelation has put immense pressure on the company, culminating in Facebook CEO Mark Zuckerberg's testimony on Capitol Hill earlier this week. Facebook had been outperforming the market, but has since erased nearly half of its one-year gains.
Social Media Stock Performance Relative to S&P 500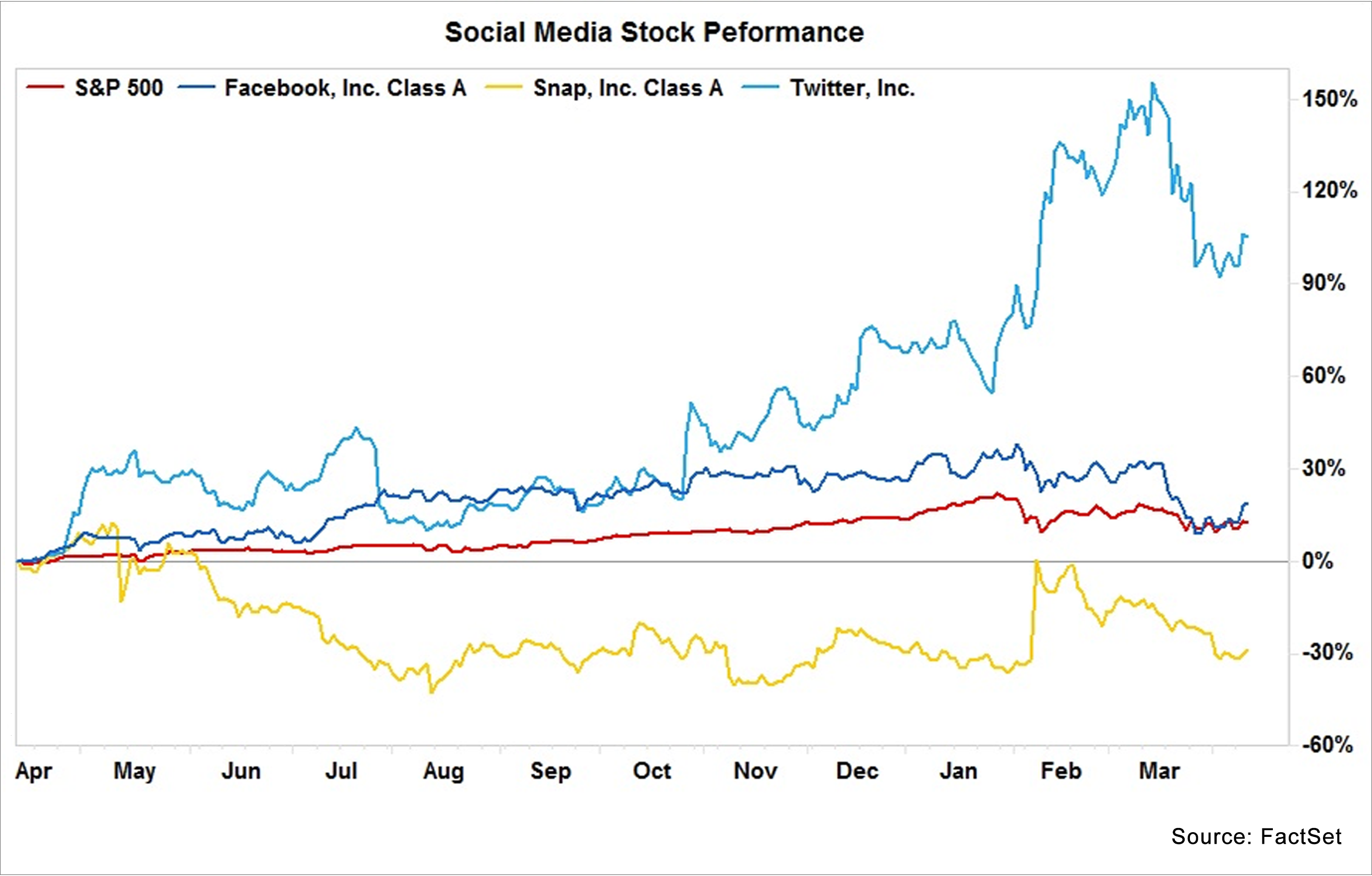 Shortly after the news that Facebook user data had been used to create targeted campaign ads intended to sway the 2016 presidential election, #DeleteFacebook began trending on Twitter, encouraging users to ditch their accounts. The movement has attracted a number of companies and celebrities, including Brian Acton, the founder of Facebook subsidiary WhatsApp: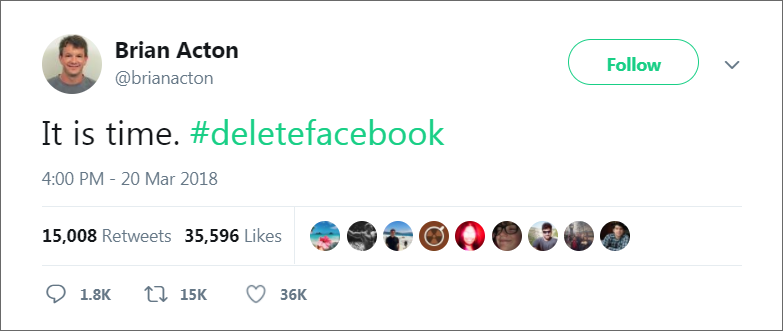 According to initial reports, of Facebook's 2.14 billion users, only 2.33% (50 million) had their personal data shared with Cambridge Analytica. However, that number was recently revised up to 87 million, and could still go higher. Whatever the number is, this still represents a big concern for all users and partners of Facebook. We haven't yet seen any alarming figures for users deleting their accounts, but we can use FactSet Estimates to see what the street predicts for Facebook going forward.
Analysts React
In the wake of news of the data leak, analysts surveyed by FactSet are still projecting double-digit YoY growth for Facebook's user base in four of the next five years. Facebook is still projected to outperform its competitors in the social media space, Twitter and Snap.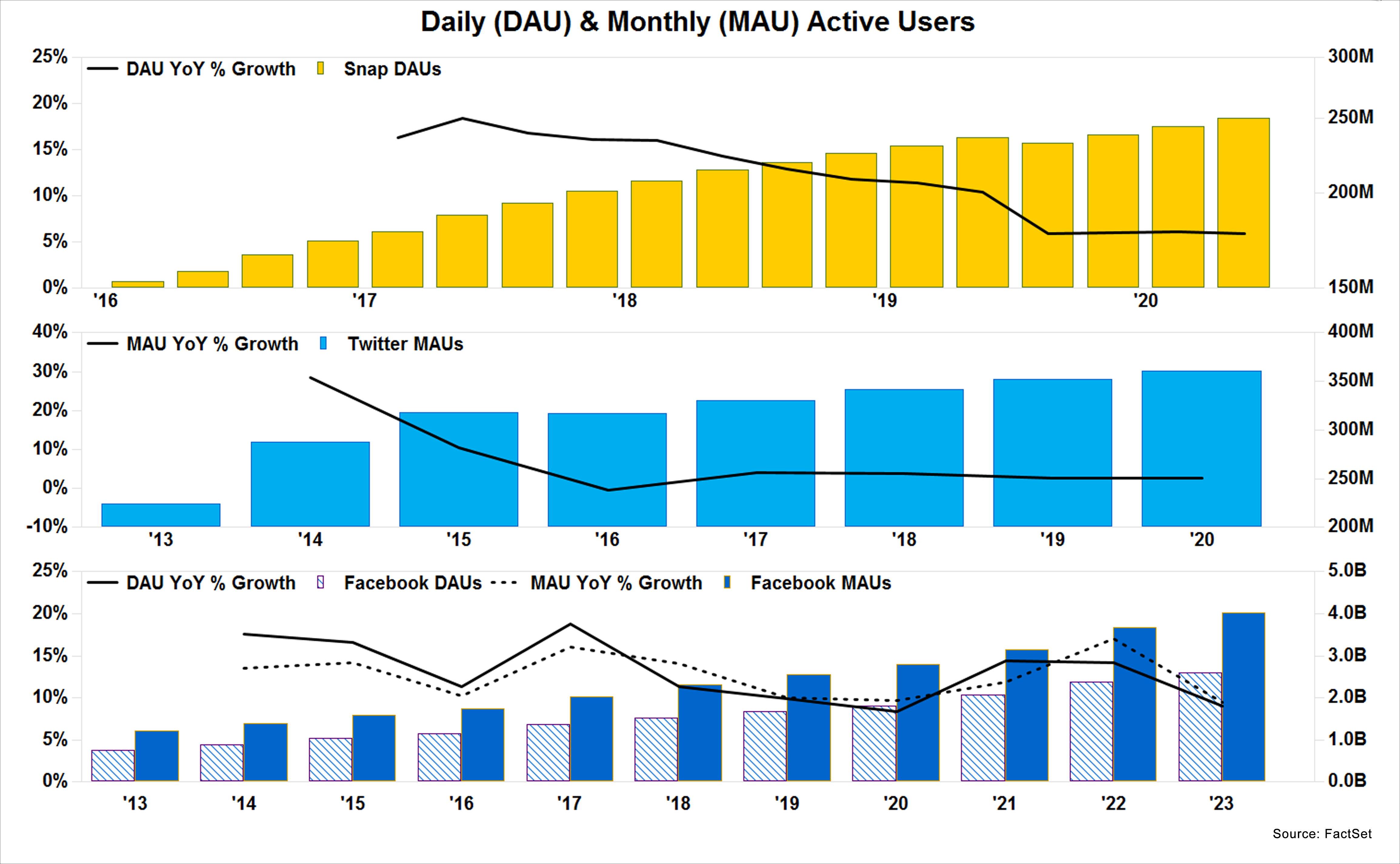 The downside for Facebook is that analysts have set the bar very high, so any miss in reported figures will hurt its already beaten stock even further, especially with the looming effects of the data scandal still unknown. To put Facebook's user base in perspective, at its peak, 28% of the entire world logged into the platform once a month and 18% logged in daily. When looking at Facebook's success, it is important to keep in mind that its user base does not end at facebook.com. Its portfolio of applications attracts approximately 5.56 billion active users globally:

Competition and Commerce
It is very important for Facebook to retain and continuously grow its users, but today the real worry is the reaction of advertisers. Following recent events, several well-known companies such as Mozilla, Wi-Fi connected speaker producer Sonos, and auto-parts store Pep Boys announced that they will no longer use Facebook to advertise. Facebook generates a significant percentage of its revenue from advertisement sales, so if more companies follow suit, this trend could be problematic for the social media giant.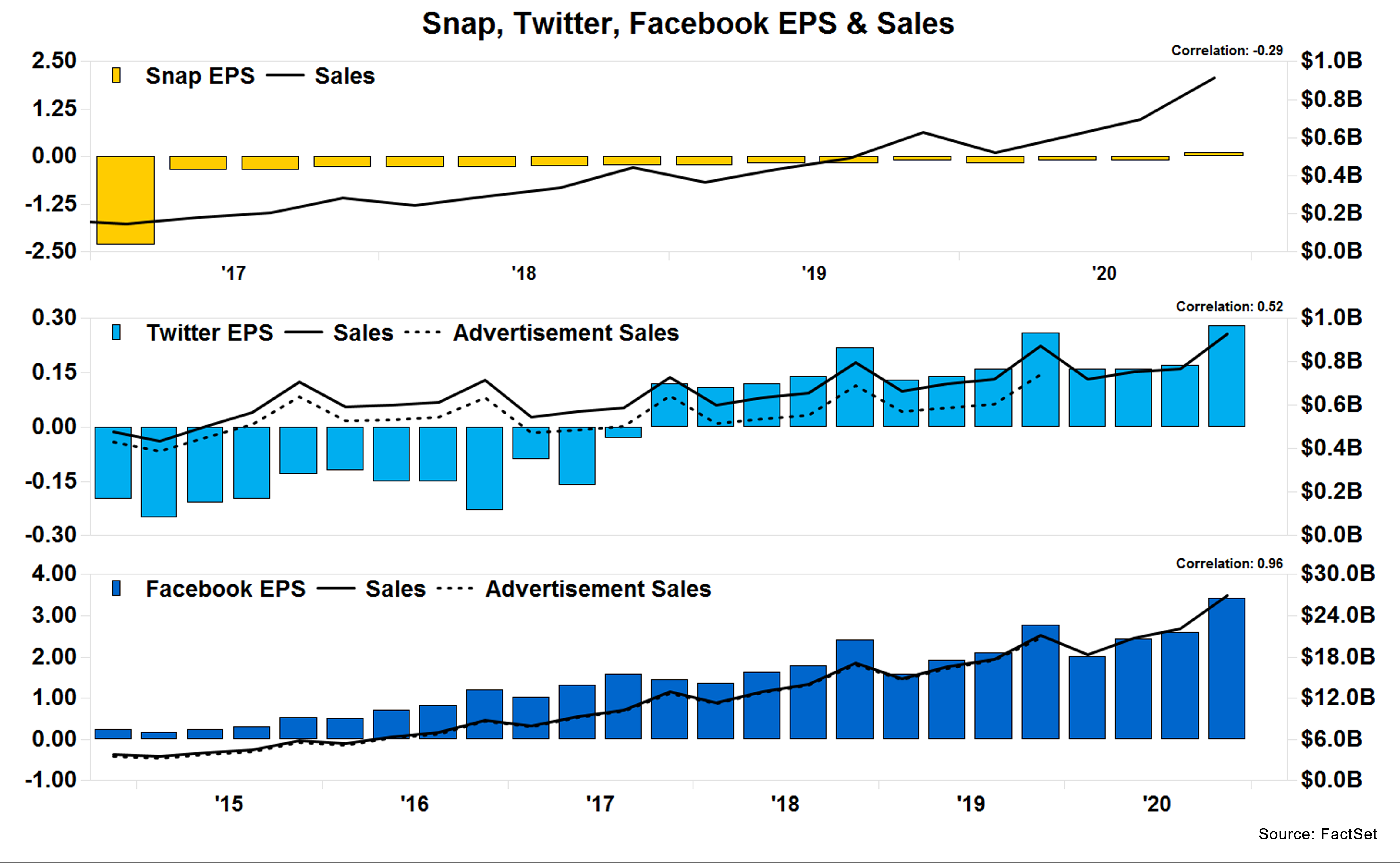 *Advertisement Sales figures not provided for SNAP or analysts. Facebook and Twitter Ad Sales Estimates available up until 2019FQ4
Looking at the competition, if Snap or Twitter prove to be platforms that are more effective for advertisers, Facebook risks losing revenue from its already slowing advertising business. On top of this, prior to recent data sharing issues, Facebook announced a change to its news feed intended to increase meaningful interactions between friends and decrease publisher content. Due to this tweak, page traffic to advertisers has fallen immensely, causing a loss to these advertisers.
The argument against immense advertiser fallout is simple: where else will advertisers go? The issue with Twitter is the reach of advertisements, as the platform boasts a mere 330 million active users and faces challenges with growing its base. The same applies to Snap, which recently updated its app, Snapchat, with the goal of reducing complexity, bringing friends closer, and increasing the effectiveness of publisher content. However, user feedback in response to the revamp was overwhelming negative, including from celebrities who have said they no longer open Snapchat.
YouTube's Advertisement Fallout
Given Facebook's ongoing turmoil, let's not forget the advertisement issues Alphabet (better known as Google), ran into just last year. In 2017, when Alphabet's video streaming behemoth YouTube posted ads next to propaganda and politically charged video content, advertisers had a similar reaction, with nearly 5% leaving the platform, including AT&T and Pepsi. Despite the loss of business and the threat of additional losses, Alphabet posted a 21% increase on top line revenue just one year later. While advertisers may feel pressured to leave, the fact remains they do not have other options with as much reach as a Google or Facebook.
In recent days, Zuckerberg has opened conversations with the press, taking full blame for the Cambridge Analytica breach and announcing plans moving forward to ensure better protection of users' personal information. In an April 4 interview addressing the issue of protecting users' private data, he responded to a question specifically regarding the #DeleteFacebook movement and advertiser dropouts:
"I don't think there has been any meaningful impact we've observed. But, look, it's not good. I don't want anyone to be unhappy with our services or what we do as a company. So, even if we can't really measure a change and the usage of a product, or the business or anything like that, it still speaks to people feeling like this is a massive breach of trust and that we have a lot of work to do to repair that."
After bottoming out at $152.22 on March 27, investors were pleased with his cooperation in this interview and sent Facebook stock 3.0% higher after hours. The stock price rebounded again this week during Zuckerberg's congressional testimony, closing at $166.32 on April 11. Overall, the market remains optimistic about Facebook's prospects; just two analysts have Sell ratings on Facebook, compared to 40 Buy ratings. Facebook's next two earnings reports will be crucial, as effects from the platform tweak and Cambridge Analytica will determine future growth.