Jonathan Askwyth, Consultant, Northeast Client Consulting also contributed to this article.
Remember BlackBerry? Just 10 years ago, the devices were ubiquitous, found in the hands of businesspeople, politicians, celebrities, and teenagers alike. Thanks to its full physical keyboard, BBM messaging system, and the addictive built-in game Brick Breaker, the BlackBerry device was a home run for years. But as the saying goes, what goes up must come down and BlackBerry's unit sales and stock price eventually came back down to earth. As shown in the chart below, as Apple's dominance in the smartphone industry surged, BlackBerry's stock price tanked.
Since peaking in June 2008 at $147.55 per share, BlackBerry's stock has lost 90% of its value. However, since announcing in September 2016 that the company would no longer produce its own devices, the stock has risen by 24%, compared to a 6% gain for the S&P 500 over the same period. Once the biggest smartphone producer in the world, many marked this change as an end of an iconic era in the industry. But while CEO John Chen and company management have stated that the company's hardware business is virtually dead, BlackBerry continues to reinvent and grow its business.
Focus on Software
While one era has come to an end for BlackBerry, another has just begun. As mentioned above, BlackBerry no longer sells hardware devices; instead, it licenses its brand to third-party manufacturers. Using FactSet's RBICS revenue database, we can see the transition in revenue percentage from hardware to software, which now makes up over 71% of its total revenue. With this shift, gross margin has rapidly recovered, as shown in the chart below.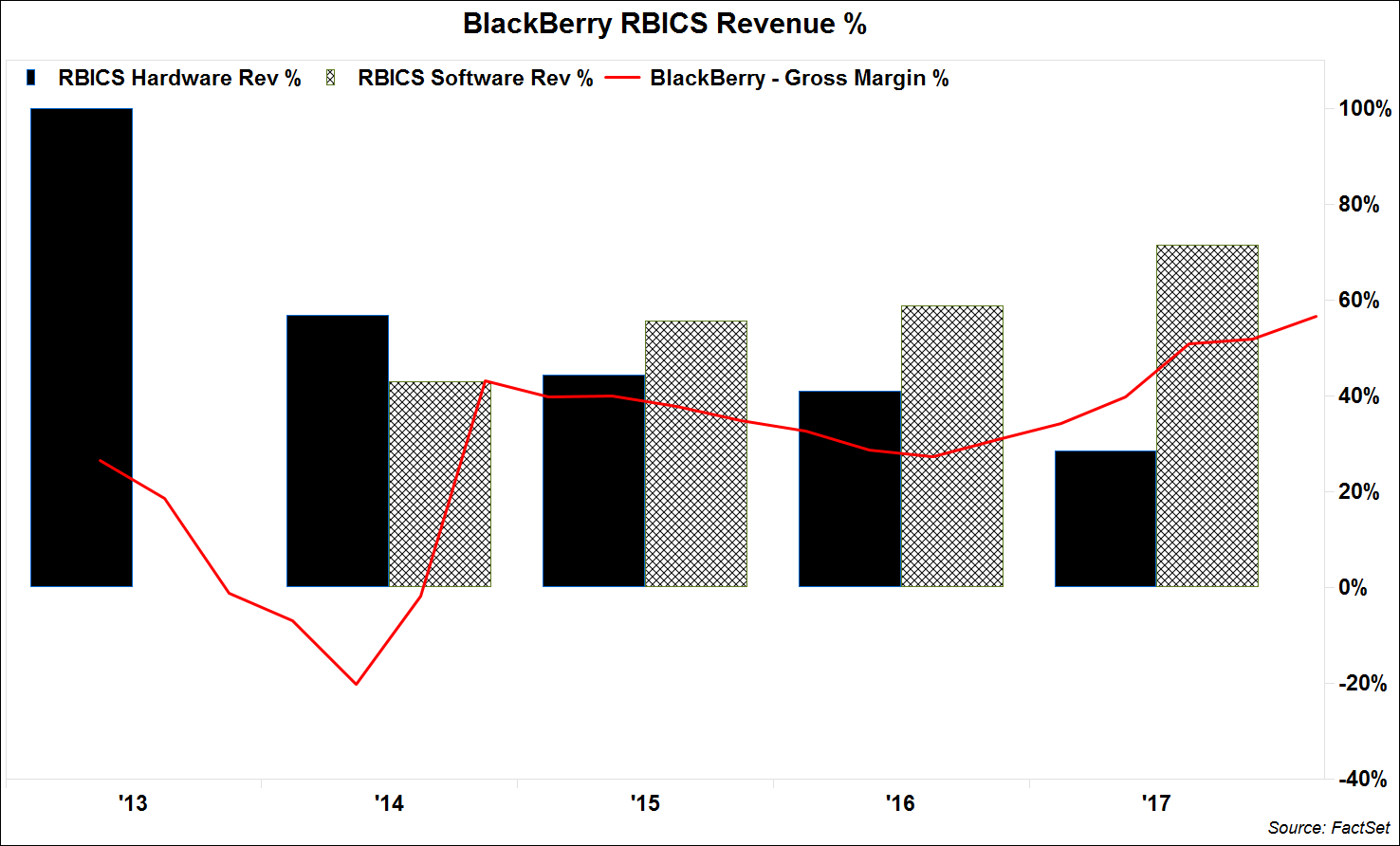 The company's transformation and push into software is built upon BlackBerry's strengths in mobility, productivity, connectivity, and most importantly, security. Through a handful of acquisitions, its portfolio of software offerings has expanded, including cloud, communication, enterprise solutions, and many more.
Key Partnerships
As the "internet-of-things" continues to grow at a rapid pace, a key piece of BlackBerry's strategy to advance its software even further has involved securing partnerships with notable players in the tech industry.
Microsoft
On March 19, BlackBerry shocked investors by announcing a major partnership with Microsoft; the news sent the stock 5.2% higher intraday. This collaboration allows Microsoft's customers to take advantage of BlackBerry's expertise in the security and mobile space while leveraging Microsoft's expansive footprint in the cloud and Office suite to offer a true enterprise solution through iOS and Android devices. As others in the industry take notice of this partnership, potential customers for this product include financial institutions, law firms, healthcare providers, and any other large enterprise that can benefit from gaining security and efficiency in one offering.
Government Contracts
In addition to forging important industry partnerships, CEO Chen announced on the latest annual conference call that BlackBerry has been awarded multiple government contracts. Among the U.S. agencies awarding these contracts are the Department of Defense (DoD), Treasury Department, Department of Justice, the Senate, and the House of Representatives, along with government agencies in the UK, Netherlands, and Australia. These partnerships indicate that BlackBerry has a proven, secure solution for some of the most secure agencies in the world, cementing its position in cybersecurity. On the conference call, Chen detailed BlackBerry's solution for the DoD which is the only one on the market that supports Purebred, the DoD's process of distributing software certificates. BlackBerry's solution works across all platforms used by the DoD, including BlackBerry 10, Apple iOS, Android and Windows.
The New BlackBerry
While BlackBerry continues to grow in the mobile software space, the company has set its sights on an exciting and promising industry: connected and autonomous cars.
As mentioned above, BlackBerry has built its software offerings largely through acquisitions. In 2010 BlackBerry purchased QNX Software Systems for $200 million, an acquisition at the center of CEO Chen's strategy to triple down on the automobile software industry. As Blackberry states on its web site, "QNX empowers leading OEMs to build secure, scalable, and trusted software solutions that enables the future of connected and autonomous cars." While an auto company such as Ford can design and build an automobile, software will be the key driver and differentiator for connected and autonomous cars.
QNX provides the structure and framework for BlackBerry and any partner to build software solutions for automobiles including infotainment, telematics, and advanced driver assistance. Today, 200 different automobile models and 40 original equipment manufacturers (OEMs) use QNX, accounting for 60% of all connected cars on the road. A handful of QNX partners can be seen below:

In January, BlackBerry struck another key partnership agreement with NVIDIA (NVDA-US), well known for its efforts in the self-driving/autonomous car industry. Announced during the 2018 Consumer Electronics Show (CES) in Las Vegas, Nevada, NVIDIA will use QNX as the foundation behind its AI self-driving platform and technology, emphasizing the need for security. This strategic partnership further cements BlackBerry's position and ambitions in the automotive market.
This industry seems extremely promising in leading BlackBerry's transformation, but is Apple a threat to BlackBerry in this domain, as well? Apple has already established a presence in the connected automobile market with CarPlay, which can be found in 300 car models, and rumors have swirled of Apple's interest and involvement in autonomous automobiles, as well. Believe it or not, Apple is leveraging BlackBerry QNX to create the CarPlay infotainment platform. BlackBerry's Paul Leroux confirmed this:
"Connectivity to smartphones and other mobile devices is a key strength of QNX Software Systems' platform for car infotainment systems... We have a long-standing partnership with Apple to ensure high-quality connectivity with their devices, and this partnership extends to support for Apple CarPlay."
BlackBerry has positioned itself very strategically here. But does CEO Chen have an end goal for his once "walking dead" company?
Yard Sale?
In 1998, Chen took the reins at Sybase, a struggling enterprise software company that he sold to SAP in 2010. Similar to BlackBerry, Sybase had missed key opportunities and trends in the industry, which eventually led to its downfall. Chen steered the business in a new direction and the company saw a resurgence in growth. As seen below, Sybase's top and bottom line growth reaccelerated, making it an attractive acquisition target at its trading price. Consensus estimates for BlackBerry collected by FactSet show profitability increasing in the next several fiscal quarters while sales slowly recover. It seems as though the same trend is developing for BlackBerry that Sybase experienced under Chen. Does he have a similar plan for BlackBerry?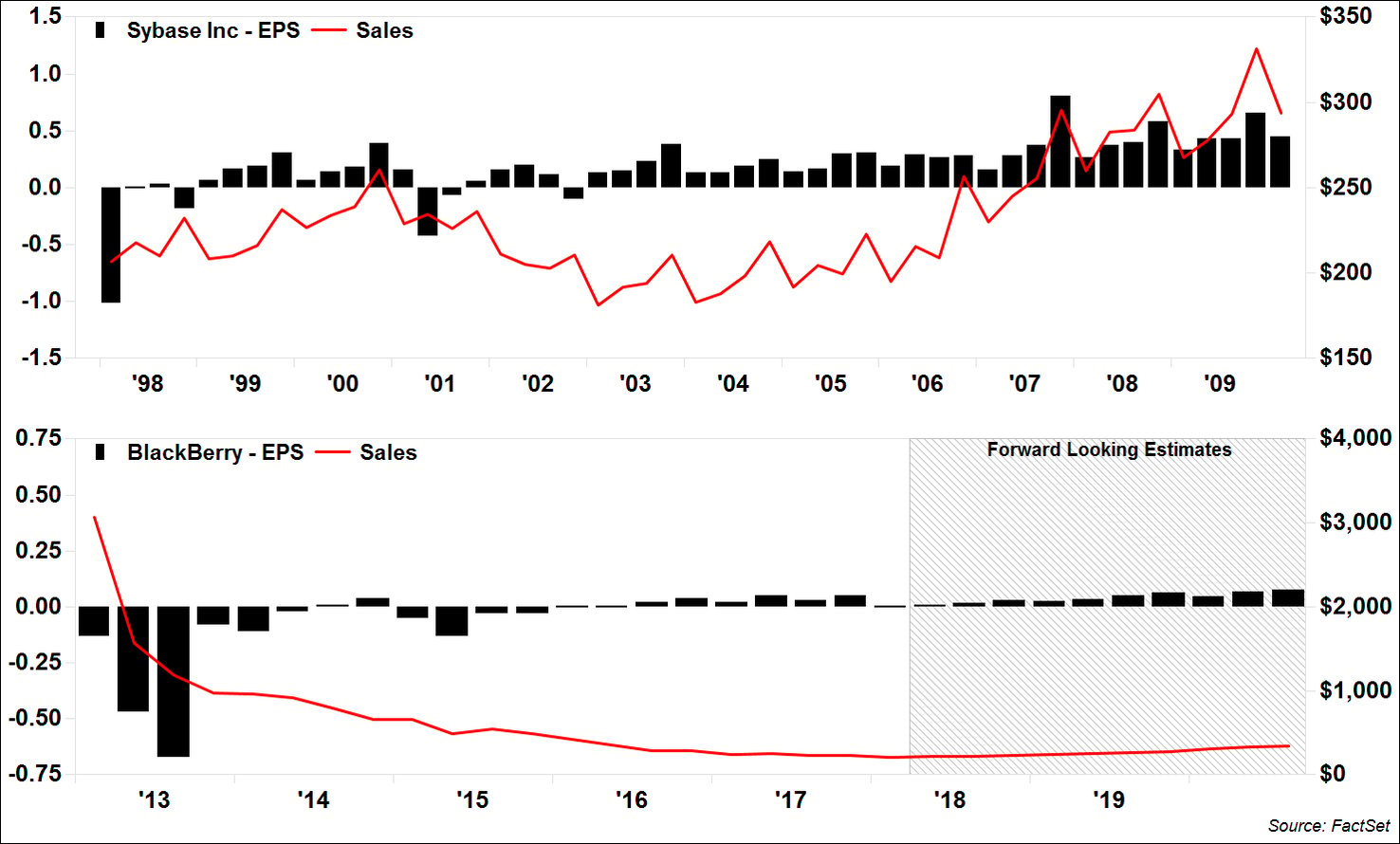 It will be a long journey for BlackBerry, but it could be a very impressive turnaround if achieved. FY2018 and FY2019 will be very important for BlackBerry as the company looks to pump up revenue and EPS growth.