FactSet Instant Messenger provides a secure network for you to share information with all of your contacts, regardless of the network they belong to. Now, you can use FactSet Instant Messenger to interact directly with a FactSet Consultant and receive assistance with issues ranging from quick product questions to in-depth workflow needs. Consultants are available to assist over FactSet Instant Messenger 24 hours a day, seven days a week.
To begin a conversation with support, simply search for @HELP in your workstation, or search for "Support" in FactSet Instant Messenger. You'll be able to view the name of the Consultant assisting you, as well as a reference number for your question. Your Consultant will review your question and send you a formula, FactSet component, or Online Assistant help page to help resolve your issue.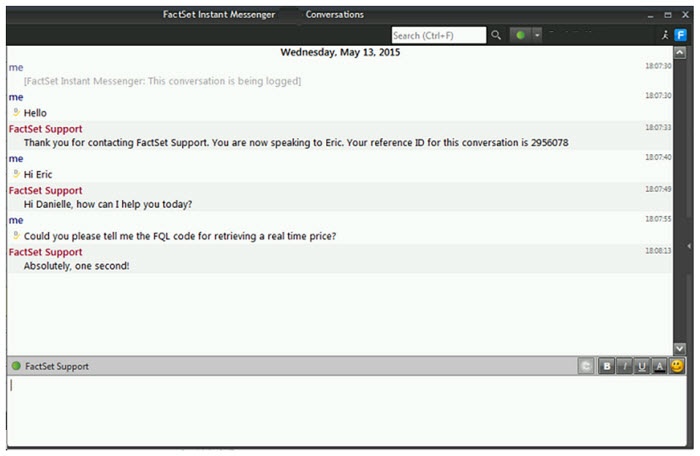 In addition to reaching support, use FactSet Instant Messenger to:
Seamlessly jump between conversations and live data to instantly share news, charts, and other FactSet financial components
Quickly communicate important, time-sensitive information with multiple individuals via "blast" message
Organize, share, and store your conversations with persistent chat rooms
FactSet Instant Messenger is free to all FactSet users. Request your
free access
today.