FactSet's integration with MATLAB allow you to develop and implement complex financial models, analyze substantial volumes of data, and share strategies for risk, trading, economics, and portfolio analysis throughout your firm. You can create meaningful views of the data that is important to you, and seamlessly integrate thousands of commercial databases with your firm's data.
Here, we used MATLAB with FactSet's Supply Chain Relationships database (containing data back to 2003 and covering 13 relationship types) to identify 817 public companies that are suppliers to the U.S. government. Smith & Wesson, a U.S. manufacturer of firearms, attributes 7.6% of its revenue to the U.S. government. Another company, BAE Systems, a UK-based defense and security system company, attributes 25% of its revenue to the U.S. government, another 25% to the UK government and 20% to the Saudi Arabian government.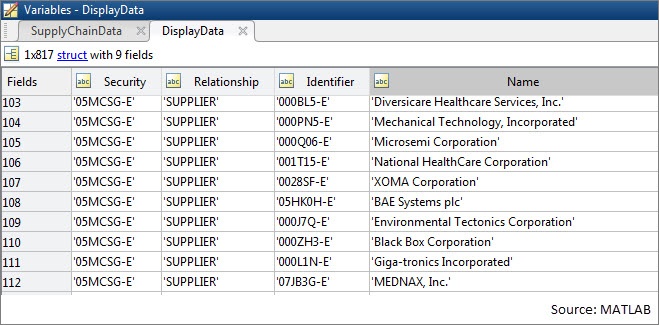 On May 5. 2015, FactSet will be exhibiting at MathWorks' MATLAB Computational Finance Conference in New York. Stop by our booth for a demonstration.