During each corporate earnings season, it is not unusual for companies to comment on subjects that had an impact on their earnings and revenues for a given quarter, or may have an impact on earnings and revenues for future quarters. While the majority of S&P 500 companies will report earnings results for Q1 2017 over the next few weeks, approximately 5% of the companies in the index (25 companies) reported earnings results for the first quarter through Wednesday (April 12).
Over the course of the previous (fourth quarter) earnings season, a number of S&P 500 companies commented on potential changes to government policies due to the election of Donald Trump as president. Given the Trump administration has now been in office for about three months, have companies in the S&P 500 continued to comment on the Trump administration and potential policy changes during their earnings conference calls for the first quarter?
Calls and Mentions
To answer this question, FactSet searched for the terms "Trump" and "administration" in the conference call transcripts of the 25 S&P 500 companies that had conducted first quarter earnings conference calls through April 12 to see how many companies discussed these terms. FactSet then looked to see if the company cited or discussed a policy topic in conjunction with the citation of "Trump" or "administration."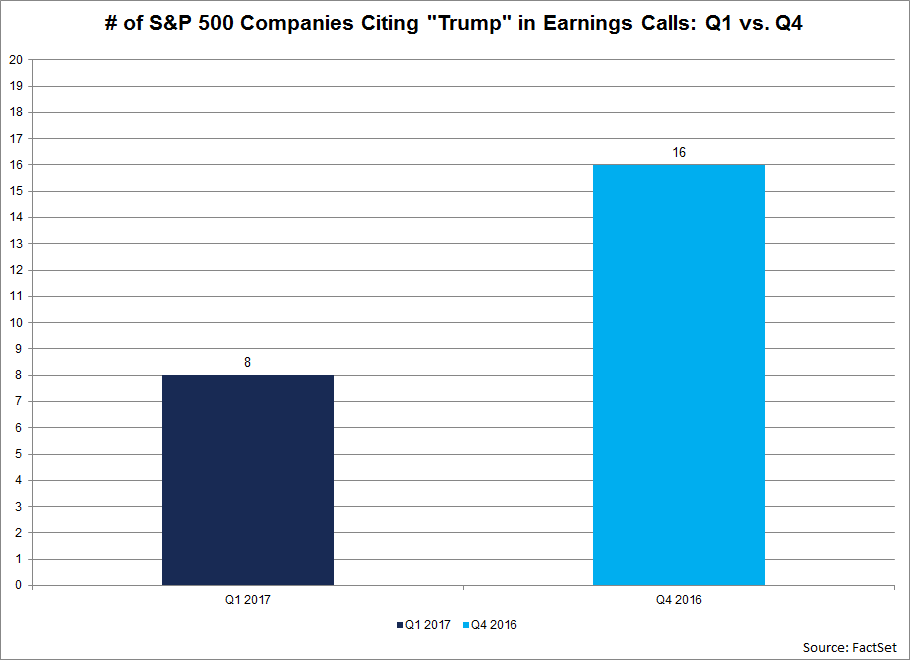 Of the 25 S&P 500 companies that had reported actual results for Q1 2017 through April 12, eight (or 32%) cited the term "Trump" or "administration" during their Q1 earnings calls. During the Q4 earnings season through the same point in time (January 12), 16 of the 24 S&P 500 companies (or 67%) that had reported actual results for Q4 2016 cited the term "Trump" or "administration" during their Q4 earnings calls. The term "administration" was only counted in both periods if it was used to reference the Trump administration.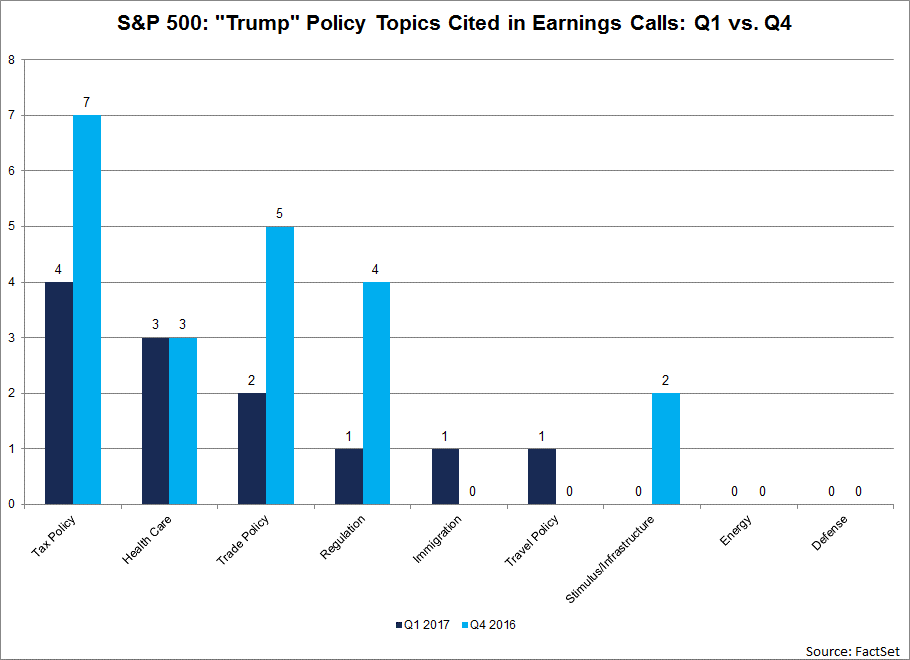 In terms of government policies in conjunction with the new administration, tax policy was cited or discussed by the highest number of S&P 500 companies during both periods. Please note that companies that cited or discussed a potential border tariff or tax were counted under "Trade Policy" and not "Tax Policy" in the policies chart. Please also note the numbers in the policies chart will not total to eight and 16, as a number of companies discussed multiple policy topics, while others did not discuss any specific policy topics.