Stories of the decline of the department store and the demise of the shopping mall are now integral to the current retail sales narrative. According to the Census Bureau data, department store sales have fallen by 26% over the last decade, and of the 1,100 or so malls left in the United States, one in four may close by 2022, as reported by Time magazine. But 50 miles outside of New York City in Norwalk, Connecticut (where FactSet is headquartered), construction is underway on a new $525 million, nearly million-square-foot mall that will feature 80 retailers flanked by anchor stores Bloomingdale's and Nordstrom.
With consumer confidence near 18-year highs, are we simply witnessing a shift in how consumers buy things?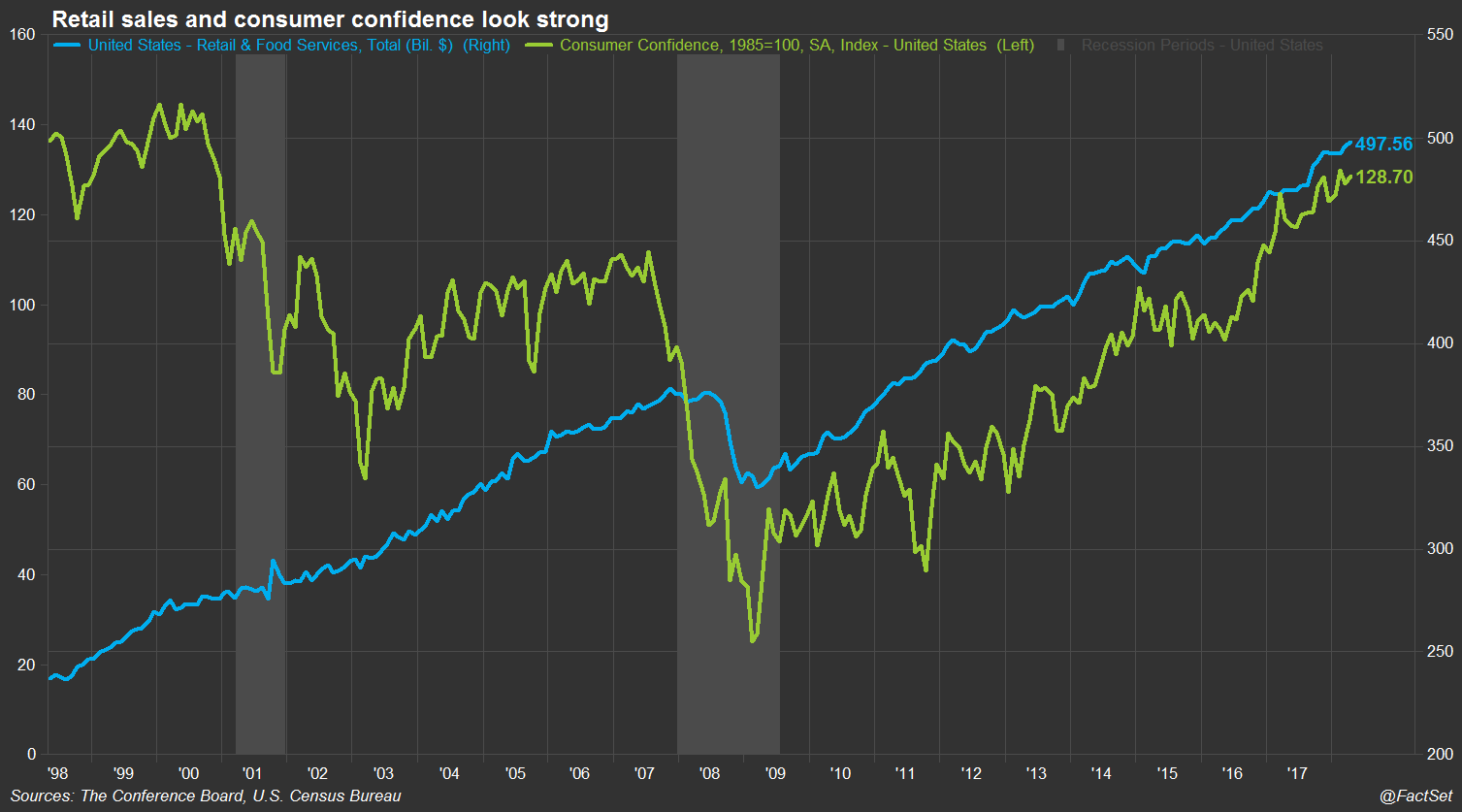 More than Online Shopping Killed the Suburban Shopping Mall
The shopping mall hit its cultural peak in the 1980s and 1990s, with 1,500 built in the U.S. by 2005. Today mall vacancy rates are rising and many malls around the country sit empty.
The problem of the nationwide glut of shopping malls is exacerbated by changes in consumer spending patterns. Today's consumers are more careful about how they spend their disposable income, largely in response to the Great Recession of 2008-2009. Today's consumer is more cost-conscious and more likely to shop at discount and big-box stores than (perceived) overpriced department stores. April retail sales data continue to show a downward trend in sales at department stores. While total retail sales showed a 0.3% increase on a month-over-month basis and 4.7% growth from a year ago, department store sales rose 0.2% following two months of declines, registering a 1.6% decline from a year earlier.
While department stores such as JC Penney, Macy's, and Sears have floundered, discounters like TJX Companies, which operates TJ Maxx, Marshalls and Home Goods, have outperformed. TJX Companies opened 230 stores in 2017 and has seen its stock price appreciate by 14% over the last 12 months, compared to 10% for the S&P 500.
Online shopping usually gets most of the blame for the drop in in-store retail sales. Even though online retail is growing rapidly, it still only makes up 13% of total retail sales. But the internet is not just used for buying products directly; it also plays a role in researching in-store purchases. Before leaving home, consumers can find out what store carries the item they want, and where they can find the best price.
While consumers are reducing their spending at traditional department stores, they have shifted their purchases to other retail outlets, not just online. The Census Bureau's retail sales release categorizes GAFO, or General Merchandise, Apparel and Accessories, Furniture and Other Sales, as sales at stores that sell merchandise normally sold in department stores and excluding electronic and mail-order sales. GAFO retail sales are still increasing, albeit slower than overall retail sales. By combining online and GAFO sales, we get a better idea where consumers are spending their money.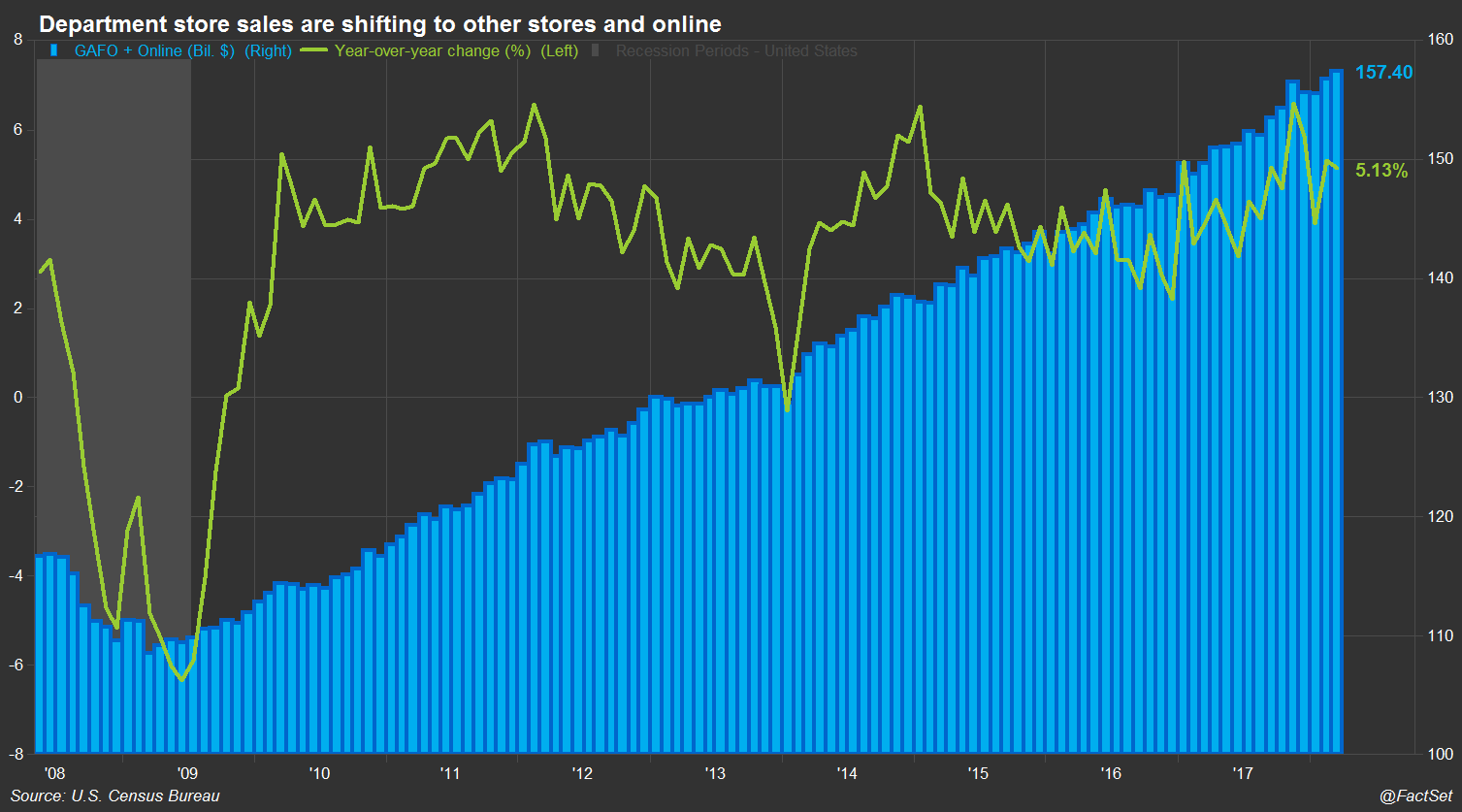 Store Success is Measured in Sales per Square Foot
In the end, the measure of success for physical stores comes down to sales per square foot. Traditional department stores, with their huge anchor stores in suburban malls, have seen declining sales by this metric. There are two ways to improve this metric: shrink the space occupied and inventory along with it or sell more expensive goods. For many department store chains, closing stores in declining malls has been the first plan of attack.
Macy's saw its sales per square foot fall from $221 in 2000 to just $152 in 2009, during the recession. To combat this weakness, the company has been closing many of its stores. Macy's announced in August 2016 that it would be closing 100 of its stores over time; 11 closures have been announced so far for 2018. JC Penney's sales drop was even more dramatic; sales per square foot fell from a peak of $240 in 2002 to a low of $107 in 2013. Since then, JC Penney has closed nearly 250 stores, including 141 stores during 2017, and another eight closures have already been announced for 2018. Another key mall anchor store, Sears, has closed hundreds of stores over the last five years, and more closures are planned in 2018.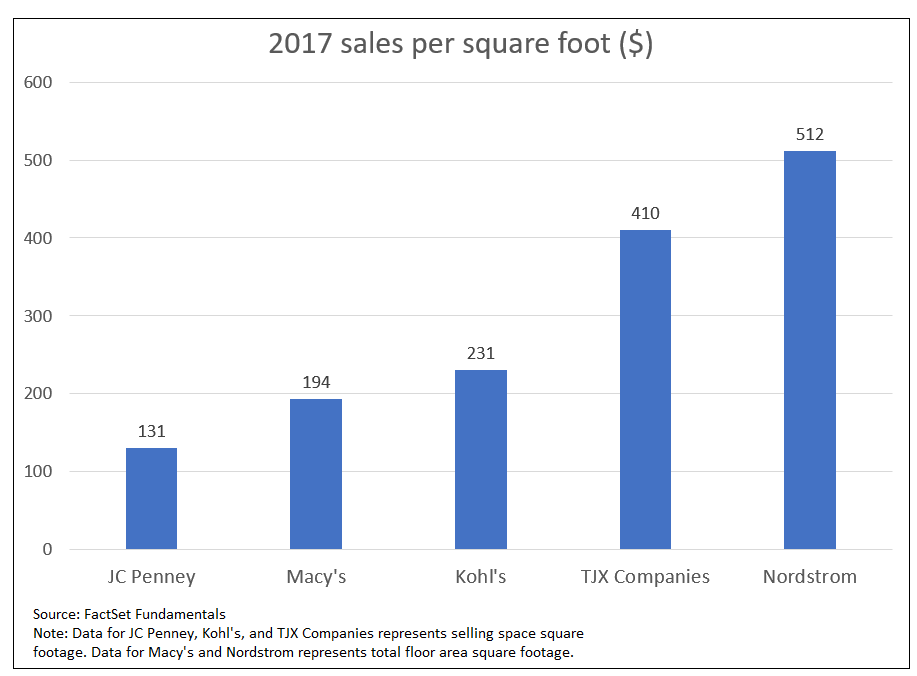 "If You Can't Beat 'Em, Join 'Em"
Although not usually positioned as an anchor store, Kohl's is another department store chain that has been struggling. But after closing 19 stores in 2016, the company's strategy has now shifted its focus to shrinking existing stores and forging retail partnerships, aiming "to invest in our store base by optimizing our existing store footprint, opening smaller format stores and rightsizing additional stores." The company has partnered with Amazon to accept returns and sell Amazon devices in-store and with supermarket chain Aldi to include groceries in newly converted spaces.
Sears has also struck up a promising partnership with Amazon. Last year, Sears began selling its Kenmore brand appliances and DieHard automotive items on Amazon. Earlier this month, Sears announced that it had struck an agreement with Amazon that would allow consumers to purchase tires from Amazon, then go to a Sears Auto Center for installation and balancing. Not only would this push business to Sears' Auto Centers around the country, it also gives the company another sales outlet for its DieHard tire brand. Sears' battered stock saw a bounce from the news.
Many store chains are finding that they need to develop a hybrid sales strategy, combining physical stores with robust eCommerce channels. This allows these retailers to maximize sales, minimize square footage, and optimize their inventory.
High-End Retail Still Climbing
While the traditional department store and its position as an anchor in declining suburban malls is fading, one area that appears to be doing well is high-end retail. Retailers such as Bloomingdale's, Neiman Marcus, Saks Fifth Avenue, and Nordstrom are all finding success in upscale, more urban, densely-populated areas of the country. These "Class A" malls have higher foot traffic, lower vacancies, and can charge higher rents.
While we have witnessed falling sales figures for Macy's and JC Penney, Nordstrom has seen its numbers rising; Nordstrom's sales per square foot have risen from $324 in 2002 to $512 in 2007. Nordstrom recently opened a new three-story men's store in New York City; in addition, the company plans to open a seven-story women's store nearby in 2019.
Many analysts see the strength of high-end and discount retailers as another sign of growing income inequality. There are several economic factors at play here, most notably the glut of retail space across the country that serves as a glaring anachronism in the age of the internet.