While the majority of S&P 500 companies will report earnings results for Q3 2015 over the next few weeks, approximately 5% of the companies in the index (24 companies) have already reported earnings results for the third quarter.
Given the number of concerns in the market, have these companies discussed specific factors that had a negative impact on earnings or revenues for the third quarter during their earnings conference calls?
To answer this question, FactSet searched for specific terms related to a number of factors (e.g., "currency," "China") in the conference call transcripts of the 23 S&P 500 companies that have conducted third quarter earnings conference calls through October 7 to see how many companies discussed these factors. FactSet then looked to see if the company cited a negative impact, expressed a negative sentiment (e.g., "volatility," "uncertainty," "headwind") or discussed clear under-performance in relation to the factor for either the quarter just reported or in guidance for future quarters. The results are listed below.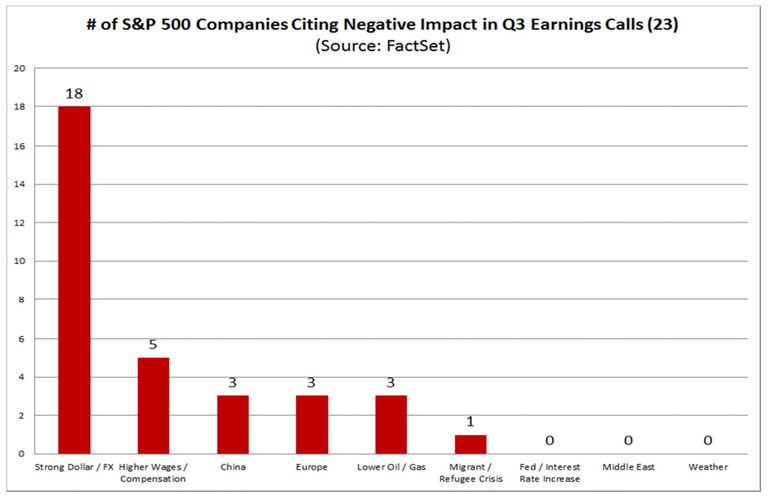 Similar to previous quarters, the stronger U.S. dollar has been cited by the most companies (18) in the index as a factor that either had a negative impact on earnings or revenues for Q3, or is expected to have a negative impact on earnings and revenues in future quarters.
It is interesting to note that only one company has commented on the refugee crisis in Europe to date:
"By the time we get to December, maybe those things won't be the same, but today, with some of the headwinds in Europe, geopolitical, macroeconomic malaise, the intense tension over there around the refugee situation, that has affected all travel, not just cruise, but all travel." –Carnival Corp. (Sep. 22)
Read more in this week's Earnings Insight.