Illinois-based industrial equipment manufacturer Caterpillar has long been considered a bellwether of the global economy because of its role as a supplier of key industrial equipment and its broad exposure to global markets. Caterpillar saw a turnaround in 2017 due to strength among its foreign customers, but what is the outlook going forward?
Caterpillar Benefits from Synchronized Global Growth
In Caterpillar's 4Q 2017 earnings call, the company announced that following four years of declining sales, revenues rose 18% in 2017. CEO Jim Umpleby credited a pickup in global economic activity, saying, "After four challenging years, many of our end-markets improved, and our team capitalized on the opportunity and achieved excellent results." During these difficult years overseas, the share of CAT's sales in the U.S. rose as the foreign share slipped. However, foreign sales still dominate CAT's revenue; in 2016, the U.S. share of sales peaked at 41.4%, but this slipped back to 40.8% in 2017.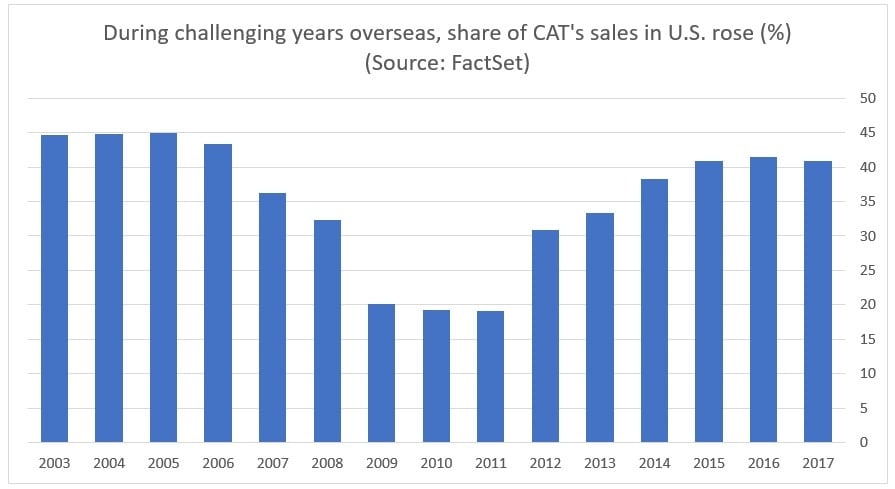 Umpleby's observation is in synch with analysis from the International Monetary Fund (IMF). The IMF estimates that global real GDP grew by 3.8% in 2017. This was the fastest global growth since 2011, when economies saw a sharp bounce back from the global financial crisis. In the IMF's April edition of its World Economic Outlook (WEO) publication, the organization projects that the "global economic upswing that began around mid-2016" will continue in the near-term, with global GDP growth accelerating to 3.9% in 2018 and 2019. This would appear to be a positive sign for Caterpillar and other global companies.
Tariffs and Trade Wars Present Risks for Caterpillar
However, the IMF is concerned about increasing negative risks for the medium-term outlook. These include rapidly tightening monetary policy, escalating trade restrictions and retaliatory measures, and growing nationalistic policies. In its 2017 annual report, CAT outlines its own macroeconomic risks, which include fluctuating commodity prices, changes in government monetary or fiscal policies, and political and economic risks out of their control, including burdensome tariffs and changes in trade agreements.
On this last point, Caterpillar echoes the IMF outlook. And persistent alarmist news about tariffs and potential trade wars in recent months has hurt CAT's stock. Because of its reliance on global markets to sell its products, the recent imposition of tariffs on steel and aluminum imports, as well as the announcement of tariffs specifically targeted at China, has led to dramatic swings in Caterpillar's stock price (CAT). The news on tariffs was particularly bad in the last month, sending CAT down 13% just in the last three weeks. One of the 30 companies in the Dow Jones Industrial Average, every time CAT moves, it brings the entire index with it.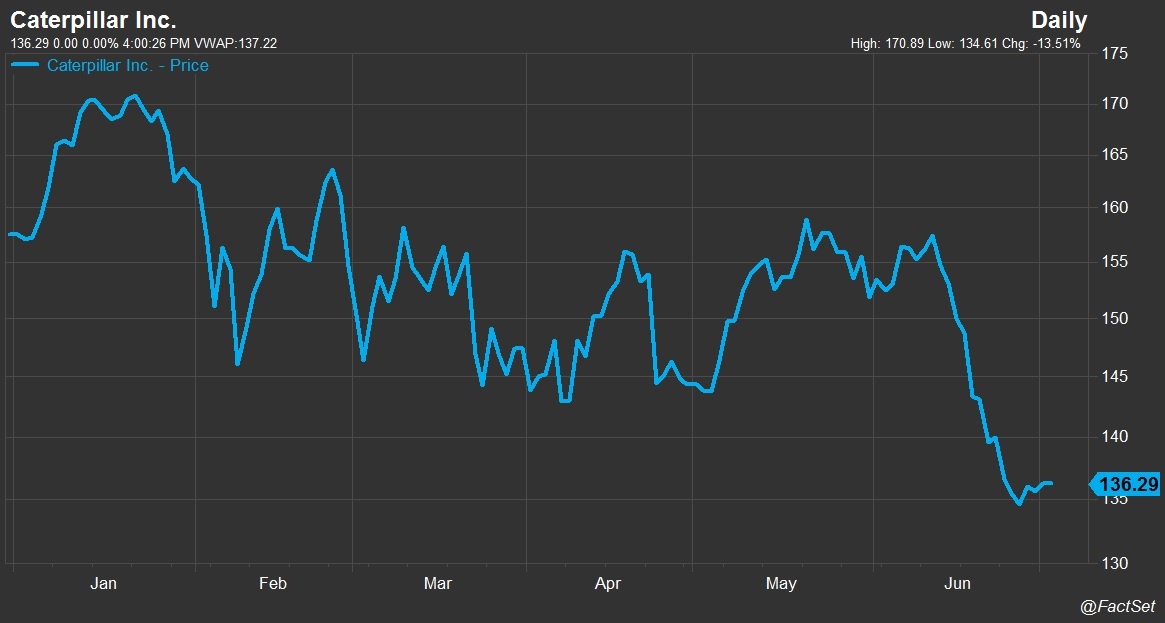 Caterpillar's Global Supply Chain
Last year, foreign sales accounted for 59.2% of CAT's total revenue, but this statistic only gives you part of the story. According to Caterpillar, 21.5% of its revenue is generated in the Asia Pacific region; in fact, FactSet estimates that 5% of total revenue is from China. A trade war with China would be disastrous for Caterpillar.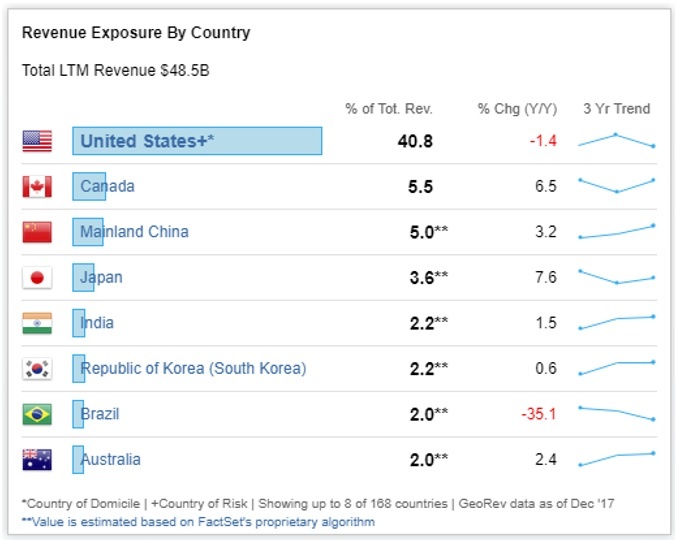 We can take this global analysis even further. By extracting relationship disclosures from thousands of companies worldwide, FactSet has identified 157 suppliers, 65 customers, and 28 partners that do business with Caterpillar, representing 37 countries around the world. Digging deeper into these numbers, 60.5% of suppliers, 63.1% of customers, and 71.4% of partners are located outside of the United States. Caterpillar has developed a truly global supply chain.
In addition, the company employs thousands of people around the world. According to Caterpillar, the company operates offices and facilities in more than 180 countries. The company's 2017 annual report states that, "we employed about 98,400 full-time persons of whom approximately 56,200 were located outside the United States." These jobs could be at risk if the U.S. leads the world into a global trade war.
Rising Interest Rates Also Present a Risk
In addition to the risks posed by a global trade war, rising interest rates are also an area of concern for Caterpillar. The U.S. Federal Reserve has already raised rates twice this year, and we are likely to see two more rate hikes in 2018, followed by one or two more in 2019. For a company selling large, expensive machinery both domestically and abroad, higher interest rates are problematic. For U.S. customers, higher borrowing rates make it more expensive to purchase new equipment. At the same time, because the U.S. is currently alone in tightening monetary policy, this means that the U.S. dollar is likely to strengthen relative to other currencies. This makes U.S. exports less competitive overseas, leading to slower foreign sales.
One bright spot for Caterpillar in the past year has been rising commodity prices. A significant share of Caterpillar's equipment is used in extraction industries, so higher commodity prices boost demand for its products. Coupled with stronger, synchronized global economic growth, this factor helped make 2017 a very strong year for Caterpillar. But the company now faces new headwinds.
Caterpillar and its leadership are well-known for their ability to successfully navigate through troubled economic conditions. Undoubtedly, this global powerhouse will find a way to persevere despite growing business obstacles, but the next few years are likely to be challenging.